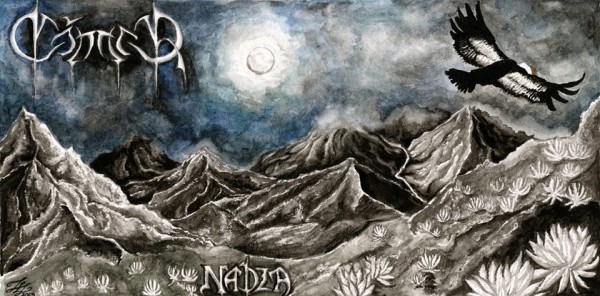 I've been meaning to write a review on Nadia for some time but even though, emotionally, I am deeply touched by this album, it has been impossible to bring myself to do so for this very reason: the overwhelming impression this music makes on me makes it difficult to develop an unbiased and piece-wise discussion. Listening to Nadia each time feels like falling in love once and again; one's brain so full of endorphins that any effort to produce coherent verbal expression is rendered futile. I readily recognized this latent danger with Cóndor's second album, Duin, and rather than try and present a crippled analysis, I embraced my impressions and came up with a description using everything that was on my mind at that point in time. The result was a mish-mash of philosophical and historical references, amateur attempts at designing metaphors and contradiction-based descriptions in the manner of mystics that pleased few people apart from myself and those in tune with that expression. More than a review, it was a picture of disjunct images. With Nadia, I have been afraid of not being able to give her everything she deserves. Just as we may shy away from a platonic love, a stalling of a well overdue caress whose occurrence suddenly becomes reality, inducing irreparable shock.
But now, the time has come to take on the undeferrable task of examining this portrait of romantic idealism and longing for a land and people that is not far from illusory. An admittedly Heideggerean notion of respect and admiration for an invisible essence or spirit that is found in all things yet in no single one at all. The related idea of technologies (techniques, approaches) as means to an end as the ungraspable static-immanent essence of things shone through in a sequence of truths that continually come into view and recede into the past permeates this album in its methodology.
First impressions of Cóndor's debut invariably surround its stylistic menagerie and maudlin character. A basic technical analysis of an album like Nadia should be easy enough for most musicians to carry out successfully. Even without it, we can easily sight its modest means, perceive an almost too-sincere humility that becomes the target of disdain by those who have learned enough musicianship to play an instrument proficiently (and perhaps even developed the basic and undeniably necessary imitation-based creation skills) but not enough about music to grasp its essence, which they confuse with their own emotional reactions alone. One must not only become the receptacle of this essence, but one must also be equipped by experience, insight and meditations with a referential awareness that can connect the music to both its intentionality and context, judging its balance in accordance with its musical premises and contextual relations.
Here, I choose to avoid the incursions behind the the scenes of the music that a good review would normally entail, in fear of causing unnecessary degradation of the illusion that this artwork is in my eyes. This is not to say that there is a lack solid musical substance at the level of structures here. On the contrary, it is a sparse and opaque painting that transmits a story that flows from within the pigments in an ethereal stream of experiences that fade in and out of focus. We could go step by step in each song and show on a score (for a reference to patterns and structural framework) and with the recording (for references to dynamics and other performance-produced factors) how this occurs musically.
Many, many listens and a familiarity from the audience's (rather than from the analyst's) perspective with it may still reveal these 'secrets', but in a natural way and in due time.It is rather because of the modesty of the individual elements in the music that focusing on them would be an insult to the grand work that is produced from them. Furthermore, a too-detailed acquaintance with every implementation detail also runs the risk of causing the inability in the listener to properly distinguish the living spirit of the music: the unified whole. Deep familiarity with every gesture of the music from the functional point of view becomes an obstacle to perceiving it as ecstatic experience instead of as a collection of contraptions in a device. We must preserve the unified and spiritual dimension of art in mind first before diving further, which is precisely why it is paramount to go about analyzing music in a top-down manner.
In Nadia, Cóndor musically mirrored what the American continent represented for Europeans and other Old World immigrants after South American independence: a new vision, a new path that started at the meeting point of many other paths of distinct origins. This very nature that leaves undeniable traces in the structural dimension of its music, is what lies at the heart of my decision to not dwell in the minuteness of a melody or a riff. It is, nevertheless, worthy of our attention pointing out that the album is full of powerful and memorable such tributaries to its main current. In time the album reveals itself as unified in meaning and style, the erroneous perception of disalignment receding from perspective and displaying the mosaic that makes up the condor's own featureless figure.
While the special acknowledgement to Felix Mendelssohn in the credits of Nadia may puzzle some and amuse most, the key lies in understanding the album's relation to the romantic composer's Violin Concerto in E Minor, Op. 64. Alas, contrary to what one may expect, Nadia is more dependent on the concerto by Mendelssohn than even Duin is on Smetana's Die Moldau. But the dependence manifests itself in a different dimension. In Duin we find a band that is differentiating itself, its expression becoming more and more distinct. It is a metal oeuvre utilizing and manipulating Smetana's melodic themes for its purposes. The first album, on the other hand, took a hint from the Mendelssohn's concerto as a seed for a physically (structurally) deeper motivation in the music: it learned from it a way to build and structure music, its way of carrying music through. In fact, like a concerto, Nadia is replete with solos that for very long spans of time are actually the music itself while the rest of the instrumentation plays the role of emphasizing and coloring in a sparse and laid-back manner to the point of being strongly reminiscent of the classical way of going about this which reduces accompaniment in many middle sections to almost complete silence.
But Cóndor is careful enough as to not mar its spirit in search of a foreign inspiration and template for structure. Despite all the interludes which are the backbone of the album, the importance of riff sections as tutti sections in a concerto is still prominent and on equal ground as the solos themselves (differentiating itself from both the concerto and from traditional metal methodology). In this and many other ways, Nadia thus remains decidedly a metal album that wisely and inspiredly uses metal and rock techniques with a classical approach to structure within a metal framework and use of texture.
3 Comments
Tags: 2013, 2015, condor, Mendelssohn, metal, Nadia, reflections on nadia