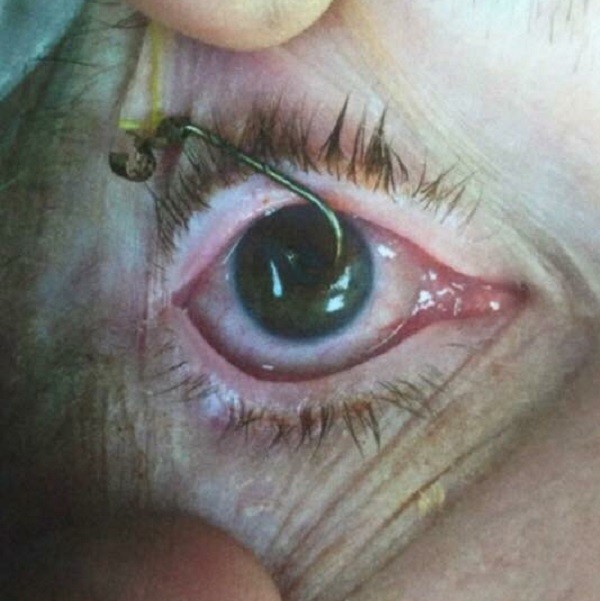 Music serves a role in our lives: it connects us to truths about life and restores in us a belief in who we can be. Metal in particular either fills the soul with a rage for order, or creates an institutional-strength mental entropy by being disorganized. Bands that lack the guts and brains to write about real things and try instead to imitate what made others successful are doomed to fail, and we separate them from the rest with vicious strokes of the knife. Come for the cruelty, stay for the indignation and resentment, with this week's Sadistic Metal Reviews…
Nocturnal Torment – They Come At Night
This punk/metal/grind hybrid acquits itself well by attempting to be no more than what it is: punk/grind songs with added death metal riffs, expanding upon a basic rhythm to drive it to detonation. If this band has room to improve, it is in putting the vocals into a support role for guitars and focusing more on continuing momentum rather than interrupting it early. Too much randomness and obvious riffs flesh out this album, but from the sound of things they were adopted to connect different parts in such a way that the vocals could continue their role as narrative organizer (N.O.) of the album. Like the first Bolt Thrower album, They Come At Night combines attributes of classic heavy metal with extreme underground punk hardcore, resulting in an oil-on-water separation at times. Lead guitars emphasize chaos in the way that enjoys bending the seemingly random into coherence just in time to slam into a conclusion, setting as much of the surrounding territory on fire as possible. There is much to like about this release, and a fair amount — but not more than is done right — to improve.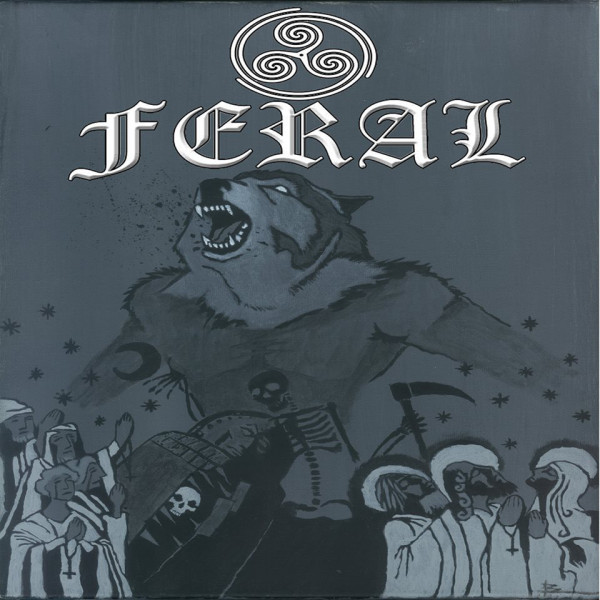 Feral – For Those Who Live in Darkness
Hopefuls send us their releases, and we murder there. Here hope must die: Feral is cycling Burzum-style riffs over simple song structures with emphasis on vocals to guide it. The vocals, unlike Burzum, forsake nuance for consistency and so quickly kill the mood. Riffs in themselves are not bad, but as assembled, are incoherent. This is painful to listen to for anyone who likes order, pattern or even chaos. It is just repetition of tropes in a slightly new form without the ability to express much but frustration at the four walls of an apartment and the desire to be in a black metal band. The challenge of humanity is to be able to tell the truth when it is unsociable, and that is what I attempt to do here. So much could go right with this release, but the best parts are marooned in a vast sea of disorganization and emulation outward-in of others, which stifles the inner voice. To this musician: go back to the studio, play music you like regardless of what your useless posturing friends say, and then record that. If it comes out as indie rock or folk music, only an idiot would think less of you for staying true to yourself and making something good, rather than this "me too" release.
Reptilian Death – The Dawn of Consummation and Emergence
More from the Nile camp, Reptilian Death uses the modern death metal sound of vocal-dominated songs with riffing as commentary that integrates intensely with drums to produce the kind of texturing that Meshuggah used, but without the overdominance of technique. To their credit, the band stitch together riffs well to produce tempo and layer changes that provide compelling background, but the focus remains on the vocals and so not only misses the death metal ideal but becomes repetitive in the way that nu-metal was: a chorus dominates, and a verse vocal rhythm backs it up, with instruments filling in the space. While well-executed in this case, that approach combines the worst of brutal death metal with the melodic hooks of indie-metal, resulting in catchy songs with no endurance.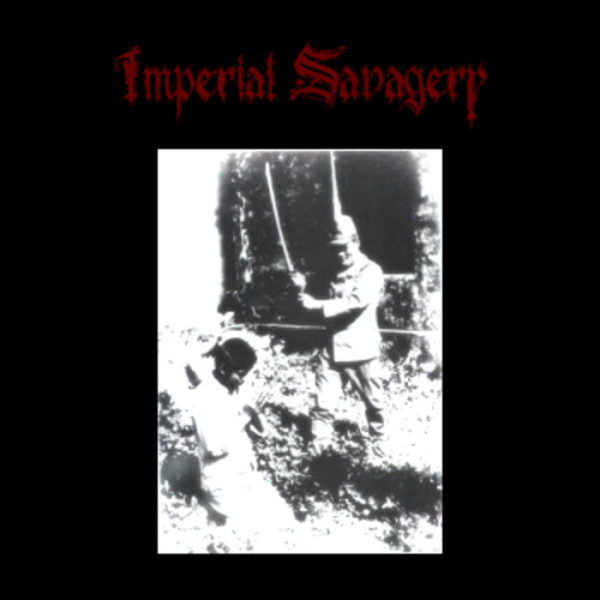 Imperial Savagery – Imperial Savagery
In the style of new-death bands like Nile, this aggressive band orient themselves around the vocals and keep a rhythm drilling along that pattern while stringing along whatever riffs they can. These riffs show promise, but too often fall into the new-death paradigm of etching out a rhythm instead of a phrase, which results in a lack of coherence. Vocals pick up the slack, but the vocals are probably the least part of any death metal band, and that degrades the staying power of this release. Emphasis on jazz-style off-beat chording works as an interruption sometimes but appears too frequently to be a technique, becoming a trope. Angelcorpse-style charging riffs make up a large part of this album and they generate intensity but it needs to be "caught" by other parts of the song, and those devolve into the not-quite-chaos of relatively straightforward drum-guitar rhythm riff explosions. Chord progressions attempt to escape the ghetto of chromaticism but end up being so similar as to fade into background sound. There is nothing wrong with this release, but it falls short of enough right to have an enduring appeal. This is a shame, since clearly a great deal of fine musicianship went into this release.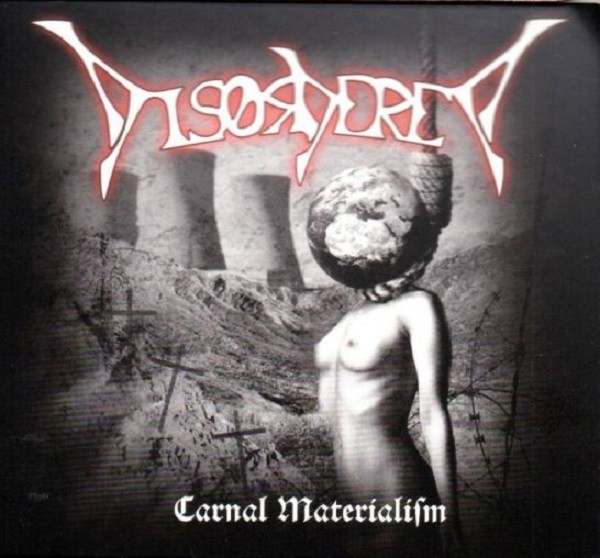 Disordered – Carnal Materialism
This heavy metal/death metal hybrid would be best served by giving up the death metal pretense but keeping the drum attack. Quality guitar work, good melodic hooks and excellent pacing recommend this to the listener but as it falls short of death metal structuring, it ends up sounding empty where it could be more intense by simply opting to be edgy heavy metal. Iron Maiden and other melodic metal influences intrude where they can and are well-applied, but in the context of these songs seem floating in complete absence. As with most bands that have trouble organizing their disparate parts, Disordered rely too much on vocals, which correspondingly become the primary rhythmic hook, which forces guitars into a commentary role as in 70s rock. While nothing here is per se bad, the result does not form enough of a compelling narrative to be anything but background sound, and even then comes across as a hard rock band stranded in the wrong genre trying to make a tighter style work for what is ultimately a looser approach. Many of the tropes in this date back four decades and attempt to intermix with death metal pacing and layering, which just makes them sound ludicrous. This band needs to pick an approach instead of trying to satisfy "everyone."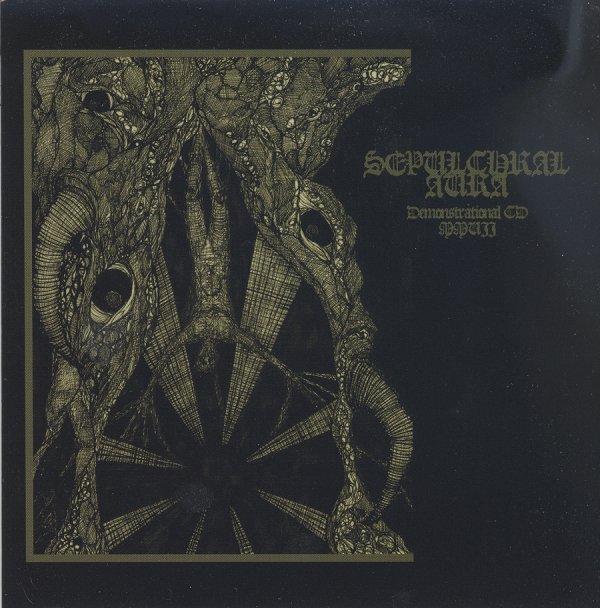 Sepulchral Aura – Demonstrational CD MMVII
Most people misunderstand black metal, especially the musicians after 1994. The point was to make beautiful music that concealed itself in an ugly sound. Most people interpret that as "ugly sound" and then add in quirks, idiosyncrasies and iconoclastic alterations to standard form. The end result reduces music to boredom by using constant interruption of its own process to produce an absence of end result, which ruins the function of music as a conveyance for emotion, understanding or even aesthetic appreciation. What is left is hipsterism and a focus on triviality. While there are some good riffs on this album, every one of the worst albums ever had some good riffs; what makes a great album is the ability to develop riffs in such a way that they reflect thought, reality, or emotion in a way that is meaningful to the audience. This release instead mirrors the confused mind of a modern person, and we do not need music for that, since an abundance of media and personal experience will come our way whether we want it or not. I had high expectations, but found the rule here of "if it's after '94, walk with extreme caution" applies on this album. The disorganized mess produces only a sense of emptiness, not the bravery going into emptiness that black metal once rendered.
3 Comments
Tags: disordered, feral, imperial savagery, nocturnal torment, reptilian death, sepulchral aura