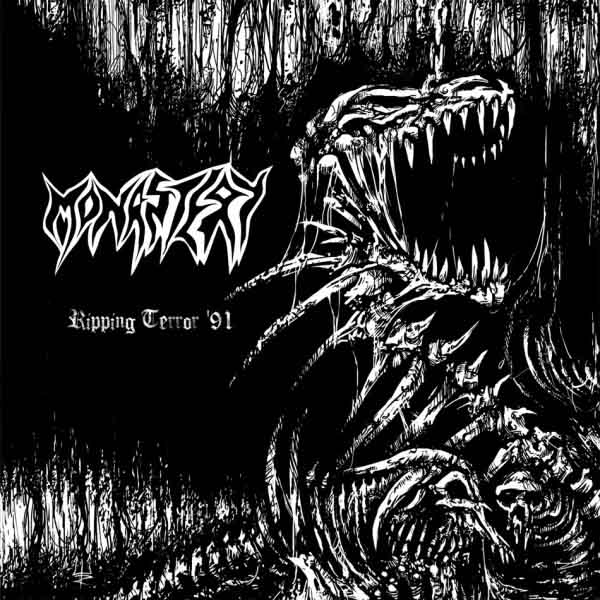 This is the reissue of a grindcore album released by a Dutch band in 1991 and was previously only available in cassette format. Most of these are just hipster and collector fun coming to light. In the case of this Monastery, the music is solid but just does not have any spark in it. Everything in Ripping Terror had already been done better by the trinity of grindcore, Repulsion, Napalm Death and Blood (bands that have rendered all other grindcore output virtually redundant). Thus, the re-release of this passing triviality is just one more move to cash in on nostalgia and collector's obsession to possess every tape out there.
This impulse bring back to life just about any band from the golden era of underground metal is both detrimental and helpful. On the one hand, the albums that are really deserving in being reissued, the ones whose legacy should endure are being suffocated in their own niche by a great many Bs, Cs and Ds that had no reason to come to light back in the day and have no reason to do so today. On the other hand, a historian of music wishing to compile human activity in a genre will be delighted to have such a large-scale reproduction of the output of the era.
I am torn between the two and my proposed solution is that the albums are produced on demand instead of Cs like Monastery getting thrown in with the rest of the promos. Which also implies that re-releases or re-issues should have a stack or channel of their own that does not mix in or get clotted by the rivers of filth being vomited on the audience by modern bands. Now, having separate stacks, and the reissues only being produced on demand would save us all time and trouble. Whoever is interested in a completely forgettable like this from back in the day can indulge himself, while Massacra, Incantation, Immolation or Gorguts can dominate the market as they ought to as superior works of art. Save the planet, recycle, stop manufacturing more plastic to release mediocre albums, EPs and demos.
No Comments
Tags: 1991, 2015, Grindcore, Monastery, Ripping Terror 91