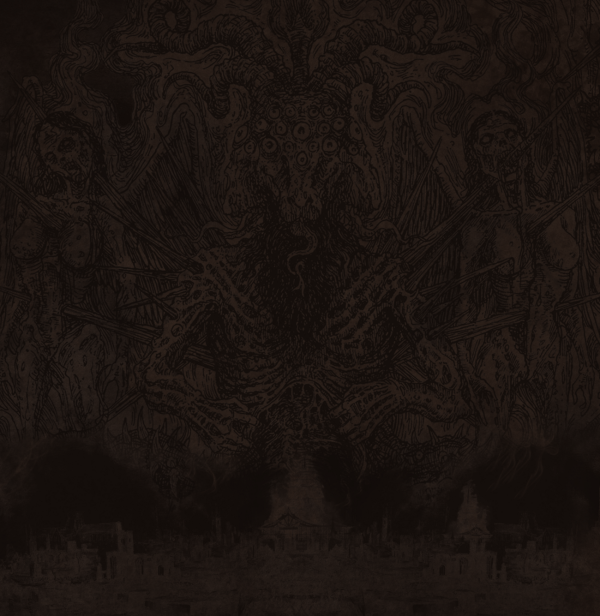 Contrary to the modern northern predilection to either go with the "intellectual" or "sentimental" strain of black metal expression, Latin American bands seem more inclined to follow Sarcófago. Many of these, in my opinion, retain the "authenticity" while actually improving on the music of the Brazilian punk-minded godfathers. Following the comparison with the northerners, while these try to create "the atmosphere" itself, actually trying to force the music to become the effect or the feeling itself (something advised against through the Common Practice Period all the way to the end of the Romantic musical era as it destroys the music), the grind/punk primitive black metal bands like Rito Profanatorio focus on punching songs that make use of short melodic motifs, and concentrate on the continuity of the riffs, letting the music do its job and create atmosphere and evoke feeling in the listener.
That being said, the music on Grimorios e Invocaciones desde el Templo de la Perversión is not the best of its kind. While it nails powerful riffs and have clear "melodic contiguity" (thanks for the descriptive term, ODB), the main problem lies in where they take the songs. Development is smooth, sliding deliciously into different ideas that carry follow "logically" from the point of departure. But after this, the band starts to lose a bit of control, the song keeps going forward without an ending in view, and then it suddenly stops. What makes these endings more offensive is that they are cliche metal endings inserted haphazard manner.
While this is not particularly original and the transgressions are great, it would be worthy to highlight their name and keep an eye on Rito Profanatorio's development.  Long live Peruan metal! May it develop and refine itself into something that contributes to a worthy future of metal as it has the authentic feel and musical (rather than technical) inclinations that seem so absent from the northern countries these days.
No Comments
Tags: 2015, Black Metal, Grimorios e Invocaciones desde el Templo de la Perversion, Rito Profanatorio, sarcofago