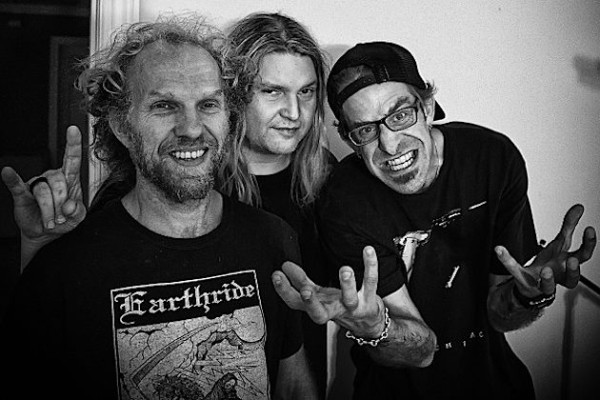 Occasionally, even the most cynical members of the DMU venture into the outside world to a realm where supergroups come together and convulse the media in marked excitement. Corrosion of Conformity members Mike Dean and Reed Mullin have put together a project entitled Teenage Time Killer, a 21-track album featuring many prominent names within the music industry.
Confirmed members via blabbermouth:
Randy Blythe (LAMB OF GOD)
Dave Grohl (FOO FIGHTERS)
Corey Taylor (SLIPKNOT, STONE SOUR)
Neil Fallon (CLUTCH)
Jello Biafra (DEAD KENNEDYS)
Lee Ving (FEAR)
Tommy Victor (PRONG)
Nick Oliveri (MONDO GENERATOR, ex-QUEENS OF THE STONE AGE, KYUSS)
Aaron Beam (RED FANG)
Pete Stahl (SCREAM, GOATSNAKE)
Greg Anderson (SUNN O)))), GOATSNAKE)
Karl Agell (ex-CORROSION OF CONFORMITY)
Tairrie B. Murphy (MY RUIN)
Mick Murphy (MY RUIN)
Vic Bondi (ARTICLES OF FAITH)
Clifford Dinsmore (BL'AST!)
Pat Hoed (BRUJERIA)
Other guest musicians that were previously announced as taking part in the project:
Max Cavalera (SOULFLY)
Tony Foresta (MUNICIPAL WASTE, IRON REAGAN)
Doyle Wolfgang Von Frankenstein (MISFITS)
Keith Morris (BLACK FLAG)
Phil Rind (SACRED REICH)
In a recent radio interview, Mullin stated that the project originally was conceived of as a short EP endeavor, but quickly grew to a larger album (seemingly) encompassing the earlier styles CoC has been affiliated with over its career, describing it as a mixture of "old hardcore punk, punk and metal stuff."
Additionally, the band has revealed they have completed recording and are in the process of mixing their new album entitled Corinthians, which will be released via Candlelight. A release date has not yet been set for either record.
Corrosion of Conformity was best known for its foundational role in the 80's scene, which along with Cryptic Slaughter and D.R.I created the genre of thrash, an organic fusion of punk and metal. Eventually, the band lost its sense of direction and started playing stoner rock for Scion AV festivals. Here's to hoping the words about a return to the punk and metal days of the band represents an artistic change from their recent albums and is not simply a marketing ploy to intrigue older fans.
2 Comments
Tags: alternative metal, corrosion of conformity, fear, prong, sacred reich, sepultura