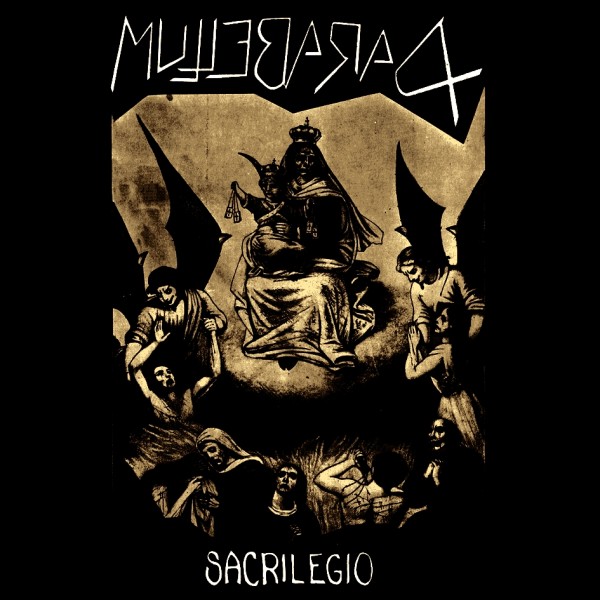 There are some records that achieve greatness through their studied and natural use of the musical language that our civilization has been building up for many centuries. Such a record was Close to the Edge, reaching immortality with its self-titled piece. There are other records that do away with everything that came before them and in an unprecedented bout of madness envision doors to previously undreamed of realities. The key to such a door was given to Parabellum and what they found beyond that wall crystallized into Sacrilegio.
Unique and meaningful in its expression, Parabellum's music is hard to trace back to any defined subgenre at the time, perhaps even today. We know it is metal. We know it arises from the 1980s underground tradition and if we look very hard we may find traces of proto-black-death, hardcore and what can only be described as organized noise. At the same time, the band's music cannot conceivably be cased into any of them, nor can it be wholly accounted for as a concoction of the same. Parabellum's Colombian underground metal stands entirely alone and makes use of sounds, patterns and rhythms from its influences but is never defined by them.
While the compositions in it date back to 1983 or 1984, Sacrilegio was released in 1987 and is comprised of two tracks. Both of them, Madre Muerte (Mother Death) and Engendro 666 (Foetus-Abomination 666), are of relatively long duration by metal standards. None of them, however, feel overextended. While difficult to gauge here, this writer perceives no obvious loose ends, and no purposeless spaces in the pieces. Not interspersed, not interlocked, but breathing in living symbiosis with the extreme underground expressions we find silences, Azagthothean guitar solos together with painful, woeful laments.
Uncouth, savage and violent, Parabellum's music also takes us through moments of passive dementia and ecstatic delirium. Together these propound stark, bleak and at points suffocating experiences of desperation resembling but going far beyond the misanthropic nature worship of Vidar Vaaer. If I could put my impression of Parabellum's music in concise terms, I would describe it as what I picture is life as seen through the eyes of a mad epileptic.
3 Comments
Tags: Black Metal, Close to the Edge, Colombia, EP, ildjarn, Parabellum, post-metal, proto, Sacrilegio, underground, Vidar Vaaer, Yes