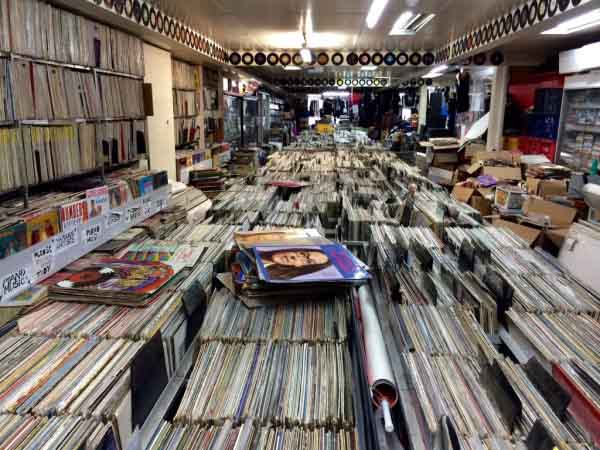 Metal-friendly record stores are a blast. These wonderful places keep the metal on the shelves so people can browse. If you're buying metal on the internet, you need to know what you're looking for. Go to a store and you can see what's there and try new things. You can get that feeling of finding something you really want on the first day it's released. You can also get expert opinions from Hessians who work there.
Although many media figures have been howling bloody murder about mp3s, metal has remained relatively untouched. This is because metalheads are obsessive collectors who like to have all of the music from their favorite artists close at hand. Buying a metal CD means getting artwork, lyrics and the experience of striving for something and then getting it, and also lets you place a vote for what bands you think should be more appreciated.
Austin
Nuclear War Now! Productions Eastern Front
3607 San Antonio Street
Austin, Texas 78734
San Antonio
Hogwild Records
1824 N Main Ave
San Antonio, TX 78212
(210) 733-5354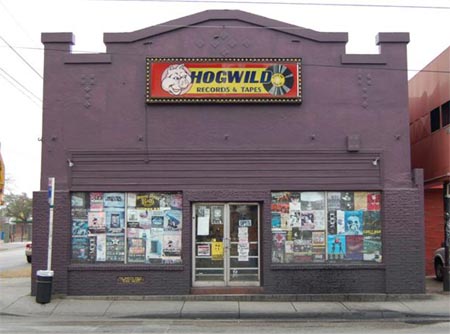 This place is Hessian heaven. They have two long aisles of metal CDs, a huge rack of metal LPs, and tshirts hanging like tapestries, not to mention rarities found in glass cases and behind the counter. The staff are mostly Hessians, speak the language and seem to love the music. Also has a good hardcore punk collection.
Houston
Houston is fortunate to have three stores with active and thriving metal sections. Two are in the Montrose area, and the third is out near Spring. However, they're each worth visiting and good places to get some killer metal.
Sound Exchange
101 N. Milby #3
Houston TX 77003
(713) 666-5555
Hours: Mon-Sun, 11:00 to 7:00
http://www.soundexchangehouston.com/
store@soundexchangehouston.com
This store has been around forever, and has always had a brilliant metal section. It used to be on Westheimer right before Dunlavy, where the antiques place is now. Currently, it's at Woodhead and Richmond in a solid, comfy brick house. I think the owners live upstairs. If you go in the front door and head straight to the back right-hand side of the house, there's a small room that may once have been a kitchen, and it has two racks of metal. One is for new and used CDs, and the second is for vinyl and DVDs.
Although the rack is only six feet wide, it has a good selection of new metal as well as classics, with an emphasis on death metal and black metal. Two rows are reserved for local bands, which are sold at highly reasonable prices. Prices for new CDs are $14-17. Before you leave, check under the counter by the register — they stock metal rarities and box sets there. At least one staff member loves metal and likes to chat it up with local bands. The staff are very supportive, knowledgeable about metal and content to let you browse.
Sound Waves
3509 Montrose
Houston, Tx 77006
(713) 520-9283
Hours: Monday through Saturday, 10-9 pm
http://soundwaves.com/
Soundwaves hovers between selling surf gear and music, but it's worth going for the used CD section. The store is divided with the left two-thirds being music and the right third filled with surfboards, shoes, lycra swimsuits, goggles, etc. Right on the border between these sections are used CDs and DVDs. If you scan through the general rock section, you will almost always find underground metal because whoever buys for them seems to like it.
Going back to the rows of new CDs, you'll find the third row from the left, facing away from the sportsgear part of the store, is about 25′ of metal CDs. These are generally priced at $15-17, which is a reversal from how Soundwaves used to be — an inexpensive high-volume store. They stock a wide variety of stuff from the more extreme heavy metal through the metalcore/nu-metal stuff, but whoever buys for them tries to keep representative CDs of classic death metal and black metal bands in stock.
When they find a band they like, they stick with it, which is why you can get CDs from each segment of Prong's 20-year career any day of the week. Although this is the busiest of the stores we mention in this review, it also has the highest-profile metal section which could easily be replaced with more indie, electronica or hip-hop to bring in the bucks. Make sure to check the sale racks fronting each aisle as periodically they throw some more mainstream death metal on sale.
Vinal Edge
239 W 19th St, Houston, TX 77008
(281) 537-2575
(832) 618-1129
Hours: Mon-Thurs 10AM-7PM, Fri-Sat 10AM-9PM, Sun 12-6
http://www.vinaledge.com/
retail@vinaledge.com
This store is an old school Hessian shop. The front display is a disaster, and it's piled high with boxes of records and CDs. You have to step over stuff to navigate through the cramped aisles. It is not a large shop. It is not a clean shop. In fact, it's a giant pile of stuff that people don't bother to move much. However, they take their metal seriously, even putting notations in grease pencil on used CDs. I don't understand the misspelled name either.
Having moved recently from North Houston to a trendier location in The Heights, this store remains a metal institution because although it stocks many kinds of music, it loves its metal. Right by the front door is the metal section; about 15′ of new CDs in racks, and a flat shelf storing used metal spine-up. This store does the best job of represented every era of metal. There's a ton of old heavy metal, a dedicated "stoner doom" section, and then as much new black metal as you can shake a stick at.
Death metal is there as well but less prevalent. They seem to love labels like Southern Lord. However, they also carry a wide selection of death metal and black metal classics on vinyls, have a 7″ section dedicated to metal, and the best metal used CDs selection seen at a Houston store. Staff were friendly, liked metal and played it in the store, and were obvious metalheads. It's a friendly place to shop for metal.
No Comments
Tags: austin, austin record stores, encore records, hogwild, houston, houston record stores, metal record stores, san antonio, san antonio record stores, sound exchange, soundwaves, vinal edge