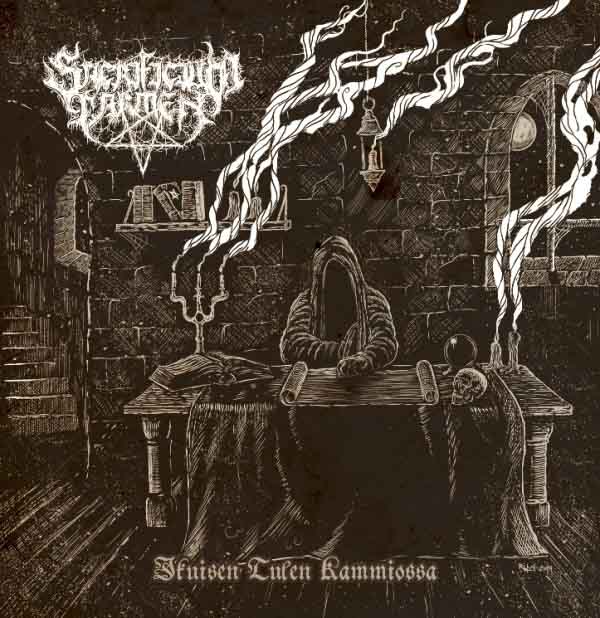 The Scandinavian countries have always had disproportionate metal output; Finland's continues with this debut album from Sacrificum Carmen, an occult-inspired black metal band. Ikuisen Tulen Kammiossa is set to release on October 30th and showcases a more melodic sound than is stereotypical of the country's black metal output.
Saturnal Records issued the following statement:
Hailing from the fertive Finnish black metal scene, Sacrificium Carmen both embody their home country's prevailing underground idiom and offer a unique, diabolical twist to it. Founded in 2009 by vocalist Hoath Cambion and guitarist Advorsvs, the band draws their inspiration from the areas of occultism and Satanism exclusively. Sacrificium Carmen became active in 2012 with a full lineup, and soon released their debut demo "Sanansaattaja" in 2013 via Finnish underground label Spread Evil Productions. 

After the demo's release, the band excelled in the areas of live shows and split releases, which all spread well around the underground scene. In 2014, Sacrificium Carmen started working on a debut full-length album, and the demo recordings led into a signing of a record deal with Finnish record label Saturnal Records for the release Ikuisen Tulen Kammiossa.



Sacrificium Carmen plays black metal with a melodic and atmospheric touch where all tendencies have been directed into very aggressive and sinister output, where Finnish black metal sound meets murky death metal sound as witnessed with orthodox black metal acts. Across the eight tracks of Ikuisen Tulen Kammiossa, the listener is dragged to the sulfurous depths, with vapor trails of hypnotizing melody lingering above the tar-thick sewage. Exquisitely filthy yet exceptionally well-recorded, Ikuisen Tulen Kammiossa presents Sacrificium Carmen as a serious newcomer, a contender to be reckoned with in the years to come, as the band continue to propagate live rituals to increasingly rabid audiences.
2 Comments
Tags: 2015, Black Metal, Ikuisen Tulen Kammiossa, press release, Sacrificium Carmen, saturnal records