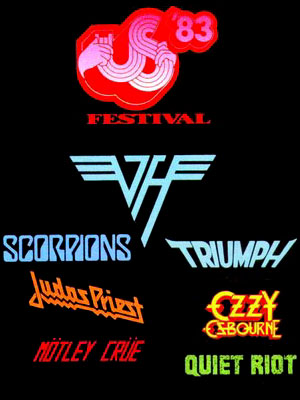 I wasn't old enough to have figured it out at the time, but according to this entertaining report, Steve Wozniak of Apple fame cobbled together a festival in 1983 whose goal was to showcase new styles of music, and in the process, showcased metal blowing away the willowy music of the previous ten years.
This isn't to say I dislike New Wave or any of those other styles. They have their place. But in 1983, metal was raging to take over. The Cold War was in full nuclear terror of instant radioactive death, the world was unstable and conservative, and as a result most people were getting ready to go into full kumbaya mode. Metal to the rescue, with warfare, doom, death, disease, horror and hedonism!
Heavy Metal Day featured Judas Priest, Van Halen, Triumph, Motley Crue, Quiet Riot, Scorpions and Ozzy Osbourne raging across a massive stage with spectacular amplification. In short, it was the MTV metal of the day, or the stuff you'd see on the then-new invention of MTV with its music video channels, and that meant it wasn't as extreme as what we have now, but for then, it was like a giant backlash against the gradual creeping "love will save us" mentality of 1970s music. With metal, war was back, and it was angry!
The ever-pointed Vine Neil of Motley Crue told one reporter that the significance of Heavy Metal Day was that "It was the day new wave died and rock 'n' roll took over." 670,000 people attended the event, but over half of them came for Heavy Metal Day alone. The power of metal was established, and would only rise from this point onward as the world waited for the wavebreak of Slayer, Metallica, Bathory, and Hellhammer which was about to come crashing down about its ears.
Perhaps May 29 should be remembered as the day metal rose up in power and struck down the opposition to assert itself.
1 Comment
Tags: heavy metal day, hessian, judas priest, motley crue, ozzy osbourne, quiet riot, scorpions, steve wozniak, triumph, van halen