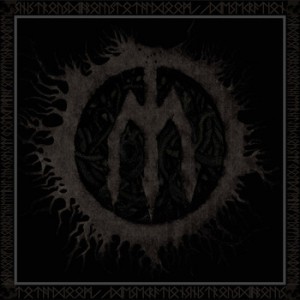 Sinistrous Diabolous creates funeral doom metal from the fragments of death metal. It uses the rapid strumming of slow chording that made Incantation so thunderous, merged with the abrupt tempo changes of Autopsy, and the mixed sounds and dynamic variation of Winter.
Total Doom // Desecration is as a result both shockingly absent of any of the trimmings of civilization or what we recognize as music, and also momentarily beautiful, like a ship emerging from the fog only to be lost again. Its primitive production and dark chromatic riffs enhance this sense of naturalism emerging against the hopeless mental muddle of humanity.
The atmosphere of murky ambiguity that enshrouds this album also grants it a resonant sense of purpose. Between power chorded riffs, interludes of pure sound or lighter instruments pervade, creating a sensation like slowly poling a raft through a dense swamp, looking for enemies.
Of note are the vocals, which deliberately abstract themselves into an uncivilized and primitive growl that calls alongside the music like a pack of dogs howling at a kill. Percussion fits the Autopsy model, being both alert and intense and knowing when to fade out into the drone.
Sinistrous Diabolous use heavy sustain not only on their guitars, but in the way riffs are sliced into these songs. Notes of doubt and ambiguity hang over every change, waiting for the song to roll over again and from the relentless ferment of its imagination, pull forth another riff.
While many doom albums come and go, and most either slide into the 1970s style or death-doom, this album cleanly integrates the last two decades of the variation in the latter styles, and comes up with something that is not only bone-crushingly weighty in sound and meaning, but also brings forth a beautiful melancholic isolation at sensing what has been lost.
No Comments
Tags: death-doom, doom, sinistrous diabolous