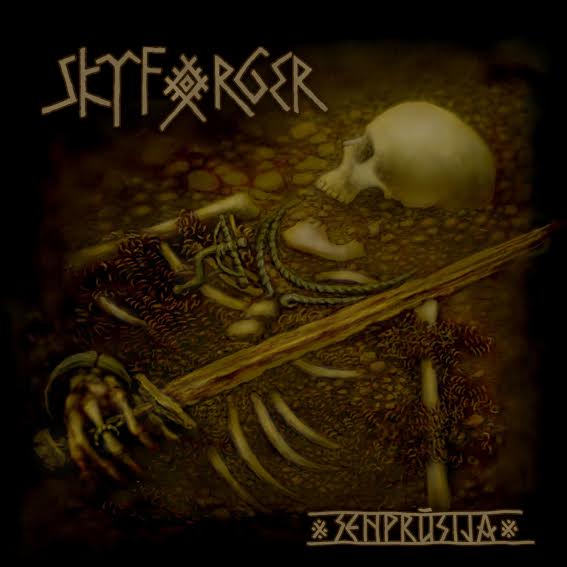 This Latvian band represents what happens when all of the correct elements are assembled, but the aesthetic takes precedence over songwriting, and so the latter is filled in with random elements to fit the vision of the former. This shows the limits of vision because this framework imprisons musicality within aesthetics, in the converse of technical bands who come up with cool riffs and back-invent a purpose to them. Skyforger combines black metal, speed metal and nascent death metal into something a lot like the early works from Dodheimsgard: compelling rhythm, but a lack of internal connection creates a sense of genericism that clashes with the aesthetic and leaves the listener with a vision of lost objective.
Bouncy speed metal riffs collide with black metal and ripping early death metal style riffs to support the vocals, which apparently say something significant, but owing to the need for vocal predominance force songs into a verse-chorus format that reduces riffs to background sound, which in turn limits their role to bouncing around and providing some contrast to that, but never taking the lead in song development. As a result, Senprusija feels like a platform for the vocals and what stands out most is its speed/death metal roots, which are composed of what is essentially straightforward rhythm riffing partnered with melodic hooks. This makes for a pleasant listen, but one too disunified to stand the test of repetition.
Taking a page from the book of fast speed/death bands like Merciless, Skyforger keep the melodic hook as the center of the song but pair it German speed metal style with a chanted and rhythmically catchy chorus which quickly dominate the rest of the song. The constant chugging riffing, as happened on later Vader and Slayer albums, reduces focus from the interaction between riffs and fails to suspend disbelief because this style fits too easily into the rock framework which requires constant competing internal distractions to advance the song. As a result, consciousness is lost and songs subdivide into parts. There are many good riffs on this album, but the whole does not add up.
6 Comments
Tags: 2015, folk metal, Senprusija, Skyforger