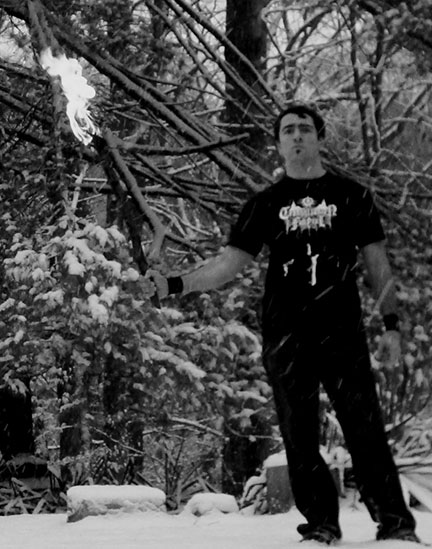 We previously posted an article on the exploits of Sleepwalker from Forbidden Records, Forbidden Magazine and from the black metal band A Transylvanian Funeral. That article can be viewed here.
Sleepwalker has decided to come out from the shadows to indulge us further regarding his projects:
Since creating Forbidden Records you've released numerous albums and splits. What are some of your favorite releases that you'd like our readers to check out? 
93! I would have to say that they are all killer and out of print. Each release has had its own relevance and meaning. I was really happy to put out Thornspawn / Black Angel, two legendary bands, along with re-issuing Kult ov Azazel's demo material. That is not to make light of Immolith or Draconis Infernum, as their tape releases were killer companions to the CD counterparts. I hope to re-issue the older A Transylvanian Funeral material soon as well, so I suppose fans will get a chance to hear that material again…
How has Forbidden Records grown since its inception? 
This month, March of 2013, marks several 'firsts' for Forbidden. The distro is growing in size and I am able to mark all of our CDs @ $5. I would rather they sell and be enjoyed than try and get every last drop of money from the fans. The new A Transylvanian Funeral and Goatcraft albums out this month are our first Pro CD, Redbook quality release, and I was able to hire Clawhammer to help out with the press push. It has grown to the point where I almost can't do it all myself, which is great. I have also expanded into selling occult amulets and talismans, as well as occult books from Crowley, Summers, Mathers, etc.
The occult and metal have always been a huge part of my life so it is a natural progression. Forbidden Records is also still a recording studio, as it really began, although I rarely invite clients into its doors and remain private. When I have, I have been very selective and not disappointed in the outcome.
Why did you start Forbidden Radio? 
Forbidden Radio started for many of the same reasons Forbidden Magazine started. I was operating a studio under the name of Third Eye Audio and writing a magazine when I put out the first A Transylvanian Funeral album. The magazine was fun but I found myself with more and more responsibility online while the print version sat on a self and the interviews I secured went nowhere. I understand the difficulties of running a zine so I opted to leave and start my own,  since I had an album I wanted to promote, why rely on someone else to promote it for me when I can do it myself on in my own zine? With Forbidden Radio, it was the same situation. Many have great mp3 collections they have downloaded via Limewire or whatever it is these days to listen to them mutter incoherently in to a $20 radio shack microphone makes my skin crawl. I am not hoping that DJ Tonedef is gonna pay his internet bill this month and be able to do the show and  promote my songs. No way! Just another case of DIY. There are a lot of great internet DJs out there and I had opportunity to be one but I know I don't  have the time or interest so I made Forbidden Radio, where bands can upload their mp3 and be in the queue of songs being rotated. There are no DJs, no advertisements nothing but streaming aggressive music.
It's very admirable that you run Forbidden Magazine. The internet has garroted most DIY publications. Why did you elect to print physical copies of your magazine instead of stockpiling it all online? 
I don't know, to be honest. I enjoy making things, tangible products as opposed to files and software. I have all the magazines online in PDF form for  people to read in whatever form they want but I have always been a reader, I still collect books. I work in a bookstore. It is in my blood to turn pages. Blogs and webzines are a dime a dozen but they are usually more current and up to the minute, which is nice, but a zine that interviewed Mayhem in 1990 is more appealing than a webzine that interviewed Mayhem in 2012. Printed zines are not disposable like the junk food internet is. Labels like to see their material represented in print as do the bands. Fans can go either way but if a fan collects Inquisition records, patches, buttons and zines with their interviews he has something to work with in printed form, online, not so much. The online he has to share, he can't claim his territory with the online interview and  add it to his collection. He is forced to share. I like giving people the ability to mark their territory, to not share, to have something of which only 100 copies were made, revert to primal animal character instincts, etc.
You have interviewed numerous bands for Forbidden Magazine. I noticed in some interviews you inquire about occult influences. What are your thoughts on the occult?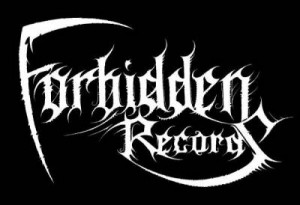 I have always had an interest in things occult, or 'hidden'. My mother was an accomplished numerologist and had an uncle who was a successful hypnotist and psychic so I was exposed to things that others may not have been, all of which were positive, of course. I don't consider myself a satanist or devil worshiper as other who do not know me or my character do. I do not discuss my spiritual practices as that only weakens their potency but anyone who is familiar with  Crowley's 28 Theorems should know that I adhere to their principles and methodology. I have experienced far too much amazing 'changes in conformity with Will' to believe anything less than the Truth in Magick and the Higher Self. Crowley says the same thing that Chopra and Robbins does: we live in abundance, change your paradigm and become a receptacle for your desires. Get out of your own fucking way and let the power flow through. While I study and practice Thelema, Tarot and  Western Hermeticsim, I also find the practice of Chaos Magick to be of worth, as the complex systems of the Golden Dawn, QBL and Enochian can be so multi-faceted that it become unproductive. Sure, you may become a wise old mystic after 20 years of studying and meditating upon the QBL but that understanding is of little practical use when you can't manifest a parking spot or get a better paying job. I was initially drawn to the work of LaVey as a teenager, as most rebel youth are, the 'practical' or 'materialist' sense of LaVey's Satanism is appealing to me as well, as I spent years of my life without money, without direction, without the power that money brings, like being able to print a magazine, put out albums, buy mixing boards, etc. Unfortunately, LaVey puts his Satanists on an island, disconnecting them from the infinite universe and its 100 trillion stars. That is where I switch gears and find myself picking and choosing amongst different faiths and making things work for me. I guess that makes me a heretic of some sort or another.
You appear to be a workhorse. Is it strenuous to operate so many projects at once?
Yeah, it is and I try not to bitch about it too, as I would 'do' than 'want'. I just had the conversation with a friend that I would rather be hard to work with and show a strong track record of success as opposed to be 'easy going' and get nothing done. The hardest thing is not making time to go the gym, to be honest. I miss working out and having that time to myself, for myself, alone. When the time comes that a project is suffering because I am trying to juggle too many projects, I hope I am smart enough to give some one else the reigns, hence my hiring of Clawhammer for March's releases. I don't gamble at casinos, but I do bet on myself and Forbidden to get shit done. I have watched so many young bands rely on other people to get them somewhere they want to be instead of taking it themselves…fuck that shit! I am humble but when I look at what I have done, it feels good. I wrote a pretty heavy introduction to Forbidden Magazine III, reminding bands that if they work forty hours a week at a shitty day job, why can't they work just as hard for their precious fucking art? I just can't  wait on handouts from anyone and the zine, the label and the band all kind of fit together well anyway. Malcolm X said that no one can give you anything, if you are a man, you take it.
What are the influences for A Transylvanian Funeral? 
I have a lot of influences musically. Mayhem was the first band to turn me onto black metal. I hear so much new music from Forbidden Magazine it is hard to gauge what makes it through my subconscious filter into my guitar… I think the sound has changed enough over time that it hasn't grown old, and it was always my intention to reinvent my sound or creative process with each album. I enjoy all extreme music but find myself listening to completely different stuff for pleasure, when I am driving, for example, this week I have been listening to old Wax Trax! stuff, before that I was listening an album that I mixed of a local psychedelic / rock band. There are parts of me that just like playing Black Sabbath songs standing in front of my amp, rattling the windows, too.
Being the sole member of A Transylvanian Funeral, how would you place in juxtaposition your new album Gorgos Goetia to previous works? Is there a personal rumination promulgating in your music?

I am certain that I do have a message or proclamation that I am making in my music, it is just that it changes from song to song, album to album. Gorgos Goetia has a focus on the creative energy of Magick, its power and properties but every song is not necessarily about Magick, unless of course you reference Crowley's Theorem #1… When I started writing for Gorgos Goetia, I didn't want a drum machine, so I got a shitty drum kit and beat the hell out of it the best I could. I didn't want layers of guitars, so I recorded one track and used a delay for fake stereo. Minimal production in terms of EQ, compression, gates, etc. Anyone who has heard the previous album, 'the Outsider', can hear keyboards, pianos, samples, drum machines, multiple guitars, elaborate reverbs and a very coherent flow of songs from start to finish. I wanted Gorgos Goetia to be more disjointed, less of a comfortable listen, harsher on the ears and more a collection of songs that a 'concept' album.
What are the themes of the title and lyrics for Gorgos Goetia?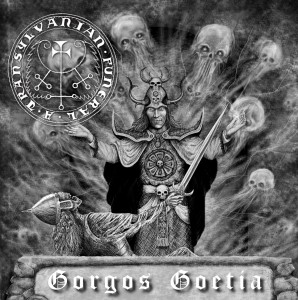 The themes vary but are based in Magick. 'Moonchild' has little to do with the novel and more to do with the novel's point, the birth of a Magick child, the creation fashioned from a union between the Will and the Universe. Potential + Preparedness = Creation. 'The Supreme Rite of Transmutation' is a celebration of power, a giving of thanks and acknowledgement of the divinity within. 'Night Hags', on the other hand, is based on a story I read from one of Montague Summers' collection of witchcraft and vampire legends about these vampire slaves, or 'night hags', as he were referred to, that would enter the home and steal the body of a soon to decease corpse. I enjoyed that story, because in it, the hags didn't use 'black magic' to steal the body, they simply left a bottle of rum outside the door and when dying's family were all drunk and fast asleep, they simply walked in and took his body. Depending on your perspective of things, they can appear either mundane or magickal. Many times, I have a song title in my head and work from that point forward, 'Hymn to a Gorgon' was one of those instances. From that song, I derived the album title, Gorgos Goetia, which is a difficult translation from Greek to 'terrible sorcery'. I plan to release a collection of all lyrics from A Transylvanian Funeral in book form, as they have never been released previously, other than in PDF form and two songs with Plutonian Shore, 'Moonchild' and 'The Supreme Rite of Transmutation'.
The split Alchemical Manifestations has received good reviews. Why did you choose to do a split with Plutonian Shore?
Plutonian Shore was visiting Tucson and contacted me, wanted to hang out and we did. They came over and we sat in the studio listening to Snotarar and talked about Magick and putting out an album together. We both had material to release and it seemed natural. It was great meeting them and we are both fans of each others music, I just hope to repeat the experience sooner than later. I just heard today that they sold out of the cassette version of the split but I still have copies of the CD available. I also wanted to share a split with a band that operated differently from my own. They are a full band with two guitars and keyboardist, play live, etc. where as I do not, etc. We vary in methods but share similar results or goals, so it made for an interesting and contrasting split, which I think creates more listenability and interest.
A Transylvanian Funeral has never played a show and has declined summons from others to do so. Will A Transylvanian Funeral ever perform live? 
I doubt it but I never say never. I don't disrespect what other people do but feel disrespected when someone asks me to play a bar and doesn't take the time to research who they are contacting. A mass email to 1000 bands inviting them to 'pay to play' is garbage and I will not suffer a fool. If and when I do play live, I would like to document the event, video, audio, etc. and make a nice release out of it as it will probably not occur again. I just find I get more done alone. Maybe I spent too many years playing with people whose ideas did not coincide with my own and things would be different if I were different but if it isn't broke, why fix it? Plus I would need to do it in Texas as all the potential members reside there currently…!
Thank you for taking the time to enlighten our readers about your exploits. What advice would you give others that are interested in creating their own record label, performing solo in a black metal band, or establishing their own magazine? 
Thank you for taking the time to write the interview and push my material, it means a lot to me! If someone is reading this and wants to do the things mentioned, remember that your success is your responsibility, not a label's, not a magazine, not a DJ or promoter or club or a drummer or his three girlfriends. There is a power and a means to use that power to get what you want in life. Trust your instinct and be prepared to get knocked on your ass more than once. Once you decide to stand back up and keep fighting, that's when life will give you more of what you want. 93!
No Comments
Tags: A Transylvanian Funeral, Forbidden Records, Sleepwalker