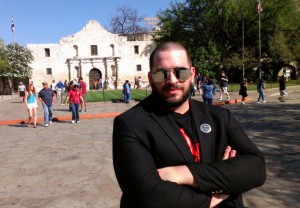 Internet radio access is usually available on a global scale. With a little webcasting know-how someone can connect their computer to a server and stream a full-fledged internet radio station. I would imagine that marketing the station to build an audience might be more difficult than devising the station itself. I stumbled upon Duke Hagin's show Southern Decay on Stench Radio. It was great to see that his program consisted mostly of underground metal and classical music which reached thousands of people. Duke agreed to an interview after I was interested to see how his program came to be.
Howdy Duke Hagin! Thank you for taking the time to have the Death Metal Underground inquire about your exploits. What inspired you to get into internet radio?
Just to put this into perspective, as of this interview I am 24.  Around the time I was 10 or 11, Limp Bizkit and Korn became a huge part of my life.  I often recognize these shitty "nu-metal" bands as my gateway to a taste in finer music, despite being well aware of bands like Metallica and Slayer.  I was in marching band in high school and I was largely a loner, but I did have a small group of friends I would float around to and expose new music to.  Some people might be surprised to find out, considering the type of music I play on my show, that Rammstein is amongst my favorite bands.  I exposed friends to Rammstein, Korpiklaani, and other bands and in turn I was exposed to bands like Darkthrone, Mayhem, Venom, Immolation, Dimmu Borgir…the list goes on and on.  During these times my friends and I would hang out on various IRC channels and stream music for each other.  This is what largely got me interested in broadcasting to the masses.  I enjoy exposing people to things they've probably never heard before.  Obviously my preferences in music, Rammstein and Korpiklaani aside, have drastically changed and I hope that my work is allowing people to enjoy something new to them.
Stench Radio is owned by Stig Stench. How did you get into contact with him? Was it easy to convince him to let you have your own show?
How I met Stig has nothing to do with music.  When I was a senior in high school, I was very much (and still am) involved in professional wrestling.  Stig was a manager for a group of various wrestlers and I would volunteer for a locally based wrestling promotion.  When I found out Stig was a fan of black metal, we hit it off.  He eventually persuaded me to get involved in the actual show and became a mentor of sorts to me.  We lost touch for a while after I graduated high school and moved on to college but we got back in touch a bit after Stench Radio was launched over three years ago.  One month I'd ask for a 30 minute show and it wouldn't happen.  The next month I'd ask for a one hour show and it would never come to fruition.  Honestly, I begged for almost three years to have a show and he was gracious enough to give me a three hour time slot.  I consider Stig a great friend and although we may not agree on a lot of things philosophically, he is very near and dear to me.
Your show Southern Decay on Stench Radio is different than most of the other programs on there. Why did you decide to bring extreme metal to a punk oriented radio station?
Stench Radio has a large audience.  I mean no disrespect to the other DJs by saying this, but you can only hear so much Black Flag and Sham 69 and no on-air personality before you get tired of it.  If I wanted to listen to robots play music, I'd put on Spotify or something.  Stench Radio has attitude and that's why I wanted Stench Radio to have a show that is complete chaos.  I do my best to be personable and have fun with it.  When I first started the show, I was incredibly nervous.  Over time I think I've found my style and the audience has been more and more responsive each week.  I hope to continue to learn from my listeners and learn more about myself as this experience presses on.
Most of the shows on Stench Radio reach thousands of listeners in over 40 countries. Was there marketing involved to help build the audience? Has your show been well-received?
Stig has connections everywhere.  The man has built an underground empire from nothing and what's great about it is that it is a tight nit community with a very loyal fan base.  Marketing has mostly been through promoting shows locally in Austin, TX and via social networking.  The network is completely listener supported and nobody is making a dime off of this.  As far as my show being well-received, there was some initial backlash from the guys who want to hear nothing but punk 24/7 but I've grown on a lot of people I hope that trend continues.  It's been getting more and more exciting to do a show each week, especially when I get to conduct interviews.  My interviews so far have not been great on my side but that is something I am definitely working to improve on.
Being that you're based in Texas and sometimes feature Texan bands on your program, do you feel that it's a duty to support your local scene through your program?
I regularly play tracks by Hod, Plutonian Shore, The Black Moriah, Id, and Morgengrau.  I hope to keep that list growing.  I wouldn't say it is my duty to support these bands.  It is an obligation.  They pour everything they have to make the scene in Texas what it is and I refuse to be a leech.  I want these bands to succeed and I want Texas to be a hotbed for metal.  As far as I'm concerned, there is no reason this state can't have something on the level of Maryland Deathfest.  Rites of Darkness (bullshit aside) and Sacrifice of the Nazarene Child were magnificent fests but there needs to be a stronger foundation.  There are a few smaller fests that mainly feature local acts that pop up here and there but there needs to be something stronger.  This needs to reach out further.  I mean no disrespect to any promoter in this state, but I feel that by exposing these bands to a large audience I can help break ground on something big.  I don't know what that something big is quite yet, but I hope that one day, in some city in Texas, we can shut down a street or park or fairground and bathe in the glory of what these bands do with thousands of other people.  "Big things have small beginnings."
You also feature Classical Music on your program. Why?
There is a very simple answer to this question.  You must pay tribute to your kings.  Without the old, there is no new.
What are your favorite bands?
I've already embarrassed myself and declared myself false by admitting that I like Rammstein and Korpiklaani, so I hope to salvage some "cred" with this answer.
I love Midnight.  I open every show with a Midnight track and I close with Saint Vitus' "Blessed Night".  I've also recently gained a great deal of respect for Revenge, especially after seeing them at Maryland Deathfest this year.  Antaeus and Aosoth are great.  Marduk is up there along with Wodensthrone, Embrace of Thorns, Pseudogod, Immolation, Katharsis, Desolate Shrine, Adversarial, Nosvrolok, Profanatica, Beherit………….
Since your show is still fairly new, do you have any special plans for it in the future? Theme based shows?
I have interviews coming up with Humut Tabal and Plutonian Shore.  As far as themed based shows go, the only one I've done so far was the show that aired on April 20th, for obvious reasons.  I played a lot of classic rock, doom, sludge, and "stoner" metal that day.  This Saturday (6/1/13) I am doing a live show from Chaos in Tejas.  The Chaos in Tejas show will largely feature bands playing that festival such as Absu, Manilla Road, Satan's Satyrs, Speedwolf, and much more.
Thank you for your time. Please share any last words and resources for our readers to check out.
My show airs on Stench Radio from 3PM to 6PM CST every Saturday.  Again, Stench Radio is completely listener supported. Donations are appreciated to cover server and equipment costs.  I am in the process of having a series of patches made as well so keep an eye out for those.  You can reach me personally on Facebook as well. Keep your hammers high and support your local scene, no matter where you are.
No Comments
Tags: Duke Hagin, Internet Radio, Southern Decay, Stench Radio