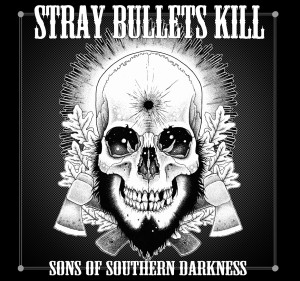 Immediately from the first note, this release captures attention. It begins with a focused and powerful assault that is refreshing in its youthful vigor. Unsubtle, it shamelessly bashes ahead with simple yet engaging song structures that are well suited for live performance.
Compositionally an intersection of punk and metal, Sons of Southern Darkness features the linear powerchord riffs of punk combined with transitional single-string motifs reminiscent of speed metal. Songs are short three or four minute affairs, typically verse-chorus with new riffs materializing in the second half in order to provide differentiation. Vocals are low pitched shouts; in their best moments primordial battle cries fully materialized, however at times sound a bit strained and evoke the "angry man in a phone booth" mentality. Drums are present without being overbearing; the drummer is adept at knowing when to follow the guitars and when to differentiate, providing an added layer of nuance.
Aesthetically, this a release that straddles decades. Its core is from the 80s and 90s, however from its production and overall consistency it is decidedly a modern release. This allows the band to avoid entropy by being yet another "retro" tribute band and move their form in a unique fashion, providing an intriguing foundation for those interested in seeing the current generation strive for the art of the old without wallowing in nostalgia. However, those that compare it to its progenitors will probably find it lacking.
Sons of Southern Darkness can be picked up via the Stray Bullets Kill Bandcamp page for £2 (around $3.25).
3 Comments
Tags: Heavy Metal, punk, stray bullets kill