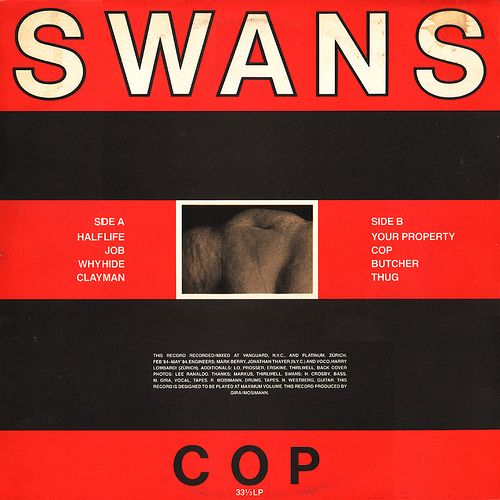 Much can be said with very little, as is the case with the early era of the experimental titans known as Swans. Their discography ranges from the intensely violent to the melancholically beautiful and their sophomore effort Cop stands out as the perfection of the style present on their debut Filth which acted as the foundation of what was to come.
Influencing the likes of Godflesh, Cop launches forth with a cerebral wall of sound crushing everything in its wake like a colossal bulldozer laying waste to a city. The most consistently pummeling album in the Swans catalog — unlike later efforts (namely Soundtracks for the Blind) — attempts to engage its listeners in a gradual and destructive descent into the darkest recesses of the earth rather than projecting a more horror-inspired soundscape. The brooding ambiance conveys a sense of downward direction towards something unknown, like rappelling down a previously unexplored cave.
Though arguably not quite a metal release, it possesses heaviness both aesthetically and internally as well as the ability to create an all-encompassing atmosphere of destruction and dark curiosity. I recommend this album to any metal fan looking to explore the influential and often undiscovered Swans.
http://www.youtube.com/watch?v=Y2uDE0x62aY
17 Comments
Tags: godflesh, Industrial, swans