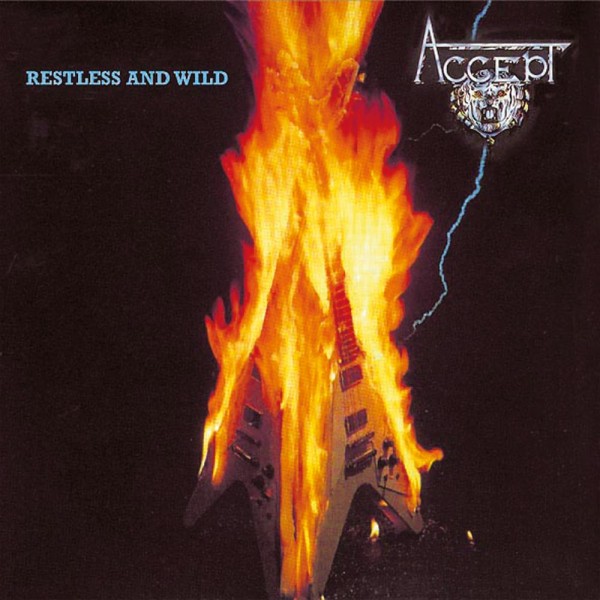 Wolf Hoffmann asserts that Accept wrote the first speed metal song ever with "Fast as a Shark" from Restless and Wild way back in 1982. While the debate rages across the internet, now the equivalent of 1980s daytime television, the question can be answered by looking to what speed metal is.
Speed metal — as distinct from thrash a genre popularized by Thrasher magazine devotees and skaters making hardcore/metal crossover such as Dirty Rotten Imbeciles and Cryptic Slaughter — originated in the use of a single technique: the muted strummed downpicked power chord. This technique combined the repetitive downpicking of punk with palm muting, previously used only to emphasize specific notes. Much of its appeal came from the changes in amplification and production since the previous decade which allowed louder music to exist. Much like the 1980s itself, the muted strum conveyed a sound of clashing absolutes and decreased the amount of harmony heard in each chord, making the music more purely percussive like techno and early industrial. Even more, it gained the volume punks had always aspired to with its explosive and uncompromising sound. In the process, it inspired more use of accidentals leading to more chromatic fills, which in the next generation with death metal became a form of riffs themselves, where speed metal relied more on the NWOBHM song form and harmony.
Generally regarded as starting in 1983 with Metallica Kill 'Em All, speed metal presented a radically new sound which had precursors in extreme (for the time) bands like Motorhead, Judas Priest, Blitzkrieg, Tank and Satan. However, no bands had fully adopted the new technique as the basis of their composition until the early cluster of Metallica, Exodus, Mercyful Fate, Nuclear Assault, Anthrax and Megadeth. During the 1980s these bands were the most extreme metal that most people could find in their local record stores, which were how most people got music back then, with the exception of Slayer which was a speed/death hybrid and Venom which was a punk-influenced form of NWOBHM. Accept does not measure up to this standard on the basis of technique, since its song fits within older heavy metal format and does not use the muted strum.
This statement does not decrease the importance of Accept in the creation of speed metal. A long line of innovations occurred leading to speed metal, starting with the incredibly rough sound of Motorhead in 1976 but aided by progressive bands like King Crimson and Greenslade as well as a chain of punk acts who pushed the envelope such as Discharge, The Exploited, Amebix and the Cro-Mags. Below you can hear "Fast as a Shark" and see this heritage for yourself, contrasted with the archetypal speed metal song, "Creeping Death" from the second Metallica work Ride the Lightning and Blitzkrieg's self-titled track from their 1981 EP Buried and Alive.
http://www.youtube.com/watch?v=K7ysTcd_-QY
13 Comments
Tags: accept, blitzkrieg, crossover thrash, metallica, Speed Metal, tank, Thrash, thrash metal