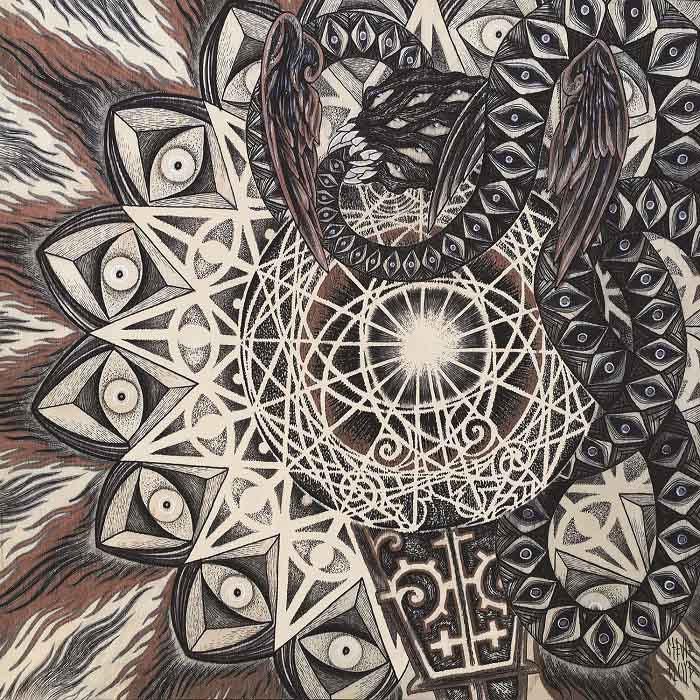 I had high hopes for The Accuser… of a sort. I was expecting an ungainly, melodramatic symphonic black metal ala Dimmu Borgir. Unfortunately, Dimmu Borgir hasn't released an album for Abigail Williams to ape in over five years!  Cue the necessary stylistic shift, and the dashing of my admittedly dubious hopes, founded on information about this band that was similarly out of date. The Accuser is one of those indie-darling post-black metal albums, and while it's usually not as blatant about its weepy, depressive influences as Deafheaven or Myrkur (whom I always seem to mention in pairs), it's still a pretty flat and bland experience.
Abigail Williams' latest actually pulls on a fairly wide mixture of post-black approaches, although they are generally united by a consistent production. The production team decided to portray this band as just fuzzy and indistinct enough to possibly pass as 'true' for a moment, but not enough that the intended audience would complain about a garbled aesthetic. There's also the occasional awkward high pitched scream strewn in the mix, but it's an otherwise standard sound. Within this, Abigail Williams explores such things as jangling consonant guitar leads, lengthy drone sections, start-stop riffing, and so forth. Now, there is nothing innately anything about musical techniques, and this is especially the case on this album, where the songwriting is haphazard at best. The difficulty that you often run into with this sort of musical language is that it's difficult to build off these ideas in any way, whether it be the standard theme and development shtick we advocate around here, a more ambient approach, or much of anything, really. In general, Abigail Williams has a serious problem gluing things together and seemingly tries to hide it with minor stylistic shifts within and between tracks; regardless of their intent they don't manage to pull off such subterfuge.
For whatever small reasons, I don't find this album quite as annoying as many of its genre contemporaries. It still is, however, a boring listen that does little of interest with the hand of tricks it's taken.
3 Comments
Tags: 2015, abigail williams, crypto-indie, lame metal, post-black metal, shoegaze-metal, the accuser