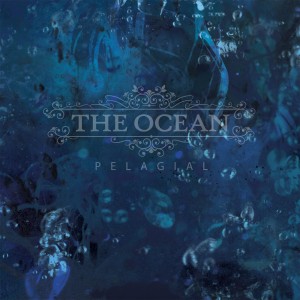 The Ocean are usually described as "post-metal," but a musical analysis shows that it's from another tradition: progressive punk.
Remember that explosive trend from the middle 1990s? It's back, just with more metal-styled riffs, but it's very far from metal and calling it "post-metal" would only make sense if its origins were in metal. Progressive punk realized the limits of minimalism and so expanded the genre with more complex song structures, more use of harmony and key, and in other words, imported a lot of stuff from rock and the rising indie rock scene. In this way, post-hardcore, progressive punk, early metalcore, indie rock and even shoegaze were linked together by a common origin.
Pelagial resembles an instrumental jam between Led Zeppelin, Fugazi, Jawbreaker and later King Crimson thrown together in a musical blender. It's jazzy, for the most part light and open, and when it gets dark, it's dark through repetition of minor key phrases in the type of dissonant drone favored by indie bands. It builds intensity like an alternative rock band with melodies collapsing on themselves, layer in opposition. Like post-hardcore bands, The Ocean delights in putting jarringly different phrases together in the same key, which creates the "carnival music" effect for which metalcore and tech-deth are known.
The cool thing about this album is that its concept shows in the music. The ocean is designed in layers, so why not design an album in layers, getting heavier as you go deeper in the virtual ocean in your mind? That part is kind of cool, sort of like the Mastodon idea to ape Moby-Dick or some of the other nifty conceptual stuff to come out of alternative metal lately. It doesn't get heavier per se as much as more active and more droning, with lots of use of "emo chords" to create a sense of constant suspense grinding against the narrow intervals used for the progressions.
Compare this to some progressive punk, and then its originator:
Notice the similarity of chord voicings and how they're used in progressions, and how many of those progressions use similar melodies, and how those tend to fit together in exactly the same way. It's a more complex, newer generation of the older, which is represented here in its 1990s and 1980s forms, respectively.
To the experienced listener, this will sound like Pelican or Kyuss with a bit more imagination applied, but it's basically indie rock with a few metalisms thrown in. That's not bad, at all, and in fact this is above average indie rock with far above average instrumental skills, but there's nothing here to appeal to a metal fan.
No Comments
Tags: indie rock, the ocean