So much of what we do in life is politics. Telling people things they want to hear and making warring parties proffer the olive branch. But metal should not be about politics. Metal should be about pure spirit, both inside of us and in the world at large, meaning that we know ourselves and we know reality. With that kind of background, we don't need politics. We don't need drama. We don't need to be flattered. We want adventure — musical adventure, preferably with tragedy and triumph, violence and vengeance, sodomy and satisfaction! Meet this week's Sadistic Metal Reviews, where sacred cows get sodomized and we find satisfaction in the diamonds among the cluttering turds.
Fenriz' Red Planet/Nattefrost – Engangsgrill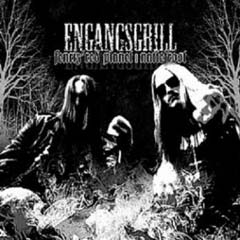 We're going to talk about the first band here, Fenriz' Red Planet, because Nattefrost is forgettable 1970s punk rock dressed up as early 1980s black metal. This band is a hybrid between doom metal, 1970s heavy guitar jam, and what they call stoner doom now but was recognizable in St. Vitus, Pentagram and Sleep for many years. The production approach and song style is closest to 1970s heavy guitar rock, like Cream or even Led Zeppelin, in that songs are verse/chorus works with a big fat diversion stuck in the middle that may run through a couple of riffs but comes back into key and rhythm so the cycle can spin again. But over half of the riffs are straight out of old school 1980s doom metal, and that would be St. Vitus and Pentagram but also late-blooming NWOBHM with a doom edge like Witchfinder General and Budgie. It's not exciting; if anything, it sounds like a demo where the band hasn't yet finalized direction and aesthetic. However, it is good; these songs have character and a spirit to them which you cannot get anywhere else. You can hear a few lifts from Fenriz' folk/metal project Storm and one or two similar themes to Darkthrone, but this CD doesn't need to namedrop to stand on its own. They named it "Engangsgrill," which apparently is a type of disposable barbecue, which fits exactly the kind of sloppy rock/metal hybrid you have here: pickup trucks headed to the country with a keg, a bong and some friends, followed by a weekend of the best neighborhood bands jamming, society gets forgotten until on Monday morning you drive back with a mouth full of ash and the kind of diluted hangover that comes from cheap beer in constant consumption.
Baroness – The Blue Record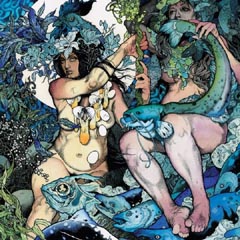 Oh neat, an emo/stoner metal hybrid with lots of indie and punk rock touches. If you can imagine Neurosis and Jawbreaker making sweet love with newer Sleep, and throwing in tons of stuff from the heavy metal and indie rock canons, you'll have a good image of what this cheeseball release has to offer. From the way the labels and the big industry reviewers — who have about five minutes to hear each CD, and put them on in the background while socializing for two weeks, then forget about them — went on about this CD, you'd think it was the second coming of innovation itself. Instead, it's stale and completely loses what's good about metal and punk, converging on a mean that's closer to your run-of-the-mill hipster band. This is awful.
Despised Icon – The Ills of Modern Man
Metalcore is rock songwriting with technical death metal technique, and a desire like punk music to string together radically "different" riffs as if it can surprise us, and since it's random in structure, built around what's left: vocal phrases that end on the expectation of the offbeat like a sales pitch. Despised Icon is as a result about 80% the fratboy-pleasing, gurgling, blasting, very simple riffs played in difficult time of technical death metal, like Immolation, and the rest is bouncy moronic rock music that I got into metal to escape. Consequently, it has no attention span and cycles like carnival music between different styles and tempos, then crams it all into a barely-disguised verse/chorus structure. What is the point of typing this all out? To point out how to fail at metal. This is the abyss of music and is every bit as stupid as your parents claim your music is. If you want to fail at life, try listening to this random accumulation of parts — each part is in itself OK, not great, but together they add up to a conversation made by borrowing a phrase from 30 works of literature — and as a result project a scatterbrained, neurotic, pointless and non-constructive view of the world. No wonder people hate metalcore; it's the nadir of underground music.
Cryptopsy – The Unspoken King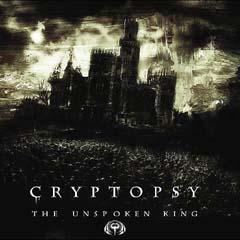 This is what's left of the band that made None So Vile? The neatly structured, compact death metal has been replaced with blasting metalcore. Metalcore, as you may know, is kind of a garbage plate for underground metal and punk. Based around the interpretation of technical metal into punk structures that Human Remains showed us, metalcore loves randomness in circular song structures, so you get ten minimally-related riffs linked by a breakdown and a few slow chants, and then the whole thing repeats, and then the song ends. It's music for a fragmented mind and as a result, has the IQ of a headless chicken watching daytime TV. Cryptopsy utterly fails to make coherent music out of this style as their countrymen Neuraxis eventually did, and instead defecate this collection of random riffs based around an egodramatic vocal track. It's total garbage for morons.
These Are They – "Who Linger"
Imagine Iron Maiden doing a simplified version of 1990s Demigod or Amorphis. This CD is unique in that it successfully applies both (a) the old school death metal style and (b) a heavy metal, harmonized-guitar, bouncy riff style — and does it by coming up with a melodic phrase and answer, and using these to make layers of verse and chorus. Play riff; play notes of riff in variation of rhythm; harmonize guitars and repeat, then cycle. The choruses do the same. Nothing sounds out of place, and the deep guttural voice guides it along, but it seems entirely out of place when the heavy metal riffs and trills come into play. In addition, the riff salad of death metal isn't here; like rock or indie, this rides one pattern for verse and one for chorus, and much variation is not to be found, which probably places this out of the range of old school death metal fans. Still, these are quality riffs and excellent use of basic harmony, which makes this easy listening and because it is not random, a great improvement on the metalcore-heavy stuff we hear daily. For albums like later Bolt Thrower, which tried to make a heavy metal/death metal hybrid, this is probably the best so far.
Vreid – Milorg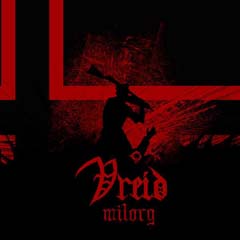 Black metal was about writing unique melodies and building song structures to fit them. Vreid is about mimicking the past with more intensity in each riff, but relying on predictable melodic strips and linear song structures in circular repetition, resulting in songs that are binary like nu-metal: a softer part, then a harder part, then a response to that which softens the hardness, then a restatement at full blast, fade out and win. Most of these riffs come from the 1970s and 1980s generations of metal and get a "black metal" treatment, so end up sounding like rock music in its Sunday black metal evil clothes. The music is driving by a chanting vocal which rides the beat like the shouts of the drummer commanding the slaves to row. Every now and then they launch into an extended melody like a pentatonic version of early ancient, and they have the raw rhythmic power of an early Marduk or Zyklon, but it doesn't add up to more than most rock music, and considerably less than the formative works of Nordic black metal.
Black Funeral – Az-i-Dahak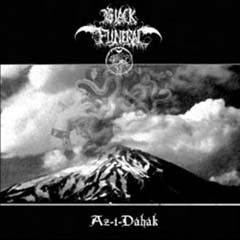 Throbbing notes rhythm a rhythm that then reverses, examines a portion of itself in detail, and then picks up in a new direction which dovetails with the old; the throb remains, like symbols etched in the air with a torch caught on the slower memory of film. In this way, Black Funeral achieves an odd ambience similar to that of Impetigo, where a higher note is strummed repetitively at an offset rhythm where most bands would hammer a lower note on the beat, but by the nature of the larger melodic structure of the riff, this throb does not bounce jauntily like a rock rhythm; it hangs, like a reminder of mortality. Vocals are chant-ish black metal rasps and the mechanistic pedaling of the drum machine fits this sound like a glove, getting further inhuman as it distances us from musical expectation and clean aesthetics. Like the humming beeps of an alien machine exploring the night, this album rediscovers humanity by removing it from the picture and showing us the empty space in which we must construct as inevitable death closes in. While most experts agree "Vampyr" is the height of this band — and who am I to disagree? — this perhaps less proficient album is more haunting and bizarre, yet fits it into a pattern similar to our reminiscences of isolated nights when the future angled away from us like the shadow of an unknown doorway.
Decrepit Birth – Diminishing Between Worlds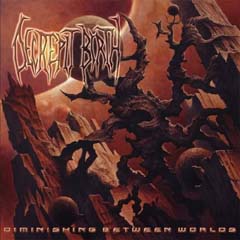 If the recombinant album name and band name didn't clue you in, here's the skinny: this band is totally postmodern, meaning that they fit together all sorts of random influences and then link them together with the basics of rhythm and harmony. As a result, it's like a fast ride at Disneyland: constant changing stimulus of radical difference so much that after a while you lose any idea of where you are, and end up thinking you've come very far, when at the very end as the buggy slows you realize you've been circling around the same relatively small space. Unlike most bands of this type, which I'm going to call crypto-metalcore because it's (a) without death metal's style of organization, preferring instead the hardcore method of having riffs have as little in common as possible and no narrative (b) of mixed riff styles and (c) depends on rhythmic buildup/breakdown for tension because you're not going to get it in contrast between riffs, Decrepit Birth is good — it's like an Iron Maiden album hidden in Deeds of Flesh with Blotted Science and Negativa offering critique. However, I can't listen to this carnival music; it breaks down concentration and replaces it with elaborate versions of territory trod long ago.
Funebrarum – The Sleep of Morbid Dreams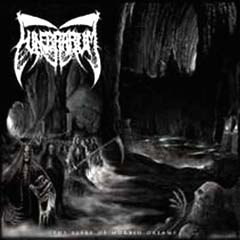 What happened here? Eight years ago — before old-school "revival" was even a blip on the radar — this band had the apparent potential to give proper life to archaic death metal form. Their first album/demo was a brooding, infectious and grimly cohesive piece of work, enough so to make this sound almost brazenly cheap by comparison. Toss in every imaginable death metal riff style coined between 1989 and 1993, lay them out on a rhythmic smorgasbord and put them through enough mood changes to make a pregnant teenager blush and you've come damn close to this; add enough embarassing Bloodbath-sounding material (listen to the opener) to something otherwise "authentic" and you'll never want to hear "old school" again. – kontinual
Star Fucking Hipsters – Never Rest in Peace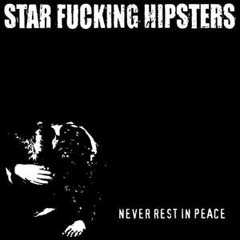 There are some of us who believe that rock and roll music, instead of being a thing deliberately created, is an aggregate of what was left over when we tested everything else against a captive audience. Star Fucking Hipsters prove this by carefully absorbing everything they can into the great sponge of melancholy indie pop. These songs usually start off with fast punk or speed metal (Slayer) riffs, and then pass through a few exciting transitions borrowed from anything industrial, black and reggage or between, but then we get to the core: darkish, self-pitying, somewhat helpless indie pop. True, it's in pop punk format like The Descendents meets Blink 182 with Jane's Addiction advising on behalf of the emo CIA, but basically, it's pop. And when we get to that point we see this album is like a confused and lonely person in the city, covering themselves with newspapers or whatever fashions they can yank out of the wind, hoping no one will ever get a glimpse inside. If that's its goal, this is supreme art, but more likely it is the emoting of such people hoping we'll justify their existence for them. As pop, it's not bad, a little toward the "poignant" side of minor key melodies sliding into major key to give you a sense of hope. But it's really the same old thing, or the latest incarnation of it in whatever styles have stuck over the past twelve years, and so I can't imagine why you'd listen to this instead of any of the 100,000 other albums this "good" in the rock style.
Ahab – The Divinity of Oceans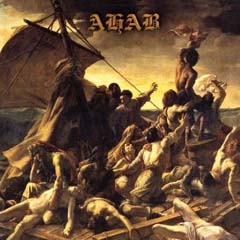 Funeral doom of a style similar to Skepticism if merged with Esoteric, with a tiny bit of Paradise Lost or Sleep in the wings, Ahab is a studied take on the slow and depressive atmospheric music that many people seem to enjoy. Stylistically, it is probably the most advanced of its kind; musically, it is perfectly competent; artistically, it is not particularly compelling. Its melodies have less of a sense of mixed emotions than do those of Skepticism, and its songs develop in predictable cycles within cycles, leaving us with atmosphere by default once all else has been blocked out. Like American rock bands, Ahab also has to throw in that sense of "contrast" where any dominant idea gets a contrarian voice thrown up against it, where bands like Skepticism bear down with enhancement and variation inside their major ideas. Few want to be the voice to stand up and say this, but most doom metal is boring, and not just because it's slow. Ahab, while better than most, falls under this umbrella.
Jello Biafra and the Guantanamo School of Medicine – The Audacity of Hype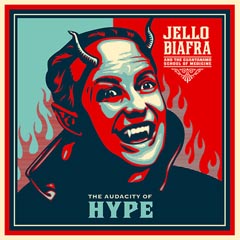 Purists will kill me for this, but this is Biafra's best work — it's musical. Where the Dead Kennedys sounded disorganized and messy without really building on that as an aesthetic, he's slowed down to a pop-punk combo that uses hardcore riffs (Discharge, Exploited) to balance its melodic lead picking (Circle Jerks, The Plugz). That, plus Southern Fried guitar solos and lead guitar noise, forms the underpinning for a more interesting Biafra performance than has ever been heard before. On this CD, Biafra develops his vocal lines both melodically and in timbre, giving the performance of his life with verve and energy. You've heard these riff types before, and many of the note progressions are "pop culture" stalwarts that show up in movie soundtracks and commercials, but here Biafra and his band develop each into a song that's half-rock and half-hardcore, creating a foundation that will introduce a new generation to the sounds of hardcore punk.
Akitsa – La Grande Infamie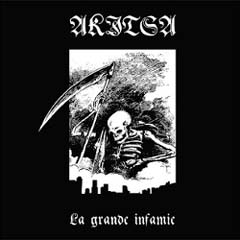 Most of us love the idea of black metal: a few totally socially alienated people, armed only with the truth, pick up guitars one weekend and make a simple mind-virus that helps slay all of the vastly powerful illusions that make our modern world miserable. The problem is that this is far from the truth: most of the people who have made great simple black metal were expert players or at least savants who self-schooled themselves in a unique and powerful style, and their work is very deliberate and designed to make us enjoy life as much as convey some idea. But as in all things, each generation picks up where the previous generation appeared to leave off, so the source of the idea is always lost. Akitsa sounds like a cross between The Exploited and early Dark Funeral, with simple melodic riffs offset against sawing basic power chording; the melodic riffs are too candy-sweet and the power chord riffs are too much of a style we can get anywhere. "Silence" appears to be heavily influenced by "Thy Winter Kingdom" from the first Behemoth CD. The rest of the CD is alternating Burzum influences with later model droning melody. It is both not bad and not really compelling enough to want to hear again.
Orthrelm – OV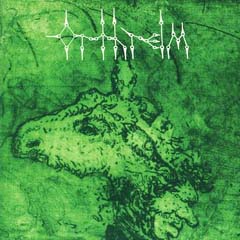 I wish this album were a joke, but like most modern and postmodern art, it's an attempt to "demonstrate" an "idea," and that idea has no correlation to the reality of an artist both entertaining and informing his listeners. Instead, you get a lot of fast chromatic playing over serial drumming with occasional breaks into jazz-style breakdowns that are either sloppy or misinformed about music theory. The result is a dissonant atmosphere after the band lulls you into contentment with repetition. Over time, the basic pattern increases in a period-doubling format, creating a linear expansion on a basic idea that resembles holy books that write about the universe expanding from a breath, except here the expansion leads to nothing but a reflection of itself. When Burzum did this with Det Som Engang Var, it built a mood that gained resurgent power of time; here it is purely deconstructive and fragments the listener's attention span by forcing it through a narrow slit of musical awareness. People will like this because it's unique, and talk about how genius it is because no one else "dared to be different" to such a degree, but as a work of meaningful art and a listening experience, it is worthless.
Blood Mortized – Blood Mortized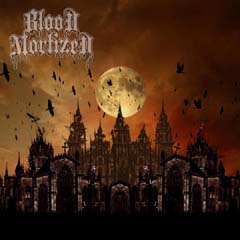 This band claims "active" status in the early nineties, with zero material to show for it. It may very well be true; current personnel have some of the more run-of-the-mill Stockholm bands to brag about in their ancestry. Excited yet? This falls somewhere between Amon Amarth and Dismember's Massive Killing Capacity, smothered in the "soft" mimicry of the Sunlight sound that seems so common for these fence-sitting bands. The plod is painful and simple and the song development as bluntly screwball as the song titles, lending an air of crafted irony to the whole presentation lest somebody seriously stack it up against any of its predecessors. One wonders whence this stuff keeps coming — I'm wont to call this the "Swedish mid-life crisis" and leave it at that. – kontinual
Junius – The Martyrdom of a Catastrophist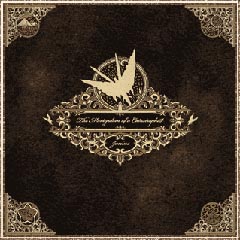 What is post-rock? For most, it's slow atmospheric rock beats with emo, punk, indie and noise riffs slowed down to provide texture. On this CD, Junius blend in a modern taste of the ancient with a Dead Can Dance influence. The result is like a river, winding around obstacles to rejoin itself, but only suggesting a topography. This music is comforting and melancholic, but not really exciting. It is pretty, but will find it hard to escape a lukewarm rock underpinning that reigns in its tendencies to escape for the outer limits. A reasonable comparison might be if Danzig decided to do a space rock album: you can appreciate it aesthetically, but sense how the voice isn't really there, and how as much as these guys want to be ancient, they're stuck in a modern paradigm.
Virus – The Black Flux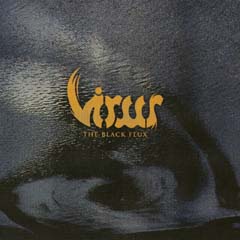 For the last time: if I wanted indie rock, I would have gone to a different part of the record store. Take your Sisters of Mercy gothic vocals, your bad indie rock open chord guitar riffs, and your basic song structures interrupted by dramatic outbursts, and put them there. I don't want to fall into the old trap of saying "this isn't metal," because what I really want to say is that this is indie rock and should be integrated into that genre for the modicum of black metal stylings and ideas it still possesses. Sure, they're going to call it a "post-rock" influence, but other than a little flexibility of rhythm, what's going on here is the same stuff emo, indie and shoegaze bands were pumping out in the early 1990s.
Mefisto – The Truth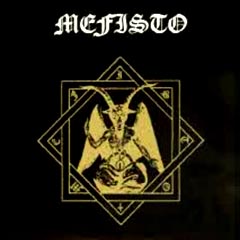 This CD resembles death metal in no way other than the vocals, which are the kind of reverbed whisper shout that made the first Sepultura EP so memorable. But the music… well, it's stranded in the 1980s. Throw a lot of Metallica, Kreator, Slayer and Destruction in a blender — like every other band from that era — and you'll get this mismash of riffs very similar to both the aforementioned bands and a huge heritage of heavy metal. To their credit, this band string them together well rhythmically but otherwise seem entirely random. Before someone convinces you this is a forgotten classic, ask them if classic means "good" or just that it was around in the early 1990s.
Sarke – Vorunah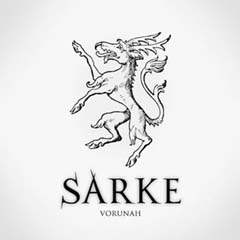 We all want to love anything with the enigmatic Nocturno Culto on it. In fact, many of us were hoping he would pull off a Nemesis Divina where his skills converted an unexceptional band into a relative masterpiece. Not so on Sarke — his performance is phoned in, mainly because these songs are sparse, undeveloped, and entirely derivative of their influences in a 1989 way. In fact, the whole CD has the vibe of a collection of songs that have been kicked around since they got written in the 1980s, finally put onto vinyl years after the genre has passed them by. You're familiar with these chord progressions and general rhythms, since many of them come out of punk rock and hard rock, and you're probably not unacquainted — unless you've been under a rock labeled BLACK METAL GO HOME for the last two decades — with Culto's interpretation of them. It's all quite vanilla; nothing to really be appalled at here except how little you care about this flat regurgitation of the past.
Drautran – Throne of the Depths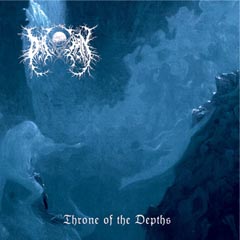 We live in a time of fools. Given no real truths to chew on, they raise themselves on lies, and make competing lies so they can be heard. Then they tell us what metal bands to listen to, and they cannot tell the difference between good music and derivative shit. They will, for example, convince themselves that Drautran is folk metal, when really it's indie rock songs dressed up in black metal chord forms with a little extra violence. Unlike metal songs, where riffs fit together and make sense, these are rock songs with some metal riffs dropped in between the sing-song verse chorus. They take their riffing inspiration from Enslaved's Frost but none of the compositional coherence is here. Listen to this if you want to distract yourself, fragment your concentration and dull your possibilities of ever understanding the difference between good music and crap.
Moëvöt – Abgzvoryathre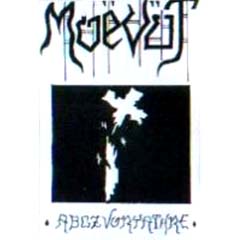 Every now and then, people who lack direction in life and so pay attention to surface features more than anything else, hoping to use these to justify their emptiness, will try to tell you how good a band is because it's unique and nuanced. Usually this includes some kind of infantilism, like extreme minimalism or incoherence. This tedious little recording fits the bill. People like it because it's obscure, kvlt, whatever… the truth is that it's melodically simplistic, goes nowhere in song development, and showcases no really unique ability except to waste your time. They try to eat up as much tape as possible with intros, chants, and very basic keyboard melodies, but basically there's nothing here. Maybe that's the artistic point — emptiness — but then again a blank tape would have been more effective, and pleasant.
Black Vomit – The Faithful Servant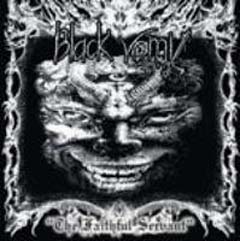 Interesting approach by this Mexican band: take a more technical version of the full speed burst style semi-melodic black metal that Sarcofago made, and intersperse it with flowing keyboard-enhanced choruses in the style of countrymen Xibalba and Avzhia. The result suffers from the radical shift between two very identifiable poles, but the music although very basic develops gently through this style, and as a result is more credible than most of what we get sent here at the Dark Legions Archive Metal Reviews and CD Recycling Center. This is a band worth keeping an eye on.
Archgoat – The Light-Devouring Darkness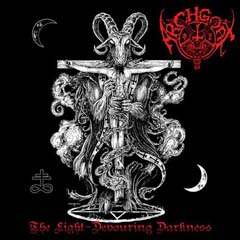 I'm convinced that a lot of contemporary death and black metal is music designed for children, because not only is it painfully simple and repetitive, but it also uses gentle rhythms of chord change — while playing at top speed. It's like listening to a fan slowly playing an early Mozart piece. This album is similar. Sounds a lot like Blasphemy meets Impaled Nazarene, with the lower register production and slamming tempo changes of Belial. So as a retrospective of Finnish metal technique it's great, but for anything else, it's kind of a droning lullaby. What excuses it is that this CD shows purpose in its songwriting, and captures a mood, but for many of us the droning outweighs its significance.
Cruciamentum – Convocation of Crawling Chaos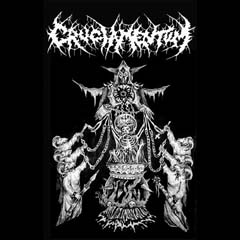 During the past two years, underground black metal shifted from emulating the early 1990s — fast melody — to emulating the late 1990s, specifically Demoncy's "Joined in Darkness." The Convocation EP does its best to revive that sound, with an injection of Finnish death metal and possibly American doom/death like Incantation, Winter and Infester. Although it keeps its goals limited, which is appropriate for a demo, this release shows promise in songwriting in that (a) every piece works together (b) together they create a vision of some idea, experience or emotion we can recognize from life itself and (c) while a good deal of it covers known death metal archetypes, it does so without borrowing straight from one source and so gives us a sense of exploring these ideas from a new angle. Low rasp voices, downtuned rigid guitars, and drumming that sounds like it's straight out of drone/hardcore punk fusion gives this CD a sense of growing out of the past toward something even more ancient.
No Comments
Tags: ahab, akitsa, archgoat, Baroness, black funeral, black vomit, blood mortized, Cruciamentum, cryptopsy, decrepit birth, despised icon, drautran, jello biafra and the guantanamo school of medicine, junius, mefisto, moevot, orthrelm, sadistic metal reviews, sarke, star fucking hipsters, these are they, virus, vreid