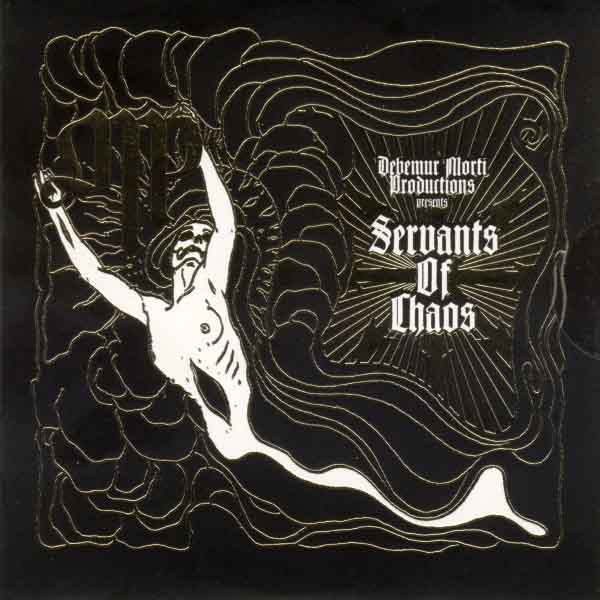 Interesting compilation from Debemur Morti productions that you can listen to online:
1. Behexen – "We Burn With Serpent Fire": the generic black metal that's always playing in the background of record stores. This is it.
2. Porta Nigra – "Megalomaniac": there's clean singing and rockin-in-a-boat rhythms. Get it away.
3. Setherial – "The Neural Cage of Self Infliction": cool song title. Cool first couple riffs. Then campfire melodic heavy metal.
4. Nunfuckritual – "Parthenogen": slightly boring track produces mildly melodic drone with compelling rhythm. But would you want to hear it more than twice?
5. Manetheren – "II": strobing melodic drone of some type of metal/emo crossover, but is the best so far from this genre that I've heard.
6. Sidhr – "Hex": spanky hardcore/black metal crossover that doesn't really go anywhere, substitutes frenetic energy for songwriting.
7. October Falls – "Bloodlines": more emo, very typical, flee while you can.
8. Archgoat – "Penetrator Of The Second Temple": churning tumescent sonic violence, raginginly primitive with riff-based song structure.
9. Blut Aus Nord – "Epitome II": this band was always primitive and not quite put together black metal, but now they're linear droning emo. It kind of churns on an on in a single mood. For wallpaper lovers.
10. Rex Muendi – "The Flesh Begat": a boring and predictable version of early Bathory set to disco beats.
11. Wallachia – "Dual Nothingness": bog-standard melodic black metal that melds into a 80s heavy metal/Goth mix. Screechy.
12. Infestus – "Down Spiral Depersonification": an attempt to fuse post-metal with the harder edge of black metal, this is both a welcome addition of musicality and screamingly obvious, which makes it useless for repeated listening.
13. Monolithe – "Monolithe III (excerpt)": When black metal went from "pick the best" to "approve of anyone in case they're in your social group," music like this got encouraged. It's musically literate in about five styles and works through them, from a basis of rather poppy, melodramatic doom metal with basic and obvious chord progressions.
6 Comments
Tags: archgoat, behexen, blut aus nord, debemur morti productions, infestus, manetheren, monolithe, nunfuckritual, october falls, porta nigra, rex muendi, setherial, slidhr, wallachia