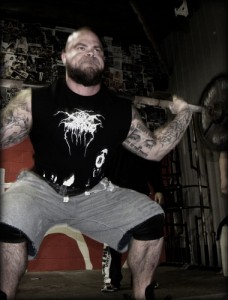 If this world fears anything, it is strength. Most music artists portray themselves as thin, frail and sensitive. Our leaders like to cry in public. Some however recognize that health does not come from preservation, but pushing ourselves to the limits, in both mind and body. Jim Wendler is a powerlifter and out-of-the-closet metalhead who promotes that point of view.
A professional weightlifter, Jim gives advice on how to properly build muscle so that your body is suitably formed. He's had numerous successes and he published an e-book where he outlines techniques to become BIG. You will not find advice on diets to slim down here, only diets to bulk up, on the assumption that you're also flinging iron (a type of heavy metal) around on an hourly basis.
Wendler is part of a new breed of heavy metal associated athletes like fellow bodybuilder Jamie Lewis, who believes that having a tiny head is compliment. Like Wendler, Lewis also advocates metal in and out of the gym, as well as crushing posers wherever he finds them.
If you're interested in building muscle, check out Jim's website for tips. From the t-shirts he wears and endorsements he makes, we know that Jim works out to Slayer, Cannibal Corpse, Darkthrone and other metal bands both above and below the underground line. Perhaps the music of strength and the behavior of strength have found a balance with each other. Further, he's in a metal band that makes death-grind that is alternatingly frenetic and doomy.
11 Comments
Tags: Jim Wendler, Weightlifting