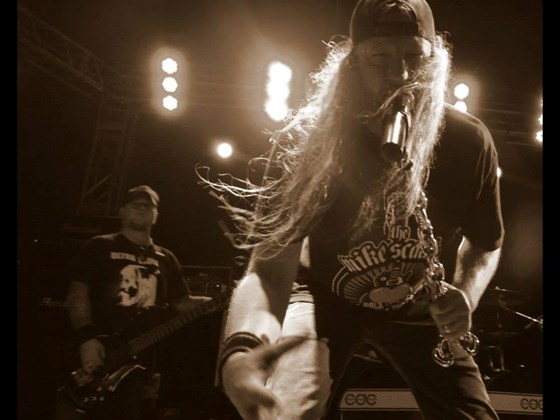 Sometimes the people with the biggest hearts find those organs in trouble. Rigor Mortis/Wizards of Gore vocalist Bruce Corbitt has undergone a series of medical procedures to correct a misfiring heart, and has embarked on a grueling schedule of benefits to fund these costly undertakings.
As the Dallas Observer reports:
But last week, two heart complications in less than five days changed Corbitt's reasoning. At the ER, Corbitt found that his heart was misfiring, which caused his blood pressure to skyrocket. The doctors told him that he would need heart surgery. After months of living healthy, even changing his diet, he finally agreed. He couldn't take the chance of dying on stage like his late guitarist and friend Mike Scaccia, who died playing at Corbitt's 50th birthday bash at the Rail Club in Fort Worth.

"It became very evident that I can't live a normal life anymore without doing the surgery, without fixing the problems," Coribtt says. "It's not fair to me, my wife, my family and my band to have to worry. It's no way to live: 'Oh we can't go out of town without worrying about his heart messing up.' Nah, it's worth the risk of surgery to live a normal life again. I feel like a walking time bomb."
Fans can support Bruce through a crowdfund, shopping at the Rigor Mortis store, or attending a benefit show on October 17 in Forth Worth, TX.
5 Comments
Tags: bruce corbitt, rigor mortis, Speed Metal, wizards of gore