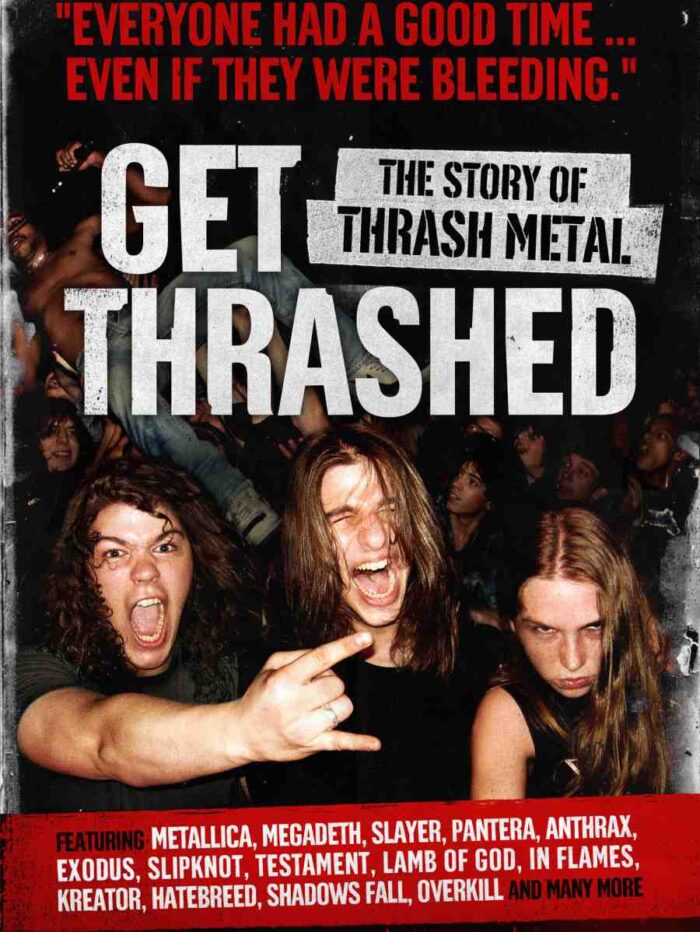 After spending years analyzing political propaganda and bad philosophy, you might think that manipulation reveals itself like flatus in an elevator, but it does not. You get lulled in, doze off in your inner critical faculty, and then suddenly wake up screaming once the horror becomes too real.
Get Thrashed! oozes into a smarmy nostalgic documentary about how cool speed metal (called "thrash metal" by the Hit Parader readers who wrote it) was and how it is, like, the meaning of life, broheim, but halfway through it becomes clear what is being excluded.
Most people after all hate and fear cause-effect logic, and this documentary is no different: the cause of speed metal is, well, speed metal. But it ignores the background of the music, mostly writes thrash and punk out of the equation, and ignores the great branching in the history of metal.
To recap, in the late 1960s metal formed from proto-punk, progressive rock, heavy rock, and soundtracks. Within a decade it was sold out, and people launched hardcore punk to get back on track to outsider art, or the perspective outside the bourgeois pacifistic normie view.
This perspective, after all, is necessary for seeing more of society how it is, by seeing more of life how it is and not how it is described in social situations and advertising, because that kind of viewpoint gives metal its "heavy" approach both lyrically and artistically.
In its day, Black Sabbath was like Slayer would rather be, the non plus ultra of music, and Led Zeppelin was what Pantera would be, the groove-oriented less outsider and more just good times music. Mixing the two produced radio metal, and NWOBHM reinvented that to make it good again.
By the early 1980s, hardcore punk had hit its peak with The Exploited, Discharge, Amebix, Black Flag, Agnostic Front, and the Cro-Mags. Honing in on Discharge and The Exploited, adding a little Motorhead, the next generation of metal built on Judas Priest, Iron Maiden, Mercyful Fate, and Venom.
Speed metal was thus born in in a triune manifestation of the spirit behind metal: thrash like DRI with Violent Pacification, proto-death like Slayer with Show No mercy, and galloping speed metal like Metallica with Kill 'Em All were all birthed in 1983.
It is worth mentioning because they always get overlooked that Hellhammer, Sodom, and Bathory were also active in this time. Combined with Slayer, these became the branch that flowered into death metal and a year later black metal.
These bands took the hardcore approach that streamlined rock into guitar music. Instead of guitars as timekeepers with vocal harmony ruling, the guitars were a melodic instrument and songs were structure after the unique expression of riff and song topic.
This got music back to a clearer state of mind, where song structure was unique to each song and the music itself did the expressing instead of the constant singing like propaganda broadcast over loudspeakers in a concentration camp for alienated dissidents.
Thrash was its own thing, basically punk bands using metal riffs to make punk less droning and one-note, and experimenting with song structure to avoid the verse-chorus pop format into which punk rock (but not punk hardcore) had fallen.
Bands like DRI, Cryptic Slaughter, Dead Horse, COC, Suicidal Tendencies, Void, MDC, Fearless Iranians From Hell, and yes even MOD/SOD took this genre into a new place. It rejected the crowd-friendly aspects of hardcore and the preening, somewhat dramatic years of glam metal in the same motion.
Thrash helped inspire the rising speed metal movement and vice-versa, and both of those influenced the proto-death/black bands that spawned many subgenres in black metal and death metal. Speed metal always wanted to be cool like thrash and edgy like death metal, but not go that far.
Trying to make this complex theory into a product, Get Thrashed! comes up with its own vision of history: speed metal created itself out of a desire to be heavy, and everything else came out of speed metal, including nü-metal and maybe even hardcore punk.
The documentary specializes in stacking excerpts of very similar interviews, most of which focus on the superficial aspects of "the scene" and the fans. If it were not for Katon de Pena and Blitz Ellsworth throwing in occasional lucid statements, this would be pure drivel.
Even worse, it falls into utter Pantera-worship based on the idea that Pantera somehow stole metal back from those evil grunge guys, and yeah, it did sort of have groove like nü-metal and wail like emo, but really it was the rebirth of thrash!
Concert shots are heavily edited into short little clips, often accompanied by the music from bands other than the one being shown, and while there are lots of cool shots of memorabilia, very little is explained beyond the few points of contact that the interview subjects had with the subject matter.
In the end, the documentary trails off in a blaze of nostalgia, fratboy alcoholism, and shell game action to explain why speed metal died in 1988 and just totally disappeared until being reborn as power metal, which gets no mention in this film despite being around at the time.
Do we hear from Iced Earth? Doomstone? Even terrible garbage like Hammerfall? No, the nostalgia truck keeps on driving like the Cliff Burton death bus, headed for the black ice of cold reason, at which point it skids off and vanishes with a crash into the credits.
Tags: documentary, movie