Mord – Necrosodomic Abyss
Satyricon – The Age of Nero
Throne of Katarsis – Helvete – Det Iskalde Mørket
Aura Noir – Hades Rises
Celestial Bloodshed – Cursed, Scarred and Forever Possessed
Keep of Kalessin – Kolosus
Blood Red Throne – Souls of Damnation
1349 – Revelations of the Black Flame
Mare – Throne of the Thirteenth Witch EP
Mord – Necrosodomic Abyss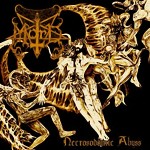 The new Osmose recruits Mord seem to have been actually born in Poland, then relocated to near Kristiansand, which is remembered as the location of a violent death metal sect in support of Varg Vikernes back in 1991 and the origin of Tchort (Blood Red Throne, Emperor, Green Carnation). Not quite living up to the bloody and progressive traditions of the area, Mord specializes in a cold, modern, thrashed-out black metal sound that could scientifically have been developed in a norsecore factory to create an endless amount of productive clones. Maybe because they are originally from Poland, they do seem to possess a better grasp of what makes Nordic black metal good than most Scandinavians around exhibit. They keep the album vile and to the point, imitating the blasphemous rhythm guitar of, besides Euronymous, Ivar Bjørnson during the phase of Enslaved when they dropped most of their classical influence and switched to riff rock. Later Ancient springs to mind in tracks such as "Opus II" which is essentially is a meeting of pop and black metal in a graveyard infested with drunked teenagers who wear makeup and like to flash stupid expressions in photos. It may sound bad but in fact, as guitar rock or something, it excels. It is simply lacking in the Romantic nature worship, warrior ideology and mysticism of Burzum, Ildjarn and the other greats. So while musically this has potential for an above average Norwegian black metal album (even though these ideas are 15 years late) it ends up as one more relic that brings black metal closer to mainstream acceptance and youth culture phenomena today, and no-one will remember it in ten years.
Satyricon – The Age of Nero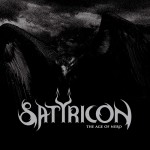 It should be obvious to anyone with even the slightest exposure to black metal music and ideas that while it's arguable that he ever was a genius, for the last decade Satyricon has really gone far out of his way to create the most crowd pleasing, catchy, insipid rock'n'roll version of black metal. It sounds quite redundant to say in 2009 that this kind of music is abhorrent to "Euronymous' ideals" or the Weltanschauung of the scene that existed in 1991-95 but I can't help it. This is simply so far from anything that was great in old Norwegian black metal, what made me and so many others interested and follow the events and music with awe inspired by mystique. In this music there is no trace of passion, only of pure professional approach to musicianship and studio production, not even oriented to mastery of the style (in jazz sense) but to a desire to make money and gain profit. This sort of capitalist black metal makes for a new genre in itself. Mechanical, vapid and outdated, it mostly sounds like a collection of random groove metal tunes given a superficial black metal treatment (raped by the half beaten corpse of norsecore) for the mainstream listeners who want to get a piece of black metal's evil but refuse to go all the way to possession. Precise riffs and metronomic drumming approach Rammstein-like monotony as they are arranged into the laziest sequence and development imaginable. Frost's sometimes interesting drumscapes have been lost to the adult contemporary studio values and his fans are probably better off listening to 1349 or one of the other bands he plays/played in. Satyr is not trying to play Voivod riffs anymore (as he was doing in Rebel Extravaganza) nor can he duplicate the fast thrashy parts of Nemesis Divina – these new riffs by Satyr have a habit of getting old before the song is over.
Throne of Katarsis – Helvete – Det Iskalde Mørket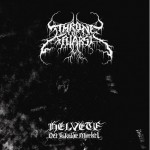 While the gloomy shroud of 21st century black metal clichés weighs like lead upon Throne of Katarsis, a sense of ambition and greatness, the carefully followed tread of frozen melody including an airy vastness copied from In the Nightside Eclipse or early Taake and some elegant and progressive forms makes this rise above the level of total weakness. Like Isvind and Tsjuder, Throne of Katarsis explore the melodic territory in between Darkthrone and Emperor in an effort to replicate the impression of transcendent evil boiling in the depths. Fast percussion underlies the sonic depression of dubiously plodding, soaring but monotone and unenergetic low production (Grieghallen copy) guitars repeating spherical themes (rotating the minor chords "De Mysteriis" style during the slow parts over and over again to give the melancholic feeling) over to vastness. The best of the musical ideas are hidden by the desire to create a standard black metal album, as they probably succumbed to creating an album too quickly and thinking that it's enough to put out cold and intensity-devouring two-penny riffs that have been overused for 20 years – bulk Norwegian black metal in good and bad.
Aura Noir – Hades Rise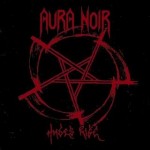 I do remember the Apollyon/Aggressor duo Aura Noir as a high-energy, motor powered and tradition respecting black metal cult from the days of the bewitching "Dreams Like Deserts" MCD, never afraid to rock out nor experiment with unusual guitar and drum techniques – even cross-quoting with Ved Buens Ende material. Something really devastating has happened and I don't know if it has to do with Aggressor's falling down from a balcony or something, but they sound totally drunk, tired and old on this album. I mean, if you think that Darkthrone nowadays sounds like a lazy beer-swilling band from the pub, try this one! I can hear they are trying to play like Sodom, but I can't hear any Germanic "raaaaaah!" mania. I can hear Autopsy, but I can't hear the stinking amputated corpses rising all around to wreak their vengeance upon the societies of the living. I can hear hardcore, but I can't hear the decisive violent power of wrath against conformity. So, what is there left? It sounds a bit Southern Lord-y – you know, ironic old metal fan hipster who likes to get stoned out of his mind and listen to feel-good old-times metal. By the way, the drum production sounds like MIDI – utter failure. If you want real speed/black metal power, go for the originals, this one is a weak joke.
Celestial Bloodshed – Cursed, Scarred and Forever Possessed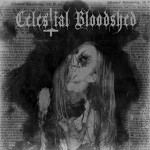 It would be quite interesting to see if someone, somewhere in Norway, has during the year released black metal or death metal which does not a) try to duplicate the old Grieghallen soundscape with in the most generic no-sense-of-style manner, b) fill their album with a load of budget riffs called depressive black metal by the kids (which is actually C, D, E minor again… and again…). Anyway, while Celestial Bloodshed has ripped off these ideas from better bands, they are 50% better in their songcraft than Watain, Funeral Mist and other generic black metal of the era. Also, they have been able to create inner beauty towards the realization of the music in melodic intensity. Additionally, the fullness of the soundscape and the implications of the structure make this release more grim, oppressive and grinding than the mainsteam manipulations of Norwegian metal which can not be but a good thing. After a beautiful intro which sounds somewhat like one of the demos from Equimanthorn (Absu members' ritual project) the album pounds into a lexicon of guitar techniques borrowed from a range of musicians from Mayhem to Enslaved, with a dynamic range from slow romantic soulseeking to blasphemous speeds, sometimes bridged with jarring changes, while death metal influenced vicious, likeable and personal (down to some insistent mannerisms) vocals pace like hammer upon an anvil the grim predictions of mortal future and the drummer operates battery like Faust and Hellhammer used to in the early 90′s. While all of this is not fully developed yet into pure communication, it speaks with instant, amazed, satanic impressions of life facing the darkness of Infinity – Celestial Bloodshed has replicated the old school with care, honesty and vicious intent.
Keep of Kalessin – Kolosus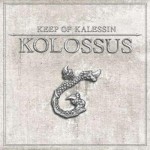 Keep of Kalessin arouse my interest during their demo days, as 1997′s "Skygger av Sorg" repeated the style of old Satyricon in a series of simple, emotional song fragments that revealed a sad beauty lying underneath the grim soundscape. I had heard some less interesting newer material but it is truly shocking what they have submerged into now – an arrogant, over-produced tribute to the honor of Greek warriors through quasi-talented commercial death metal. Synth washes and expressive vocals (in the vein of Nergal when he's really pissed off in the later Behemoth albums) fill this piece of plastic because they want to sound big and they want to play on a stadium. I am convinced that someone with their musicianship should be able to create a listenable and consistent album, but these super fast blastbeats and commercial heavy metal oriented song dynamics from quiet to loud make this just a faux extreme version of something like Spearhead or Deströyer 666, made worse by the angry shouter vocalist. The people interested only in dry technique and production standards will love this for being an emphatic and empty opera of sharp drumwork and the constantly shifting death metal type fast guitars and entertainment value. They are also happy that it lacks the primal natural force of old Norwegian metal, because it might be distrubing. The sense of space created should be one of a studio or a big venue, instead of a woodland crypt, right? This amount of polishing emphasizes the superficiality of the entire composure, down to metalcore action computer game synchronized by MIDI in Kolossus, where accurate but inconsequential fast drum beats follow cheap-ass tremolo melodies from the pits of norsecore Hell and the vocalist sounds angry at people at the nearby mall and emo pop chorus in "Ascendant" which doesn't even fit the music underneath. Likewise the arabic solos in the middle part of "Kolossus" don't seem to have anything to do with the metal riffs, nor do the "300″ soundtrack reminiscent bits with synths and tablas. Whoever has produced this must be a commercial minded jerk.
Blood Red Throne – Souls of Damnation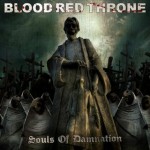 Tchort from Kristiansand was a newcomer to the death metal scene with his band Green Carnation right when the genre went out of fashion because of Euronymous' hatefulness towards it and while that name was resurrected for Tchort's progressive metal project he formed the neo-death metal group Blood Red Throne at the end of the millennium. While not having heard the early Green Carnation material, it's easy to hear from this that some trace of early influence from excellent bands like Grave and Cadaver does exist, but none of their ability to turn basic riff structures into progressive and morbid magic. This type of song construction mostly resembles Cannibal Corpse and Deicide during the latter's worst days of In Torment In Hell, filling songs with groovy mosh parts, faux-brutal growls and the drummer and bass player (from Deeds of Flesh) insisting wimpily on always playing to the beat of the riff. If this is the king on Norway's death metal throne since Cadaver disbanded, it is quite sad actually. Most good (death) metal is memorable from its melodies, however convoluted and vicious they may be, but Souls of Damnation is mostly simple rhythmic phrases like guitar exercise patterns for introducing mechanical creation technique for sub-Florida death metal. Like all boring death metal, it severely underestimates its audience. I mean, many listeners do like death metal that sounds like basic no-frills brutal grind, but this worthless chugging goes too far. It seems like the whole album lacks even one interesting melody part or arrangement.
1349 – Revelations of the Black Flame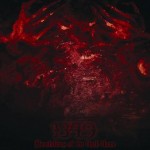 One of the newer Oslo bands mostly known from relentless and uncompromising fast black metal, 1349 surprise with their latest effort in refusing to conform to the rules of the flock. This time conjuring echoes of Samael's Ceremony of Opposites and later Mayhem, 1349 composes suffocated, devilish and industrial tinged black metal sounds which despite being somewhat predictable, retain the doomy beauty of an industry of inferno. The loneliness of space as described in Moorcock's trippy novel "The Black Corridor" and the classic fantasy movie "Alien" fill this Gigerian landscape of planets, threats and biomechanical blasphemies. Bodies twitch into contorted positions in a sea of light. The psychedelic feel is enhanced by a cover of Pink Floyd's "Set the Controls for the Heart of Sun" featuring Tom G. Warrior. Several tracks use minutes to unfold submerged ambient and experimental soundscapes, while there is some Red Harvest type digital manipulation featured in many of the metal songs too. The arrangement is dramatic and regal, with Frost's drumming skills put to good use. Multiple vocal styles herald the theatrical nature. Some interesting lead guitars add desperate wails to the background. Some parts are in their wicked minimalism close to what one could also expect to, say, Beherit to compose if he were in a more commercial high budget recording project, making this one of the more worthwhile efforts from Norway last year in producing new vistas of black metal.
Mare – Throne of the Thirteenth Witch EP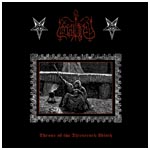 This little EP from Mare, one of the infamous Trondheim cults tends to sound a bit like Live in Leipzig era Mayhem recording in a sewer infested with rats and worms and the decrepit and rotten soundscape makes this one an aesthetically more attractive listen than most of the studio produced turds. Intuitively they grasp the idea of structuring long songs in the old Emperor vein so that while the bits and pieces are redundant, it is a journey through minimalist music themes into the realization and acceptance of the power of darkness. Slow, crawling, anti-logical repetition of simple melody (where the keyboards add a tasteful of old Enslaved) make it a bit of an un-musical experience – the composition seems to be mostly oriented to the fans of droning soundscape whereas the planning and calculation in the overstated reverb, vocal sound (while Kvitrim is good at pacing) and lack of invention in the riffs suggest seem to be aimed for the black metal consumer. But it is deconstructive, degenerate and deceitful music – for pure ideas, about as good as the best of the bunch reviewed here. An ambience and sense of space is reached, the Faustian concept of man as a warrior who travels and explores the universe, only to relinquish his individuality to the higher natural order – in death and rebirth.
Written by Devamitra
Tags: Black Metal, death metal, Industrial, Norwegian Black Metal, Norwegian Death Metal, Thrash, zine-reviews