Instrumental skill may be one of the attributes of metal that most attracts the attention of outsiders to the genre. It's something that immediately jumps to the eye, the technical display of instrumental virtuosism that makes one go: "wow, that guy can really play!". For better or for worse, it's the truth. Most non-metalheads aren't attracted to the esotericism of black metal, the other-wordly morbidness of death metal or the tales of heroism of heavy and speed metal bands. Only the fireworks matter at first.
Still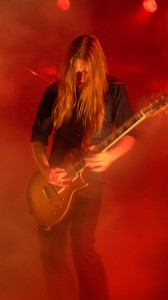 , guitar solo expertise cannot be easily disposed of. There are exceptions but, for the most part, metal has technical competence and skill deeply implanted into its DNA. So do certain rock, jazz and classical. Now, the choice for us is that virtuosism can be used either as an end (masturbatory fiddling with a simple rock'n roll background) or as a means towards a greater expression of an idea or emotion (classical, baroque guitar music and other examples).
Virtuoso guitar players like Eddie van Halen, Uli Jon Roth, Yngwie Malmsteen, Jason Becker and the like, despite being all tremendously competent and classically influenced in their playing, were also extremely one-dimensional because, despite their background, they all played in rock bands, and in rock, the "one-trick pony" is the law. You don't want to make your sound complex like classical music is, you want to make it easy for the masses to consume.
In order to make guitar skill a useful and integral part of metal music, we need to think about it as a means and not as an end. Certain forms of extreme metal are already transcending the rock style of one-dimensional neo-classical music and it can further evolve if we lay down the fear of complexity, and add things like subtlety, context, pattern shaping and the like. Guitar solos shouldn't be tracks to put on top of songs because we're obligated to do so by the un-written Sacred Laws of How to Make Heavy Metal. They should have the same function as riffs do, a narrative, pattern-like succession that, on top of another layer (a riff or a similar structure), makes a defined construction that without the solo would make less of a clear sense.
For pointers on how this hypothetical future would be, I'd give you an example of some of the best in classic guitar: Francisco Tarrega guitar adaptation of Allard's Violin study in A Major.
Now that's how you are supposed to shred on guitar (and play cricket). Why going fast as all hell when you can play a piece that says something and still be technically proficient, but as a means of enhancing the original message of the song? Most classically influenced mainstream "shredders" take popular bits of classical music and use it as a means to display their technical skill. See how different it is when you focus more on composition and less on showing off?
Of course, it requieres discipline and hours of practice to be just as good as Julian Bream. Metal guitarists like Mike Torrao and Trey Azagthoth also took their time and sweat to perfect their technique and it shows on how their solos are complicated, yet structured to complement the riffs under it and make greater sense of them. Malmsteen also practiced a lot, yet to play a style of music that didn't really demand much talent. Playing fast isn't that complicated. Playing a coherent piece that really grabs you and evokes one or many emotions at once, that requieres effort and talent, not just with soloing, but with musical composition in general. And I think that's where the future of lead guitar in metal is.
Learn more about guitar theory:
Tags: zine-articles