Correspondence of Tranquility – Interview with Disaffected
The Putrid Stench of Gnosis – Interview with Grave Miasma
Nocturnal Transcendence – Interview with Midnight Odyssey
Correspondence of Tranquility — Interview with Disaffected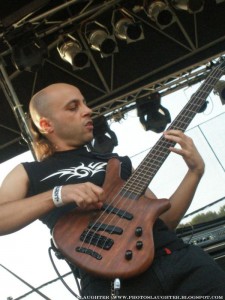 The early nineties was replete with Death Metal bands that are now legendary, contributing to the cult's creative height, but largely from the now infamous concentration zones of northern Europe and across the Americas. This left several adjacent scenes with relatively little notoreity and condemned some first-rate albums to obscurity. Our review of Disaffected's 'Vast' touched upon one such example from Portugal, so we decided to uncover this legendary band even further by talking with their evil bassist, António Gião about the past, present and future of Disaffected and Portuguese Death Metal.
ObscuraHessian: As Disaffected are still unknown to many, despite the legendary status of 'Vast' as a pillar of Death Metal wisdom, could you give a brief history of the band and what led you to join?
Gião: Disaffected were formed in 1991 by drummer Joaquim Aires and Sergio Paulo (guitar/vocals), as a Death/Thrash metal band. Later adding Zakk (guitar) and Sergio Monteiro on bass, the band released '…After…' demo in '92, and later that same year we were included in 'The Birth of a Tragedy' (MTM '92), a vinyl compilation of Portuguese Metal bands with the song 'Echoes Remain'. In 1993, the line-up changed; Zakk and Sergio Monteiro left the band and I joined the band, invited by former bassist. Later, vocalist Gonçalo Cunha and guest vocalist Nuno Loureiro (Exiled) joined the band and we performed a lot of shows with this line-up.
In 1994, keyboard player Fatima Geronimo and vocalist Jose Costa (Sacred Sin) joined the band and with this line-up our music had become more progressive and complex. In 1995 we got signed by Skyfall Records (Portugal) and released 'Vast' full-length album in October 1995. This album was recorded at Namouche Studios (Lisbon) and produced by Marsten Bailey. A videoclip for the song 'Vast – The Long Tomorrow' was recorded to promote the album 'Vast', and was aired on MTV, VIVA, MCM and RTP (Portuguese Television) and we've also covered 'Seasons in the Abyss' for the Slayer tribute album 'Slatanic Slaughter II' (Black Sun Records '96). In 1997 due to internal problems, we stop activity.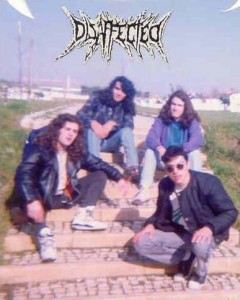 But in 2007, me and guitar player Sérgio Paulo, decided to reunite the band after 10 years of silence, and after a few meetings with the band members discussing a possible band reunion, the decision was "Let's do it!!!". A lot had passed with the band and the band members during these inactive years. Each had gone their own way in music and life. Due to the tragic accident of Sergio Paulo (guitarist) in 2004, all members got together again for the purpose of supporting a good friend. Sergio was lucky to survive a coma sleep of 2 weeks. His force of living had made him come back to us, and he had (literally) to restart his whole life, like being born again. He recovered most his abilities, and even his guitar mastery is back in 99%. A lot of things he had lost in his memory due to this accident, but he had never forgot DISAFFECTED music and his friends!
…And its coming back to life! Keyboard player Bianca and drummer O joined the band and the reunion happens! In 2008, the song 'Vast – The Long Tomorrow' of Disaffected's debut album 'Vast' was included in the 'Entulho Sonoro 5', a compilation CD of the April '08 edition of the Portuguese underground magazine, 'Underworld'. Now we are structuring and putting the finishing touches on 10 songs that will be part of our next full length album, which will be recorded in Urban Insect Studios (Olival Basto, Lisbon) in May 2010 with producer Fernando Matias (F.E.V.E.R., Target35, Moonspell), for a late 2010 release.
ObscuraHessian: The Iberian peninsula is not very well-known around the world for its Metal. Was there a strong Death Metal scene in the early 90′s and how have things changed for this underground music cult in your country?
Gião: Portugal in the 90s had very good bands in death metal genre, but due to geographical location, away from the centre of Europe, away from the circuit of tours, ended up having a premature end. National labels betting little to promote domestic and internationally, and it was very difficult for bands to play outside the country. At the present, here, there's a good movement, good Death Metal bands with great quality and with the technological evolution of media and the internet is easier to promote. There is more publicity and recognition on national and international levels…no such thing as the days of the 'Vast'.
ObscuraHessian: So are any other good bands hidden from the rest of the world that we should know about?
Gião: I could list many good bands from Portugal, but wanted to leave a great name in Portuguese Death Metal scene of the 90s…Thormenthor!
ObscuraHessian: 'Vast' is one of those albums that moves away from the morbid and violent dimension of Death Metal, but unlike many other bands of the same generation, it remained as uncompromising and brutal in its exploration of deeper consciousness. Can you talk a little about the musical and philosophical influences of this album?
Gião: 'Vast', as the name implies has a very large extent on the level of composition and musical influences. All the musicians had the most varied musical influences and backgrounds, from Classical music to Jazz, through the dark and obscure, but always with the intention to give a personal touch and unique style to progressive Death Metal. We tried to invent the style Disaffected, and I think that we did. At the level of the lyrics, the theme was dreams, illusions, human condition, cosmos and man's interaction with the universe.
ObscuraHessian: During the quieter, contemplative moments of the album, we hear a lot more of the bass. Is your background in Jazz? What other music influences and inspires you on a personal level?
Gião: Yes, I've a musical background in Jazz. I began playing bass guitar at age 16. I studied musical formation at Sinatra Music Conservatory in 1990 and during the years of '93 and '94, I studied electric bass at the Jazz School of Hot Clube Portugal. I have many musical influences from Metal to Jazz, through to Funk and Rock. I also have several musicians in a variety of musical aspects as a reference, but there is a Jazz bassist who definitely impressed and inspired me: Jaco Pastorius. Guitarist Sergio Paulo also has musical background of Jazz and is currently musical teacher. And the other band members also have musical formation knowledge.
ObscuraHessian: Could you give a round-up of your work in other bands? I've been trying to track down Exiled's 'Ascencion of Grace' with no luck!
Gião: I've played with many artists and bands as a studio musician and as a performer too. At the present, I play bass guitar with Disaffected and Target35 (Progressive Rock Experimental). In the past, I played bass guitar with Papo Seco (Hardcore) and recorded a 4-track demo tape, produced by Luis Barros (Tarantula) at Rec'n'Roll Studios (Valadares, Porto) in March '92, and later that same year the band changed name to Grito Suburbano before we split up. Since '93 till '94, I played bass guitar with Exiled (Death Metal) and recorded Exiled's album 'Ascencion of Grace' (Slime Records '94), produced by Zé Motor at Tcha Tcha Tcha Studios (Algés, Lisbon).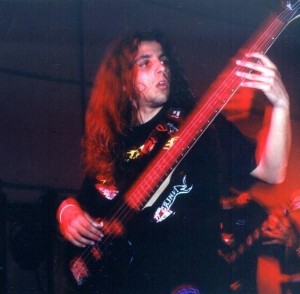 In 1994, I played bass guitar with a Jazz sextet featuring vocalist star Patrícia Fernandes, and we performed a show at Festa do Avante'94 (Seixal) in September of that same year. During the Summer '97, I played bass guitar at Flood (Alternative Rock) as the support band of Santos & Pecadores Summer Tour '97. In March '02, in the aftermath of our Death Metal project Skinblade (1999-2002), me and drummer O decided to form a new band called Sybila, based on avant-garde style, and in December '04, we entered Studio G22 (Feijó, Almada) with producer Paulo Vieira (Firstborn) to record the promotional song 'Cycles'. The band split up in 2008 due to professional commitments of the musicians.
During the year of 2006, we at Target35 performed a lot of shows to promote our first promo CD, which was recorded in May '06, produced by Makoto Yagyu (If Lucy Fell) at Black Sheep Studios (Mem Martins, Sintra). In the fall 2008, we at Target35 recorded 5 songs at Urban Insect Studios (Olival Basto, Lisbon) with producer Fernando Matias (F.E.V.E.R.). These 5 songs are included in our new EP 'Post Rock Mortem', self-released in May '09. Briefly, this was my work as a musician in other projects as well as Disaffected over all these years.
ObscuraHessian: The great news you mentioned is that Disaffected will return to the studio and unleash new disharmonic soundwaves upon the world. What is the band trying to achieve with the upcoming release?
Gião: Musically, we intend to continue with the style that characterizes Disaffected, trying to explore new levels of music, sometimes melodic sometimes dissonant. In this new album the lyrical context consists in two parts. Part 1 with dark and obscure lyrics, showing the route of the band from the stop until the meeting, and then in Part 2 we will try to depict the rebirth of the band with lyrics more encouraging and positive. We'll sign a new label contract too, but for now, we have nothing confirmed yet.
ObscuraHessian: No similar deal with Skyfall Records again, then? Hopefully, you'll have a better distribution this time round.
Gião: No. The contract with Skyfall Records ended a few years ago and we currently have no label. But it is guaranteed that the label who launch our next album will have to give us guarantees a good distribution and promotion. After we sign a new deal and release the album, we can also confirm tours and other kind of promotions.
ObscuraHessian: Any other subliminal messages you'd like to convey?
Gião: Support Death Metal all over the world!
The Putrid Stench of Gnosis — Interview with Grave Miasma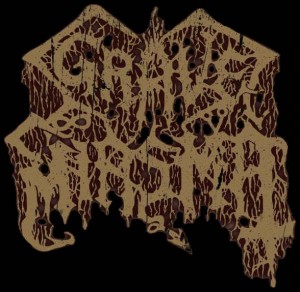 With the advent of another grim Autumn, half of the world retreats into glowing boxes of warmth and comfort to preserve the sickly and feverish Summertime langour. In a time where the seasonal rituals of harvest survives only as a novelty for urbanites and other moderns, for the sinister few, this is the season to step out into the growing shade of night and harvest the souls of the damned for they will be reborn into a new, unholy dawn. Such apocalyptic ends have necessitated a gathering of gargantuan proportions and could not be more appropriately named as the third 'Black Mass Festival' in Helsinki later this week. Nefarious and astralic cults known to Hessians the world over, like Necros Christos, Sadistic Intent, Cruciamentum, Neutron Hammer, Lie in Ruins, and Death Metal legends, Demigod will be devastating the city and delivering winter even earlier than the Arctic already experiences it. Among such legions and Deathmetal.Org personnel in devout attendance will be London-based Death Metal occultists, Grave Miasma, making a similar journey to myself, but before our paths would re-intersect on the shamanic land of ancient Suomi, I posed a few questions to their guitarist and vocalist, the acronymious Heruka C.C.O.T.N., who seeks to re-ignite the dying embers of Death fucking Metal's true fucking spirit on the very soil of the wider genre's birth.
ObscuraHessian: The change from Goat Molestör to Grave Miasma seems to have been a real metamorphosis, as the former atmospheres of graveyard desecration are, on 'Exalted Emanation' imbued with a deeper sense of occultism and morbid mysticism. What was going through the mind of the band during this transitional time?
C.C.O.T.N.: Quite simply, the band evolved without the necessity for conscious thoughts mapping a direction for this metamorphosis. There was a lengthy period of exchanging ideas and writing material following the 'Realm of Evoked Doom' recording sessions. I would say that this enabled us to define the Grave Miasma sound, with the name change not being an important contributing factor.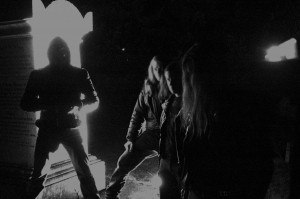 ObscuraHessian: Interest in more archaic forms of Death Metal is growing all around the world, as if returning to first principles and rediscovering our primordial selves. Consequently, as evidenced in your EP, the music is becoming esoteric like it used to be, wrapping dark and cosmic imagery in death-worshipping 'theological' statements. How important is esotericism in such a style and scene as Death Metal? Is it just a 'thematic choice' or something more?
C.C.O.T.N.: Esotericism is the driving force behind Death Metal. Many bands attempted, and unfortunately succeeded, to reduce the genre to a brainless parody. For Grave Miasma, riffs and rhythms are not just music for the sake of existence, but the key to unlock inner mysteries of the subconscious and beyond. Only the contents of bands' recordings can separate those who utilise such imagery for thematic choice from the genuine.
ObscuraHessian: You invoke everything from Vedic, Greek and Egyptian deities to Qabbalistic designations in this suffocating EP. Why do you connect these symbols, like building a temple filled with antique curiosities to stand before the Abyss?
C.C.O.T.N.: Whilst not professing to have any cultural link with the Vedic, Greek and Egyptian deities alluded to, studying the esoteric traditions through the ages, it is clear that there is a principle of unwritten transference of intrinsic principles between epochs. For instance, one can find similarities between some of Crowley's thoughts and doctrines of certain Mesoamerican shamanic cults. Through making and meditating upon such connections, one can discover only a fraction of the eternal laws of this universe.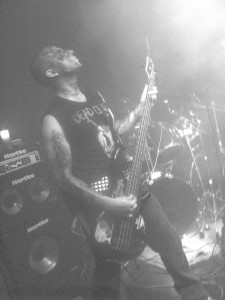 ObscuraHessian: There's a lot of sounds from 'Joined in Darkness'-era Demoncy that surface in the music of 'Exalted Emanation', which adds a Black Metal flavour to it. Is this a favourite album of the band or are you more into Death Metal? Who would you say are your biggest musical influences?
C.C.O.T.N.: A highly astute elicitation, as 'Joined in Darkness' was perhaps the most instrumental album in spearheading the Black/Death 'revival' of last decade. It was and is a major staple in the listening habits of all four members. Concerning musical influences, our earlier era was characterised by inspiration confined to Death and Black Metal. As the band and our selves developed, we draw from the source of many wells. I would go as far as saying that elements found in Ambient/Cosmic and Near-Eastern music are of greater importance than Metal when it comes to obtaining conscious insight and ideas.
ObscuraHessian: How strong is the Death Metal scene in the south of England, right now? Are there many other bands have you listened to or played alongside with the potential to crush the skulls of mortals?
C.C.O.T.N.: There are very few bands in the UK generally who play Death Metal with the old coffin spirit. Whilst completely detached from Death Metal, one newer band I worship are The Wounded Kings.
ObscuraHessian: London is an interesting city, with a lengthy and diverse history represented by ancient Mithraic temples, Medieval Christian architecture and modernist hubs of rabid consumerism. How does living in this capital play a part in your music, if at all? How does life here compliment or conflict with an existence aligned with occult knowledge?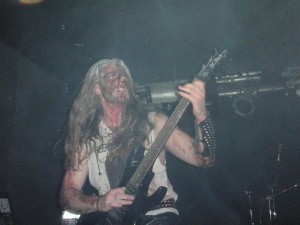 C.C.O.T.N.: To draw inspiration from my surroundings, I go out of London – often far indeed. Man is attuned with his surroundings, and living in this city is not congruent with the contemplation needed to collate this stimulation. I do find desolate urban areas during the dead of night to exude such sinister ambience, however. Whilst there are locations of Occult interest in the capital, other provinces of England are more relevant whether in regards to tangible brooding atmospheres or unseen power currents.
ObscuraHessian: Are there plans for an album as yet? Having released 'Exalted Emanation' last year, what is the vision for the future of Grave Miasma?
C.C.O.T.N.: The next step will be a full length album. We are not a band who place deadlines upon ourselves, as creativity often has no limits and needs time to bear fruit. Should the forthcoming material not meet the 'standard' of 'Exalted Emanation', then it is most likely we will cease to exist as a band.
Hail to C.C.O.T.N. and Grave Miasma for answering these questions and contaminating this urban wasteland with their noxious, cemetary fumes. The 'Exalted Emanation' EP and re-release of 'Realm of Evoked Doom' MCD can be obtained directly through the band or Nuclear Winter Records.
Nocturnal Transcendence — Interview with Midnight Odyssey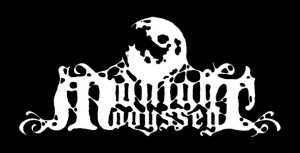 As much of the northern hemisphere is being overwhelmed by the onslaught of winter, the flames of Hell are rising to consume the south at summer's peak. Still, the hardened souls of Black Metal warriors remain unfrozen, and Australia's Dis Pater from Midnight Odyssey is no exception. A recent arrival on the scene producing beautiful and mature music demanded one of our interrogations, which revealed some of this artist's thoughts on ambience, patience and experience.
ObscuraHessian: We thought 'Firmament' was among the best albums of 2009, and I was pleased to hear that I, Voidhanger is doing the good deed of re-releasing your old material within the next couple of months! Looking back at your first Midnight Odyssey work, with its exhibition of diverse influences, how would you describe your mindset as an artist back then, compared to putting tracks together for the more streamlined 'Firmament'?
Dis Pater: Hello, thank you for your compliments. I, Voidhanger is in fact re-releasing "Firmament" which shall be out early March hopefully. The Forest Mourners was for me somewhat of a transcendence between the music I used to write and record privately and the Firmament release. I had a lot of influences which I wanted to incorporate into the project, and I guess I wanted to keep the door open as much as possible to prevent being labelled any one genre of music.
ObscuraHessian: In addition to hearing the obvious traces of bands like Burzum and Summoning in the demo, the ambiental feeling seems to quote some of my favourite ambient output, from Jääportit to 'Dark Age of Reason'-era Arcana. What's your relationship with ambient music and what's your recipe for 'Ambient Black Metal'?
Dis Pater: I have long been a fan of Cold Meat Industry bands, particularly early Arcana, Raison D'Etre, Ildfrost, Mortiis, Deutsch Nepal, In Slaughter Natives, etc, etc. Ambient music was the first music I ever tried to record, and it's something I have worked on as much as black metal, so combining the two seems natural for me. A recipe? Well A lot of modern bands do a fantastic job of mixing ambience and black metal – Paysage D'hiver, Coldworld, Darkspace, Marblebog, Vinterriket, etc, I think it's just being able to use keyboards with metal in a not so pompous way.
ObscuraHessian: I like to imagine that an entire Black Metal album could be recorded one day without percussion. Midnight Odyssey's proclivity for ambience demonstrates as well as a 'Filosofem', 'Winterkald' or 'Antichrist' how this could actually work. Do you think that there's enough scope in 'Black Metal composition' to eschew drums completely? Maybe an artist should just go and make electronic music like so many warriors have done?!
Dis Pater: It's funny you say electronic music. I too have delved into the electronic side of things in the past, and find a unique way of writing music there that seems to work well with the way I write for Midnight Odyssey. Bands like Tangerine Dream, Kraftwerk, all the way up to Trance and Industrial Electronica all have some unique element for repetition and layer building. I try to do the same with Midnight Odyssey, but with guitars and bass. I think it is possible to record an entire album without drums, it's something I have thought about, and think I could achieve in the future, without going too far down the line of electronic music.
ObscuraHessian: On 'The Forest Mourners', there is a subtle but still more continual folkiness to the music. Some of it reminds me of the folk/ambient images that A. Tolonen produces with Nest, but other times are a little more Celtic? as is the case with the opening track – which makes me think of a more contemplative Himinbjorg. Did you use such folk stylings as a conscious expression of ancestry, or is this a direct manifestation of musical influences? Being an Australian, is such a tribal connection even possible, in the manner of the Norwegians from Helvete, for example?
Dis Pater: The folk element is something deliberately incorporated into the music. I have good friends who are in a celtic folk band here in Brisbane, so their influence on my music is sometimes present. Also I enjoy folk metal, and some heavy metal such as Gary Moore's Wild Frontier album, where there seems to be a lot of celtic folk/rock influences. So yes in Brisbane it is possible to still maintain some connectivity with a European heritage, probably more-so than say America because Australia is a much younger country, most of us have parents, grandparents or great-grandparents who weren't born here. Also my music is about a time long ago in the past, and thus folk music has its meaning there.
ObscuraHessian: There is as much mention of 'spirits' in the titles of songs from 'The Forest Mourners' as there is of nature, but the ideas of the subsequent album seem to suggest that this reflects more than just an animism of some sort. You talk about 'Departing Flesh and Bone' and of course, the whole work is underlied by this connection between the active and earthly, and cosmic and eternal. This is an idea which is really interesting to me because it seems to get lost in modern discussions of both natural science and populist, Judeo-Christian religion. Could you explain how you came to terms with this understanding?
Dis Pater: To me, this entire area has been corrupted by Judeo-Christianity and most modern monotheistic or dualistic religions, Islam, Zoroastrianism, Buddhism, etc. The album Firmament is based on the moment of death, the moment a soul leaves the human body and what supposedly comes after. This is based on a somewhat personal experience which I have attempted to migrate to a more populous and general theme, set back in a time which I believe has been erased from human record, a time when humans were a little more in touch with their spiritual and carnal natures, when everything wasn't so easily divided into what's good and what's evil. I like the moral ambiguity of everything, that to me is what existence is about, it's not about the ultimate battle of good and evil that religion tells us to believe in.
ObscuraHessian: Even with your influences on your sleeves, so to speak, the music of Midnight Odyssey is very imaginative and this rapid-fire consistency at this point of your career makes it feel very 'lived out'! How would you describe the way in which the actual sounds that you produce are a representation of the aforementioned ideas or feelings? I mean, with most popular music, it seems to be fabricated in such a way to prioritise the broadest demographics, but obviously, good Black Metal wouldn't be composed with such vagueness in mind!
Dis Pater: Yes my music is rather spontaneous actually. I won't write anything for months, then do an album in three days, then sit back a few weeks and let it mature, perfecting it. When the time comes to write music, I am completely obsessed, engulfed in this strange atmosphere, it's kind of like walking out before a summer storm, you can almost feel the lightning seeking you out ready to strike, it's almost panic. It's usually after hearing a certain song somewhere, an idea will come into my head, and I won't be able to sleep, I usually don't eat or drink anything for a day or so. I listen to a lot of music, and I know what I like and I only release music that after a while I can still listen to and not feel embarrassed or ashamed about, to me it has to envoke those same impulses and manic trances that I got whilst recording the music. I know the exact tones, the exact reverb levels, the exact production levels I like and desire, so my music is always a mixture of new creative forces and learned processes, which has taken me nearly 10 years to get to.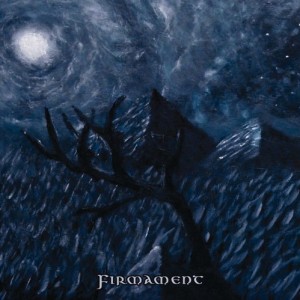 ObscuraHessian: The sound of the full-length is naturally better as there's more space between instruments but you still managed to reflect an enclosed feeling which sounds like the music is passing through a million leaves and branches before it hits the listener. Did the demo receive any remastering before sent to be pressed for its forthcoming distribution?
Dis Pater: The demo, actually both demos which will be re-released, (The Forest Mourners on Kunsthauch Records in Russia, possibly as a split) But neither are going to re-mastered, they are being kept the same, the only difference is with the new version of Firmament, the songs will be made to cut out less at the end (i.e. the music fades a bit before ending abruptly) and the last track From Beyond The 8th Sphere is being renamed simply Beyond the 8th Sphere (We noticed I used the word From a bit too much haha).
ObscuraHessian: Are you still working on music for an album to follow 'Firmament'?
Dis Pater: Yes there are a couple of things. One is a split with Wedard, which will be two songs from the Firmament sessions, actually one was written in between Forest Mourners and Firmament and has a bit more of an epic folk, and the other was written after and is not really a metal song). The next full length is recorded (except the vocals) and is a continuation of Firmament. Musically I think it is similar, but maybe a little bit more epic and ethereal in feel.
ObscuraHessian: Could you tell us a little about your activities outside of Midnight Odyssey, including any other musical projects?
Dis Pater: Other than Midnight Odyssey, I have a project called Fires Light The Sky. I had recorded two songs but have changed the style a bit of the band and am set to release 4 songs (which are actually old old Midnight Odyssey songs reworked and re-recorded, I think three of them I wrote in 1999, and one in 2001, so it's a more aggressive and standard black metal but nonetheless I feel I have to release them just to get them out of mind, it's like holding on to a secret that you want to tell everyone and can't do anything else until you tell someone. Also I have plans for a funeral doom project at some stage this year.
ObscuraHessian: What was the last awesome book that you read?
Dis Pater: The last good book, well strangely I don't read much, I think the last good thing I read was a book on Early Greek Philosophy, it was interesting to see just how fragmented records are and the work that goes into fitting the pieces of history together. It was interesting too to see these people from thousands of years ago try to describe something, and doing it relatively correctly, but just not having the correct terminology and understanding to fully comprehend it.
ObscuraHessian: What was the last piece of music you heard that resonated most with your own thoughts and feelings?
Dis Pater: The last music would definitely be the Polish band Evilfeast, I got some cds on the way and I can't wait to hear the whole albums, a couple of songs I've heard of them blew me away – epic, atmospheric and very depressing dark music.
Hails to Dis Pater for answering my questions and all the best for the future of Midnight Odyssey!
Written by ObscuraHessian
Tags: zine-articles