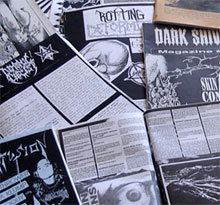 1. Introduction
2. Individual Thought Patterns: Apostles of Death Metal
3. Infestation of Evil: Chroniclers of Black Metal
4. Droid Sector: Information Networks and the Degeneration

Written by Devamitra with Alan (Buttface), Brian (Chainsaw Abortions), Niko (Hammer of Damnation), Timo (Fallen Pages) and Pete (Pure Fucking Hell)
Introduction
The violent, obsessive and obscurant phenomenon of death metal arose in the middle of the 1980's from the minds of alienated and intelligent artists, writers and musicians while the powers of the world were engaged with the nuclear paranoia of the Cold War, while computer technology broke through to everyday life in Western societies, while preachers were fighting against Satanic messages in party-loving hair metal albums and while musicians in the vein of U2 were participating in massive events that attempted to bring world peace and end famine with decades old clichés of British rock music. NWOBHM and British punk were dying out, replaced by the tough street gang aesthetics of hardcore and the satanic postures of early speed and black metal. The public stances of groundbreaking bands were growing to be more and more incompatible with mainstream rock media, which since the demise of the "counterculture" had abhorred ideological consistency as a threat to the marketing forces for which it owed its livelihood.
Real metal fans tended to be smarter than the average mainstream rock fan and naturally gravitated towards more critical sources, written by fans to other fans. The success of bands such as Metallica and Slayer wasn't founded on big corporations' agencies of promotion. Active touring, circulation of demo tapes and word of mouth established the reputation of these non-compromising bands, along with independent heavy metal publications such as Metal Forces Magazine in the UK and Kick Ass Monthly in the USA. While these started out as photocopied zines, they soon became professional but continued championing the authentic observations of the editors, distinguished metal writers such as Dave Reynolds and Bob Muldowney (R.I.P.), for relatively small profit and a benefit to metal fans worldwide in search of ever more lethal developments of the basic ideas of heavy metal music.
Individual Thought Patterns: Apostles of Death Metal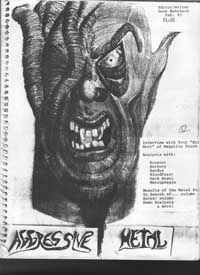 Death metal in the 80's was as avant-garde and extreme as metal went. In keeping with the independent spirit, death metal fans corresponded with each other and compiled newsletters that were at first minimal and crude, spreading the viral infection of an art form which was long abhorred by fans of classic metal and power metal. Thus, the crown jewels of death metal media originated perhaps from lands separate from the Anglo-American centers of youth subculture dissemination, where enthusiasm for the new style existed alongside speed metal and crossover interest: Metalion's Slayer Magazine (Norway), Laurent Ramadier's Decibels of Death (France), Desexult's Blackthorn (Denmark), Headbanger Zine (Peru), Alan Moses' Buttface (Australia), Streetcleaner (Germany), Isten (Finland) and lots of others with enormous local influence. Contemporary US zines that didn't lag behind included, for example, Aggressive Metal/Screams from the Gutter, Ripping Headaches and Chainsaw Abortions.
Alan: I am into different extreme styles, so I did not want to limit my zine to one style – there was way too much good stuff across the board back then, and very little crap. It's the opposite today. At first I just read zines , all of them from overseas, and the thought never came to mind to do one myself until I realized I had a lot of contacts by tape and video trading. There were no metal oriented zines in Australia in those days – and only few punk/HC zines – which really didn't get distributed well here, and they just were not good. So I decided to combine my love for all the styles, and I had a partner who helped me get interviews etc. too – we combined our resources and became the biggest traders with the biggest and really only zine from here – Buttface. It worked exceptionally well because none of the bands we ever contacted back then had done anything with an Australian zine – so a lot of the time that worked in our favour. Barely anyone in this country ever saw my zine because nobody was really into the music as much yet, it would be years before the underground bands got a big enough following here.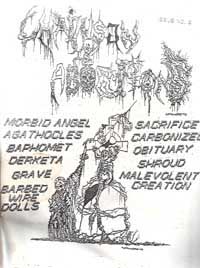 Brian: For me, I think the idea for Chainsaw Abortions just came because I've always loved music, hearing new things and spreading the word about things after I discovered them. In those times doing a zine was the best way to do that. My only contacts when I started were the local bands here in Buffalo, then from letter writing and tape trading my connections quickly grew. Of the zines that I bought back then, I really liked Death Vomit from Virginia and Ripping Headaches from Florida, plus of course Buttface from Australia.
Alan: Haha, I noticed that Brian mentioned Buttface! I only saw Brian's zine in 1990, which was good because it was a bit like BF, in that it had a bunch of different bands (despite the zine's name implying more of a death metal zine it had variety). Personally my favourite zines were Blackthorn from Denmark (my friend Esben Slot Sorensen's zine with his fellow Desexult guitarist Henrik Kjaer), Decibels of Death zine (DOD) by Laurent Ramadier who was also a trader of mine, and Ultimate Speedcore Dislocation zine (USD) which had a couple editors, one of them which was a trader of mine called Evil Ludo Lejeune – both those zines are French. In the USA without a doubt for me, Invincible Force (Bryan Daniel) and Ripping Headaches (Bruce Davis) both from Tampa FL, although there were other much older zines like Total Thrash and Uniforce which I loved getting my hands on when I could. I never purchased any zines pretty much except Blackthorn, it usually worked out that I got copies from the editors in trade or they were included in packages of tapes or shirts or records, as extra goodies you know? We always did shit like that, crammed photos or stickers or flyers into the package to make it cooler for whomever you sent it to. We all did that stuff pretty much – shit, a lot of us couldn't stand to have blank audio tape in a trade, and we'd put filler music to highlight a band we liked to another person, or we'd send messages to each other on the cassettes to fill the space. That was always fun, to hear your trader's voice, read their letter, check out all the cool music they sent you, then have a photo as well. You really felt special and connected to people, and you had to pay your dues.

With their down to earth, entertaining but always informative reviews and interviews the zines of the era opened for many ignorant small town kids the landscape of the underground, the indivisible fabric of ideals, images, and hard work by their intricate visual and literal presentation of the latest frontier of metal. Often black and white, cut and pasted by hand and then photocopied, the zines were constructed with care and attention to build an aura of mystery and power, laid out symmetrically with blasphemous figures and gory art, encasing the alien appearance of foreign bands in sheets of terror resembling an ancient tome. The DIY method had an invaluable asset in that it was relatively independent from monetary concerns and possible for basically any fan with the required intelligence, attention span and literary abilities. Actually many zines seemed to even manage without these.
Brian: Chainsaw Abortions was just photocopied, so my part time job paid for issue #1. For issue #2 my dad made the copies at his work for me because they had a copy machine that could handle 11 by 17 copies so it ended up not costing me anything to do, except of course postage.
Alan: I was going to college full time and had no job, but I was getting a student allowance from the government here, so 100% of that money went towards all my underground activities. In 1988 I got a very well paying job in a factory – so I busted my ass working 6 days a week, and many times 16 hour days. My parents were cool and didn't ask for too much money from me, which left me with a lot to spare – I just boycotted Australian record stores though. They never knew what stock to get in and always overcharged (100′s of % overcharge). I went right to the labels (which were all underground mostly) or got the stuff from the bands if the released records themselves, and had things sent sea mail which took a bit longer but was so cheap, saving more money. Time management was easy, because I was a full time student back then, with no wife, no kids, not much responsibility and was well trained in making my time count that I could get the zine done with not much effort time-wise. I never paid to have my zine printed, it was photo copied, at my father's job on weekends… but Buttface was thick, massively thick, with the best quality back then you could get by photocopying anyways. There's no way I could have done a printed zine, you have to have a ton of money for that. Ronny Eide from Morbid Mag in Norway worked, plus later he started to distribute porn to pay for his exceptionally high quality zine. We also glued our stamps – there is a special technique to be able to reuse a postage stamp. It's a federal crime of course, but we did it anyways saving $1000′s of dollars a year. I think I traded records with one of my many Brazilian contacts for 12 months by airmail and only purchased two sets of stamps – that's a shit load of money saving, hehe!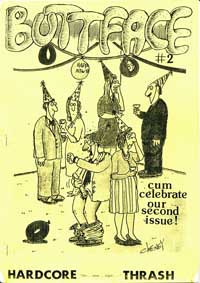 Typically, when starting out, the editor of the zine was a young fan without widespread indoctrination to the scene in the sense of agendas, friendships and contacts, while of course being impressionable and receptive to new drifts and ideas. One accustomed to the 21st century neurosis which causes every black metal fan to consider himself an expert on religion and politics may note that the reviews in the old zines were sparse, usually a few sentences describing the style with a brief note on its perceived quality, while interviews tended to concern the mundane activity of the band in recording and rehearsal conditions, including aspects of everyday life. Far from boring and trivial, it was the sort of discussion the target audience could best relate to and helped the spawning of new bands, as fans realized that the masters of death metal mostly weren't trained musicians or professionals of the business, but other fans and maniacs themselves who passed their time between school and work engaging in art, violation and a healthy distaste for conformity.
Alan: Too funny, I do not consider I was a critic, we had stupid funny questions and hell, it was fun but not a piece of journalistic work, heh!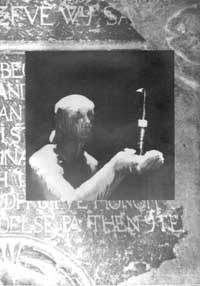 Niko: I used to do tape trading in the late 80′s and more or less related to that I got my hands on some early issues of some Finnish fanzines, for example Isten and Axe. I found them very inspiring. At the time there was no Internet as we know it today and it was very difficult to find information about bands you were interested in, or bands you didn't know even existed. So it all pretty much started from a personal obsession to find out information about bands and artists I was interested in myself. I didn't have any contacts in the beginning, apart from a number of tape traders, but the flyer circulation was a very handy and effective way to learn about various activities as well as spread information about your own. It was all somewhat difficult in the beginning as I was young and obviously didn't know anything about how to edit a magazine and have it printed, but once I managed to get the first issue of Hammer of Damnation out the ball started rolling.
Timo: Of course back then there was no Internet available, so it could take weeks to communicate the simplest things. There was also huge demand for information about bands from the audience and a need from the emerging bands in the scene to get promotion for themselves. So when in 1990, I was very young – and listening feverously to Morbid Visions by Sepultura – I felt a strong urge to be active in the underground scene. I was already friends with Sodomatic Slaughter from Beherit , so I was aware of the scene and as Black Crucifixion was only in its earliest pre-stage in the autumn of 1990, my way to act was to start a zine. I had already enjoyed reading some good quality early Finnish fanzines, my favourite was called Intestinal, so starting Fallen Pages was a natural step. The first issue was in Finnish and in A5 size under the name Damn Zine. The very first number along with bands like Beherit and Samael also featured thrash, speed, death, doom and punk bands. You have to remember that there practically was no "second wave of black metal" yet: Norwegians with the rare exception of Mayhem were mostly playing death metal with often humoristic lyrics, Swedes were all about copying the Sunlight sound, with the exception of the mighty Tiamat and even Beherit labelled their sound as "brutal death metal".  After the first issue was received very well among the buying public and the "colleagues" in the scene, I decided to do the next issue in English. Holocausto Vengeance from Beherit suggested that I would change the name from Damn Zine to something more suitable for international market. So we came up with the name Fallen Pages of Damnation, which I then shortened to just Fallen Pages. I also got more ambitious with the layout and went for A4 size and very heavy glossy paper. The substance got heavier along with the outlook, as the second issue included mostly black and death metal bands. It was published in the 1991 and I was surprised by its reception as everybody seemed to like it. Maybe it was a bit ahead of time with its outlook and probably my pretty juvenile style of writing added something to the mix. The English language was still pretty much shambles, but by the standards of the time that didn't matter, as some of my favourite foreign zines could hardly be recognized as being written in any language.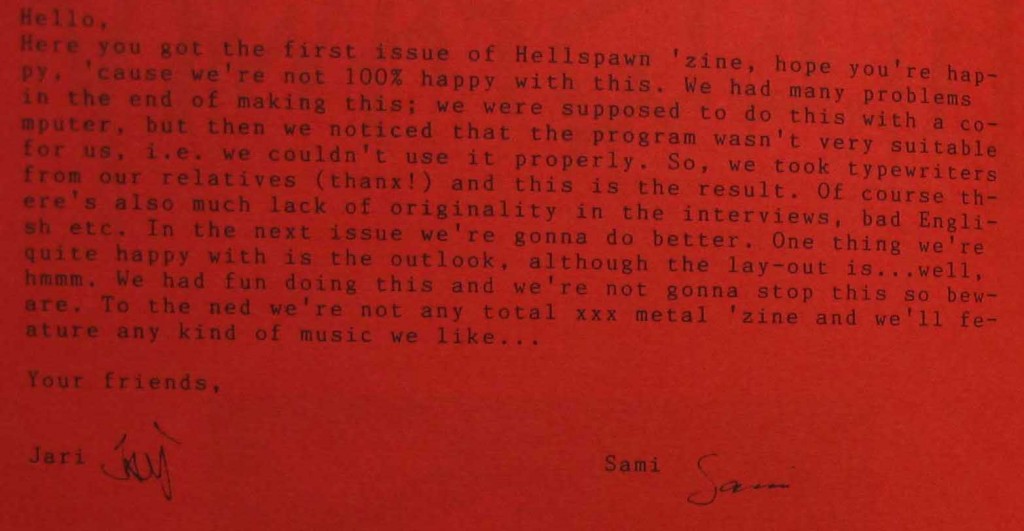 The limitation of resources and time applied to everyone working on a fanzine; they had no hope of creating profit from their publications without crossing over to mainstream press, as some of the early 80's zines such as Metal Forces had done. The sheer amount of competing media also meant it was impossible for anyone to claim the status of "a death metal Bible" and retrospectively, this was valuable to the development and outreach of tangential, even opposing points of view. Xeroxed artifacts as an after school hobby guaranteed freedom of speech to an extent alien to major media prone to be manipulated by management and executives.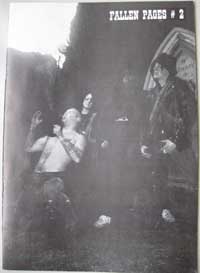 Alan: Almost all of the experiences in doing a zine that I had were positive. Perhaps the only negative thing was when customs would sometimes steal from me (money, t-shirts, tapes – really anything that took their fancy) or a band would rip you off and not send you whatever it was you paid for. I mean back then you had this nightmare of waiting for shit, and you had to just trust people and the most you could do to protect your 'well hidden cash' to wrap it in carbon paper to avoid detection by x-ray. Jesse Pintado did that to me infact, the shit, heh. I sent him $5 for a demo and never got it, imagine his surprise when I showed up in Tampa in 1990 for the whole damn 'Harmony Corruption' recording sessions, haha! It was OK though, on the last day there he said he was sorry, I told him it was OK. If I had stayed in Australia and never got to do all this stuff, then I would have been pissed off of course. My zine policy was that we would only review what we liked. I wasn't going to waste space writing about what I don't like about this band that I think sucks. So we stated that anything like that we would pay to return, you know, so the band could send it out to someone who could actually do something with it. A lot of people didn't grasp the concept and would get mad. I mean, would you rather someone blast your band and lose you fans, or would you like them to shut the hell up and mail it back to you? That's a damn no-brainer. There were one or two people that I met later down the road, even that I used to write to, years before, and we didn't get along that well. I won't name names. Most everything about it all was positive, I didn't do phone interviews because of the expense calling from Australia then was insane. Now international calls from Australia are cheaper than calling someone on the same street I live on! But it was cool just to bullshit with my traders buddies, or Lori Bravo, Trey, David, Mitch Harris… there were a number of people I would call just to talk to and get news from.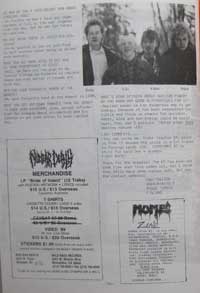 Brian: I'm not trying to sugarcoat the past, but I can't think of a negative experience that I had. Positive experiences were plentiful… I enjoyed doing phone interviews back then, because the bands were still small, it wasn't a strictly business call. I interviewed Trevor Peres (Obituary) and after the interview we just kept on chatting about the scenes in Florida and Buffalo and just music in general, same when I interviewed Steve Digiorgio (Sadus) and Sharon Bascovksy (Derketa).
Niko: I guess it's simply that if you're enthusiastic enough you'll find the time and money. Money was always a problem, but somehow I more or less managed to fund the printing from the sales of previous issues. As for time, the zine (Hammer of Damnation) and the band (Thergothon) were my main activities outside school, I had no interest in sports and other such hobbies. The most positive aspect was the opportunity to do everything by yourself from start to finish and finally have the printed zine in your hands. The most negative aspect was probably when something went seriously wrong in the printing process. I used to look into all kinds of mainstream, high-profile magazines, art and culture etc. and tried to use that kind of presentation in the fanzine/underground context and subject matters. Of course I still had to do everything by hand, with some help from a primitive computer, word processor and matrix printer. Luckily I knew someone who could screen the photos for me for free.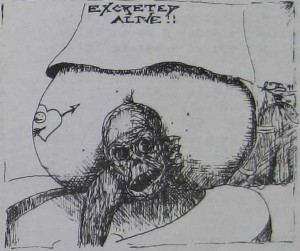 Pete: Well, the money was needed only for printing and time wasn`t an issue. There was no computers and such, I wrote the interviews for Pure Fucking Hell with typewriter and band logos & photos I got from the bands if they had any. Then I "designed" the pages, like where the text, possible photos and band logo goes and when all the pages were ready the whole thing went to print. If you knew a good printing place and used a bit of your brains doing the pages you could get a surprisingly good end result with that kind of procedure.
Timo: Time was a resource that most of the scene people back then had loads of. Although a lot of things were going on in the scene that kept growing rapidly, the pace of life was slower because there was no Internet or mobile phones. Most of us did not go around boozing and fucking. At least I did not. Not because we did not want to, but for example I lived in a very small town of Rovaniemi, in the middle of Lapland. There was not so much to do if you were a nerdy long-haired boy living away from town. And it was very cold and dark most of the year. So editing a zine and sending out tons of letters seemed like viable option. The first two issues of Damn Zine/Fallen Pages were actually funded in a surprising way: I managed to convince the city of Rovaniemi to pay for on the grounds of the zine being a cultural project. So the good tax payers of Rovaniemi are to thank. The third and final issue I paid for myself, but luckily the printing house sponsored it as well, even though their management consisted of very strict and devoted Christians! The devil works in mysterious ways…
Infestation of Evil: Chroniclers of Black Metal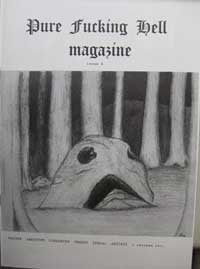 The beginning of the 90's was greeted by an explosion of death metal into mass media attention, MTV airplay and new fans. There were probably more death metal zines than ever, the likes of Balance of Terror (Canada), Biopsy (Finland), Fallen Pages (Finland), The Grimoire of Exalted Deeds (USA), Hammer of Damnation (Finland), Hellspawn (Finland), Putrefaction (Sweden) and The Requiem (USA) catering to the hordes yearning for information from the realms beyond Morbid Angel and Obituary who thrived at the peak of their fame.
Pete: There were a lot of great zines but I think Slayer (Nor) was the best. I don`t remember where the idea for making a zine came from, but there were a lot of people involved making the first issue of Grey Apple zine. We started from zero, put out the first issue and sold all the copies (100 I think) and then it was time to make the second issue and nobody else was interested except me, so I thought I`ll do it myself. I changed the crappy name to Pure Fucking Hell magazine and put out the second issue and it went from there. I don`t really recall any negative experiences, some bands didn`t answer to interviews though. All of the interviews for PFH were done by letter, so I didn`t meet the people in person. You got to remember in the early 1990`s it was all underground and the bands weren`t touring like nowadays. I think the only live interview was with Napalm Death in Lepakko on the Napalm Death/Dismember/Obituary tour in 1992, that was in the first issue.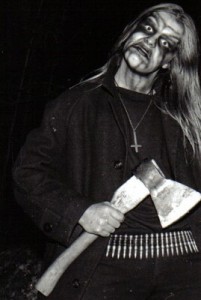 Timo: There were many zines back then and surprisingly many of them were Finnish: Intestinal, Biopsy, The Untouchables, Hammer of Damnation and of course the mightiest: Isten. Slayer magazine from Norway was superb as well. I enjoyed many foreign zines but in 1990-1993 the Finnish ones were prime of the prime, interesting writing and good English skills combined in a fine way.
Niko: There were a number to zines that, similar to mine, attempted to think outside the box so to speak, trying to find new angles to things and featuring new, unknown, different artists. You know, trying to introduce things that the reader wouldn't yet know he/she will find interesting! As for people, there were many great, intelligent and interesting people such as Marko (Beherit), Morbid (Necromantia), Euronymous (Mayhem), Roberto (Monumentum) etc. and naturally also a few assholes but I must say I don't really remember any particular examples. Maybe because I pay more attention to works and ideas than persons, in general.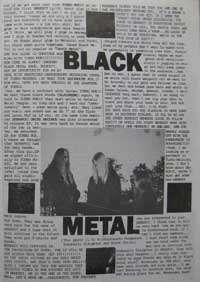 Timo: It was totally positive for me, I can't truly name anything shitty about those years. I got to know great people from bands, witnessing new art being born and in my own small way helping to create a scene that will be interesting to research for anthropologists of the future. I could feature the bands I wanted and loved: Rotting Christ, Blasphemy, Beherit, Impaled Nazarene, Necromantia, Carcass, Nocturnus etc. and made great friends with some of those people. Fallen Pages was the second publication in the world to interview My Dying Bride, I thought that their demo had potential in it. I have to say that I could not see the careers that Burzum or Cradle of Filth would have judging by their early promo tapes they sent to me – I actually ignored them.
All the while, dark minds were brewing plots in their suburban chambers as the black metal militia was slowly starting to strengthen its grasp on the souls of puny mortals. The electrified web of contact across regions allowed necromantic, spiritual and evil traits of the emergent possession cover ground at vast speed. The influential Mayhem axis, gathering followers around Scandinavia, sought to spread fear amidst the normalized death metal culture, which had accepted a new generation of funny skateboarders who loved brutal music and extreme sounds. They were not alone in their dark aims, as the blasphemies of witchcraft surrounded Canadian, South American, Finnish and Greek death metal and black metal alike, but the obsessive quality and Euronymous' media manipulation skills wrestled the attention from the faltering death metal community. Coupled with an era of artistic magnitude for Nordic black metal, the zine culture caught the bright burning fires of the churches, heralding the age of the final artistic statement of underground metal before Internet covered everything in ashes and the smoke of deceit. Fans of mid-90's black metal often grabbed a copy of Cerberus (Finland), Descent (USA), Desecration of Virgin (Germany), Imhotep (Norway), I Return to Darkness (Finland), Kill Yourself (Finland), Nordic Vision (Norway), Petrified (USA), Pure Fucking Hell (Finland), Tales of the Macabre (Germany), Voices from the Darkside (Germany) or Wheresmyskin (USA) to accompany the nocturnal excursion, candlelit mutilation or a visit to the toilet.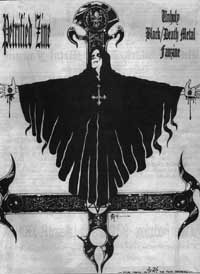 Black metal coverage was also picked up by the mainstream press in the wake of the terror of those Norwegians they called the Black Circle. French bands of the Les Legions Noires community (Vlad Tepes, Belketre) and the Polish Slavic heathens around the Temple of Fullmoon sect (Graveland, Veles) added their own violent, occult and occasionally political statements to the chaotic melting pot of obscurity. Rhetoric was at a completely new level now compared to the death metal years. Defying any kind of reason and common sense, bands declared war on each other and society at large, used their anonymity and obscurity to suggest the presence of dangerous cult fanaticism and deliberately alienated every average death metal fan. While there is no denying the fact that black metal was a serious matter for these groups, and rightly so, the intensification of image eventually led to role play and narcissism.
The harsh attitude of black metal created an irreconcilable gap between death metal, now consisting mostly of the "melodic" offspring of the Gothenburg clique and the "brutal" bands who imitated Cannibal Corpse, and the romantics, nihilists and Satanists who sought things that were hardly descendants of American rock music. The traditional image of the headbanger was rapidly becoming obsolete, with black metal bands opting for a gothic or medievalist appearance, brutal death metal and groove metal assimilating items of hardcore or rap and people difficult to tell apart from the crowd invading in flocks.
Zines as the purveyors of in-depth interviews and archaic scene knowledge became more philosophical, influenced by the creativity and intelligence of black metal, ambient, neo-classicism and other weapons of the Nordic uprising against normative death metal. Issues of the kind were occasionally available at black/death metal oriented record stores and mailorders, but for those without access to them the alternatives were either the moronic mainstream press or the resurgent Internet.
Droid Sector: Information Networks and the Degeneration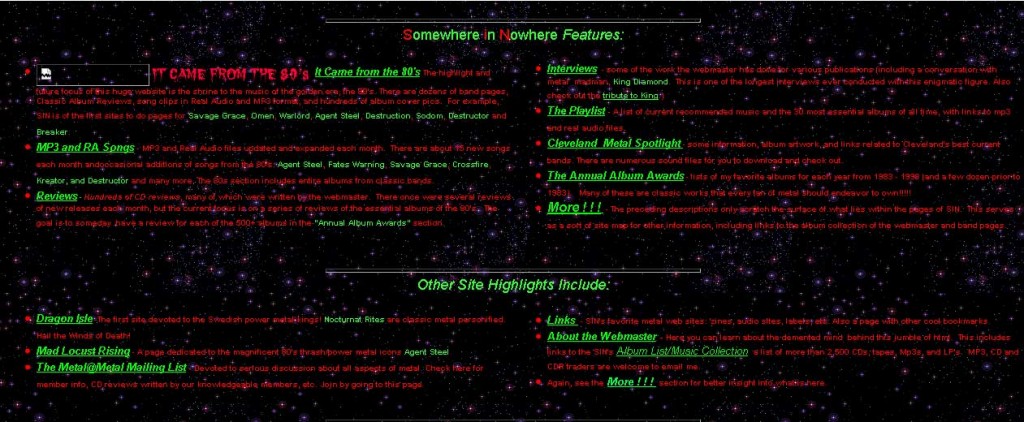 A few metal obsessed hackers had spread information, news and reviews through phone lines before, but personal computers became a common household item during the 90's and most of the mainstream users got their first networking and online discussion experiences in this era through the Internet, which grew radically during the decade, from a mostly college and university utilized serious information channel to a worldwide asylum of Babylonic proportions.
Engineers, housewives and Aspies alike accessed organized discographies, commentaries, discussions and news of old and new metal alike on webzines and portals such as American Nihilist Underground Society, BNR Metal Pages, Chronicles of Chaos webzine, Inferno webzine, Lost Souls Domain, Mega's Metal Pages and USENET newsgroups. Never before had trading, correspondence and contact with underground metal fans all over the world been so easy. Today, in the era of Encyclopedia Metallum and similar databases it's hard to imagine the work it had taken to find information and discographies of bands no-one at your local record store knew a thing about.
While webzines didn't directly compete with printed zines because of their more limited readability and different approach in organizing information, the easy access to metal databases undoubtedly contributed to the contraction of zine culture, along with the reasons outlined earlier. Only entertaining, in-depth and unique zines survived in printed form, often published more infrequently than before. Jobs and families occupy the time of the old school and the new generation has many other options at their disposal beside the laborious DIY printed publication.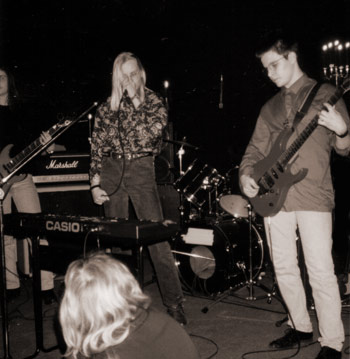 Niko: I grew tired of the whole metal scene in the early 90′s, partly because it all turned boring due to thousands of emerging bands sounding all very similar to me, and partly because I was discovering electronic and experimental music that seemed more & more interesting to me. I did go on with the zine for some time, featuring less metal and more other stuff that interested me, but after a while I put an end to it. I think what eventually killed it for me was that I was tired of having this "obligation" to review all the stuff I received, and to try to be analytic about music instead of simply exploring and enjoying it, etc. It was becoming an unpaid job, I didn't find anything creative or enjoyable about it anymore. Actually I still don't enjoy writing about music or trying to analyze or describe it, something about that process kills part of the excitement.
Pete: The bands got bigger and stopped doing interviews for smaller zines and the newer bands weren`t interesting. I think the whole zine culture somehow faded in the late 1990`s, I don`t really know why. I also had started buying recording equipment etc. so I didn`t have money to print the zine anymore.
Timo: I got very ambitious about the zine, wanted to make every issue more and more professional and at the same time my musical taste got more ambitious as well. Making just another issue of a metal magazine was not an option for me, so after some time passed other things took its place in my life. The three issues are all as good as I could make them during the time they were made. Soon my band Black Crucifixion would also transform into Promethean and I could express myself even more through music. One day I realised that there would not be a fourth issue. I didn't have much material for it ready, maybe just one interview of Impiety that Holocausto submitted. So there is no "lost" Fallen Pages #4 waiting in my vaults.
Brian: For me it was a combination of things. I got a full time job so my time was much more limited and I didn't want to do something that I could only put a half assed effort into. The other part of it was that the scene was changing and becoming trendy and it just got old fast, new bands would pop up and get signed when they really weren't good enough to be signed and it just watered down the scene.
Alan: It took over a year between Buttface 1 and 2 coming out, it just kept getting bigger and bigger and we thought we'd do something odd and make this monster fat ass zine, heh! My co-editor was meant to keep getting material for it while I went to the USA and Canada for 6 months in 1990, but he didn't gather any material and I ended up getting offered a job with Morbid Angel while I was in Florida. That killed the zine. If I had come back to Australia as planned and never went back to the US, then BF might have stayed around a few more years – but by '93 I might say it would have stopped because the music was overpopulated with garbage bands. And it's got 1000 times worse by 2009.I did try to keep Buttface alive as Buttface Productions in Tampa, by financing the release of my friend Jan's band Agathocles' first flexi disc. But my partner in that turned out to be a cokehead and ripped me and the people who ordered the flexi off badly. Some got out, here and there, but the majority I kept with me all this time, and only sent the leftovers to Jan in 2009! Almost 20 years later!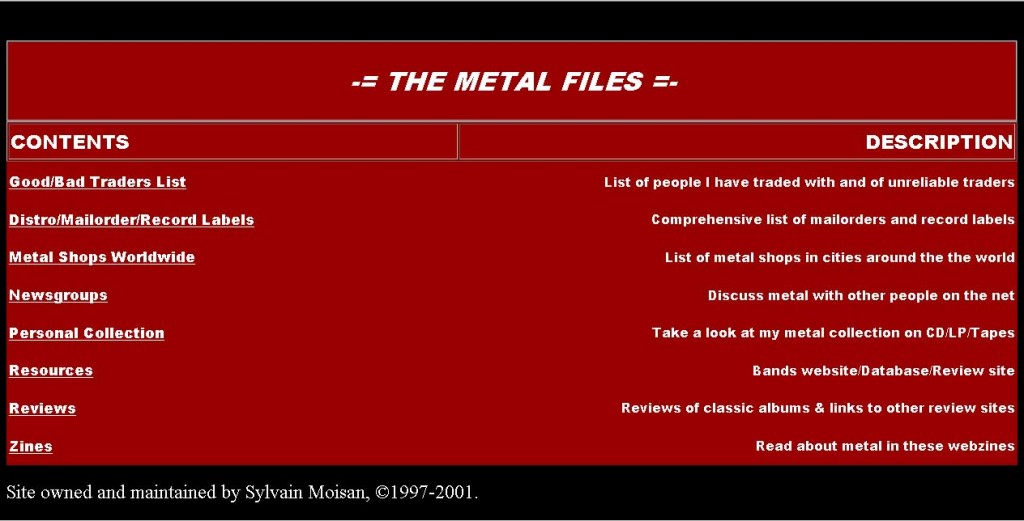 The underground metal zine is not yet an obsolete form of media. Publications such as Baphometal (Argentina), The Convivial Hermit (USA), Cross of Black Steel (Romania), Crypts of Eternity (Peru), Dauthus (Sweden), Fall to Your Knees Pissing (USA), Funeral Maelstrom of Hate (Italy), Grievantee (Finland), Hellpike (Germany), Horrible Eyes (Germany), Kaleidoscope (Finland), Oaken Throne (USA), Psicoterror (Peru), Qvadrivium (Finland), The Serpent Bearer (Finland), The Sinister Flame (Finland), Strength Through War (France) and Womb (Finland) are equals to their legendary forebears in literacy, style and tomblike appearance. They publish in-depth interviews dealing with topics from philosophy and magic to science besides the actual recording process, whose nowadays sophistication is unmatched by the legends of the past. Even the most obscure of bands are frighteningly conscious about their image and aims. Yet, their statements remain inevitably in the shadow of their colleagues from past decades in terms of influence, not because of any fault on behalf of the writers, but in keeping with the cycle of life and death which, as we have sadly noted, death metal and black metal are not exempt from.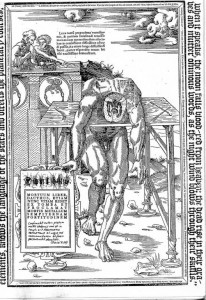 Timo: Fallen Pages gave me direction in life, I would not be sitting on this chair now had I not been able to see things in an international perspective from very early age. And having to handle schedules, layout, printing, writing and monetary issues. Back in 1990 Rovaniemi was very, very far even from Helsinki. And even further away from Europe. Now with Internet it is different for kids living in distant places, but looking at it now, it is weird that the small town produced people and bands like Beherit and Lordi. And Fallen Pages and Black Crucifixion.
Alan: I think the zine culture as you put it pal, it's all about paying your dues, and showing the scene that you mean business, that you care enough about it to get up off your ass and promote the bands as best you are able. It doesn't exist really anymore I guess, not on the level it did anyways. Instead of doing the work, today more people are concerned with 'collecting' Myspace official band page profile photos on their top friends list. You know? That's gay to me.
---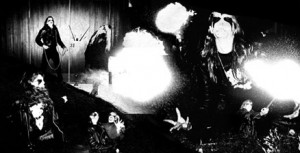 This piece of death metal research was conducted with the help of the following generous individuals: Alan Moses of Buttface zine, Brian Pattison of Chainsaw Abortions zine, Niko Sirkiä of Hammer of Damnation zine, Timo Iivari of Fallen Pages zine and Pete Ilvespakka of Pure Fucking Hell zine. You can admire scans of some of their issues and many more of the period at the Deathmetal.Org Exhibits page. Alan and Brian have joined their forces recently to publish a recapitulation of the most important years of death metal, 1984-1991, through a collection of photographs and stories narrated by the bands and zine editors of the era. Niko pursues the wizardry of ambient and avant-garde soundscapes. Timo and Pete continue performing pure black metal with Black Crucifixion and Diaboli, respectively. Deathmetal.Org loudly hails all the participants!
What then is truth? A movable host of metaphors, metonymies, and; anthropomorphisms: in short, a sum of human relations which have been poetically and rhetorically intensified, transferred, and embellished, and which, after long usage, seem to a people to be fixed, canonical, and binding. Truths are illusions which we have forgotten are illusions.

– Friedrich Nietzsche, On Truth and Lies in a Non-moral Sense
Tags: zine-zines