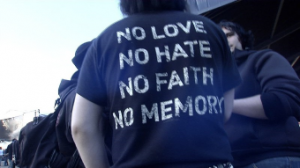 Promised Land of Heavy Metal is a documentary about the history and philosophy of Heavy Metal and how it became such a big deal in a small country called Finland.
We tell the story of Finnish Metal, from its early "underground" days to the present success stories, by interviewing famous musicians, experts and events organizers, a psychiatrist and a doctor of theology. The film takes us literally from the graveyard to the Finnish President's palace!
Why is Metal a religion for so many? What are it's links to satanism and ritualistic murders? What made Metal mainstream in Finland? Why does the Finnish Church have Metal Masses? What's the future of Metal, after LORDI won the Eurovision song contest and even the President approves? We hear strong opinions: some see Metal as the new folk music, while others detest it's commercial aspect.
The film is narrated by Kimmo Kuusniemi, a filmmaker, Sarcofagus guitarist and a forefather of Finnish Metal. Kimmo has lived in England for 16 years, and sees the current popularity of Heavy Metal as a strange phenomenon. He was the one who fought for the metal message 30 years ago! What happened in Finland in his absence?
One of our aims over the years has been to prove how the vital undercurrents of Finland produced cultivated metal sensations over the years from the earliest heavy metal days, best exemplified by the inimitable Sarcofagus, to thrash and the Finnish death metal movement, finally creating a discharge of consciousness that erupted in mainstream metal sensations all over the world, leaving most of the more focused and gloomy explorers to repose in the depths.
Kimmo Kuusniemi, the founder of Sarcofagus, the earliest Finnish metal band, has aggregated his unique vision into a documentary giving sporadic but meaningful glimpses into metal culture in search of the ultimate question: why?
Written by Devamitra
Tags: zine-video