Hailing from Newcastle, the same turf as fellow Geordies Venom, Satan's debut album offers a more finely executed and grandiose vision of the NWOBHM, and on Court In The Act they deliver a masterwork that arguably represents the peak of the style. Each composition is defined by intricate rhythm and lead guitar work, and a pacy ryththm section that has all the momentum of an up-tempo take on Stained Class by Judas Priest. A very well tamed vocal retains a mostly mid-range croon throughout songs, unleashing semi-operatic falsettos wherever necessary to give greater punctuality to the conclusions of riff cycles. On repeat listens Court In The Act can bring about various comparisons, with the proto-speed metal gallop of Judas Priest, the melodic noodling of Iron Maiden and an anthemic niche shared by Angel Witch. Witchfinder General also comes to mind, albeit lacking the Black Sabbath influence that informed said act.
Melody and song structure here is flawless, and u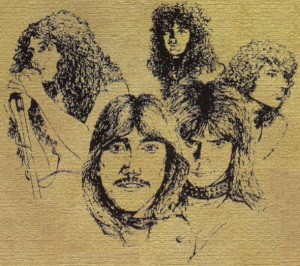 nlike many albums of the NWOBHM there is no real incohesion or disruption halting the flow of compositional prowess. Quite an archaic use of notation that makes great use of pentatonics, yet moderates the restraints of blues and R&B music, has something more in common with European music of centuries past. If one were to imagine listening and removing the aesthetics of the modern band-set up, and replacing the electrical distortions of the guitars with perhaps harpsichord or sole acoustic guitar in it's place a bridge can more or less be established as an imaginative transition to a modern form of music. One of the absolute best releases of traditional metal, this is highly overlooked and highly recommended.
–Pearson-
Tags: Court in the Act, Heavy Metal, NWOBHM, Satan, Speed Metal