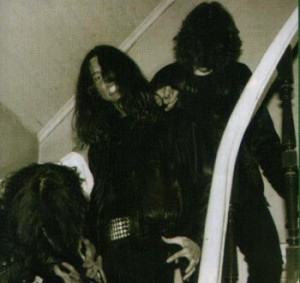 Something like the problem of transubstantiation for the church fathers, the birth of death metal, who did it and where, is one of the prime causes of contention of metal messageboards across the world. Some give credit to Venom's blasphemies and chaos that were basically Motorhead with less technique and more sluts, ca. 1981. Thomas Gabriel Fischer's Hellhammer, formed in 1982, was an extreme entity from Switzerland that explored the furthest reaches of negativity and doom, guitars tuned low and vocals devolving into grunts and screams. Around this time the same guys also started a fanzine called "Death Metal", later to lend their logo to a 1984 compilation of Noise Records bands, including Hellhammer. Around 1983, still not more than two years after Venom's "Welcome to Hell" and the same year Mercyful Fate and Metallica would debut, Kam Lee of Mantas (pre-Death) and Jeff Becerra of Possessed were utilizing growled low vocals from the bottomless depths of Hell and elements of death metal guitar (tremolo and chromatics) and drum technique (blastbeat) that are staple elements of what consist a normal death metal album today.
I went to high school with Jeff Becerra and Larry Lalonde. They actually recorded and released 'Seven Churches' when we were in school. I even had a copy of the demo. I read all the time people citing that album as one of the first Death Metal albums and that they helped start all that. I seem to remember those guys being really into bands like Destruction, Venom and Celtic Frost… but I guess Possessed took it a little further. At the time I didn't think it to be the start of anything.

– Mark Peters
The above quote from the Peacedogman forum highlights the essence: bands were taking the influence of the previous generation of bands into areas that seemed so natural to them that they were not thinking of going out of their way to create another "experimental" genre. Thinking about thrash and thinking about death metal in their pre-trend incarnations is mostly an invention of the historians – it's best to focus on the organic development of metal over time and remember how people unrelated to each other stumbled across the same kind of approach independent of each other. To celebrate the diversity and energy of this formational period when speed metal bands were discovering the praise of death and invocation of satanic forces, one could do worse than listen to this old school death metal compilation created by Fenriz for Vice Magazine – it's in fact a good supplement to our article on the history of Norwegian death metal, because it represents both the contemporary sound of Sweden and the various evil conjuring voices from around the world that these kids heard by tapetrading, thus influencing their sound.
Written by Devamitra
Tags: zine-articles