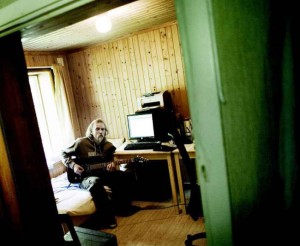 The release of Burzum's mastermind Varg Vikernes from jail after fulfilling his sentence for the killing of his former friend and band partner Øystein Aarseth has raised a literal thunderstorm on the ethereal world of the net. The aforementioned phenomenon is not unusual if one knows the Internet and the people who frequent it, and was therefore easily predicted.
After all, the profile of someone like Varg – a convicted murderer (killing another human being is always bad, kids, remember that) with extreme political and racial views that don't make him the most likeable person, at least for most people, and who gave many bogus declarations in the past (the ratio of truth vs. bullshit being relative depending on whether you're talking with an admirer or a detractor) – is not the most favorable for a person with the truest intention to be left alone, but makes for great talking on message boards.
The thing about all the talking and bloviating is that, save for a small few who either don't care or outright hate Varg's music, most detractors will readily admit that the works under the Burzum moniker are worthy of consideration, and even of admiration. It's like people still have a problem separating the person from his works.
But I'll leave that well alone. The man's release still needs to be commented because of the newest declarations made by Vikernes. Apparently, he will not completely shut himself from the world and will try to rekindle his music and writing careers.
After the years of continuous reunions from older, legendary bands being most of them complete flops and dissapointments, yours truly had virtually lost all faith in this phenomenon, until certain albums by certain bands like Celtic Frost and Beherit showed that reunions weren't just mere vehicles to regain a fame and name that should have been better kept under wraps. The aforementioned acts actually showed a concern for metal's artistic decadence and came back to prove how it's really done (the tag of most reunions out there, but this time they really accomplished that).
Like Beherit's, Burzum's musical comeback should be taken with initial skepticism – after all, reunions and the like haven't lost their essentially gimmicky nature -, but I really hope, having faith on the man's talent and how it has maintained itself through the years, that he will be able to make an artistically honest effort that would contribute bringing metal back to life like Engram was.
In any case, one should also expect much on his future writing career, a topic that isn't much talked about since Varg isn't really famous for being a writer, having his music and all of the norwegian soap opera taken the forefront. It's unfair, really, given that, despite the fact that Vikernes wasn't a born writer, like his clumsy early essays prove, he has, throughout the years, developed an engaging style and it will be worthwhile to see what it results from that. That said, a book elaborating on scandinavian and related mythos, expanding on the short stories of Filosofem, for example, could be quite something. But, like life roughly teaches us, we should not get ahead of things and instead wait patiently.
A new Burzum album and one or two books worth considering is what's on the future for Mr. Vikernes and the ones who might care. Oh, and there's also a movie, but we won't get into that…
Tags: burzum, varg vikernes, zine-articles