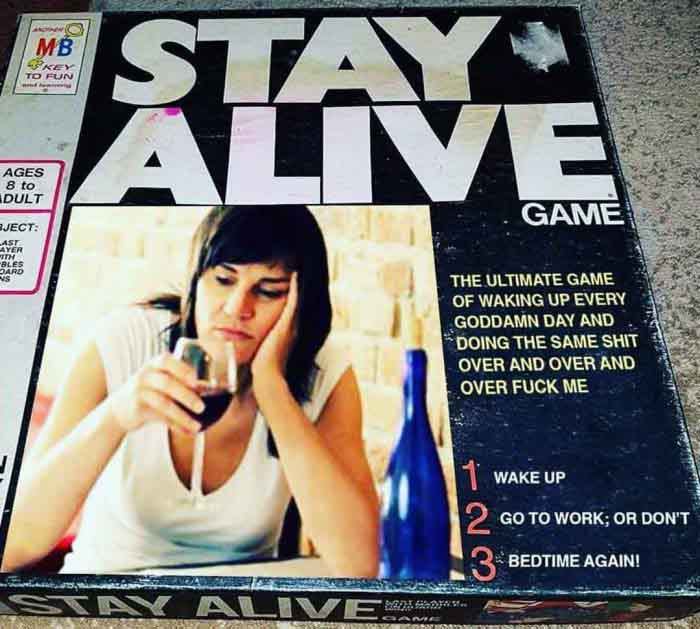 What would Hessianism be, if it were expressed as a philosophy? The idea that beauty is found in whole structures and not textures; in other words, when you see all that is there, you understand the role of darkness and how the beauty in it is essential to have other good things, and when we deny it, we fall into an abyss of ourselves and suck in everything around us, choking ourselves out with our own weight.
You might call it a war of realist transcendentalism against narcissistic hubris, or even an anti-democratic and anti-egalitarian movement, because it is surely that. Metal has never liked the normies, nor the faux dissidents like the various punk bands with a lot of complaining and no solid ideas or philosophy about what to do about the situation.
When you translate metal into music, you get beauty shaped of darkness, and intense structure taking the place of happy harmonies and blithe, distracting melodies. You get lyrics about things of great intensity, not all of them dark — many are triumphant — instead of songs about fornication and emotional drama mistaken as love. You get songs ruled by the riff, where the riff only shines when it makes sense in a dialogue of riffs that reveals a journey from order to chaos to a new type of order.
If we translated this into politics, it would be the notion that life is short and therefore we must destroy all things which do not enhance life. Paperwork burns. Idiots die. Foreigners go. Parasites drown. Ugly modern buildings burn. THOTs get sold to the Arabs. Vegans and pacifists get whipped. Prostitutes end up in six different dumpsters each. We build great things, wage great wars, live life with intensity, and never forget that beauty depends on darkness, namely the removal of the stupid, pointless, inept, parasitic, incompetent, base, pacifistic, and otherwise weak.
In fact, if metal and natural selection had something in common, it might be "sodomize the weak" or some analogue. We want life to be great, not just mulching along for basic survival, and to do that, we must destroy the wimps (weak) and poseurs (parasites). We also have no tolerance for modern life, especially the dual slavery of school and jobs. Recently some Swedes decided to satirize our cultureless society dedicated to money and being a worker's paradise through constant work with an art project mocking jobs:
Starting in 2026, this will be one lucky (or extremely bored) worker's everyday reality, thanks to a government-funded conceptual art project in Gothenburg, Sweden.

The job's requirements couldn't be more simple: An employee shows up to the train station each morning and punches the time clock. That, in turn, illuminates an extra bank of fluorescent lights over the platform, letting travelers and commuters know that the otherwise functionless employee is on the job. At the end of the day, the worker returns to clock out, and the lights go off. In between, they can do whatever they want, aside from work at another paying job.

"The position holds no duties or responsibilities, other than that it should be carried out at Korsvägen," the job description states. "Whatever the employee chooses to do constitutes the work."

Titled "Eternal Employment," the project is both a social experiment and a serious political statement.
When you think about this, it is a description of our society in a nutshell: you go to your job, do whatever seems sensible, and then stay in that job until you die. Some get promoted above because they figured out more effective work to do, or more likely, figured out how to be less effective, because their incompetence made other people needed to clean it up and therefore, everyone had full employment guaranteed forever.
In an ironic twist, capitalism and communism end up at the same place because in the end, the problem is human organization from a bottom-up perspective. If you rely on people to take the initiative, they act for their own benefit, but since most are mediocre, they aspire only to consistently showing up somewhere, doing inconsequential things, and getting paid for it. Capitalism takes the lead because it rewards those who invent useful things, so eventually one out of a hundred million does, but it also fails when the buying audience cannot tell the difference between a useful object and a fascinator designed to waste their time. Most people cannot be effective, but everyone in the herd can appreciate an iPhone, Big Mac, Diet Coke, Escalade, No Fear sweatshirt (XXL), PowerBall ticket, or Glock 19.
This system centralizes power in the hands of those who administrate, and those act only to ensure that their power expands, since to cease growing is to die in a competitive environment. This means that soon everyone serves what is convenient for government and big business, and while this is destroying them, they have no capacity for understanding life as something else, so they keep voting for solutions that make the parasite more powerful: more taxes, more benefits, more laws. All of these benefit those in power who have the wealth and influence to evade them, but come down extra-hard on all the ways that we might escape this world.
Think of AD 1900. You could set up a farm, grow corn, and sell it on the roadside. That was all that you needed to do in order to survive. No paperwork, no diversity seminars, no anti-rape pamphlets, and no ten thousand regulations and sixty hours a year of filing tax paperwork. That was life before jobs. But, if we are going to include everyone — this always makes a group of humans nod as if they were animated mushrooms — we have to offer employment, categorize those roles, set up pay schedules, and provide for those who are in-between jobs or poor. This means a gigantic welfare state and massive government, in which people are also working jobs, so they do what makes their jobs secure at your expense. Still this is too much clarity for humanity.
Not surprisingly, our best people are dying out because this life is existentially miserable. That is, it is both boring and pointless, and by doing that, it replaces our independent will to make something of our individual lives that is not for profit alone and instead makes us servants to everyone else, with government taking its cut (and hiring more busy parasite bureaucrats while it does so). Misery makes animals cease breeding, and humans are animals like any other:
Espen Andersen from Statistics Norway says the downward trend – 55,120 children were born in 2018 in the Scandinavian country of 5.3 million, down from 56,633 in 2017 – has been going on since 2009.
The same is true across the West, and worse, it starts with our most intelligent people who are the most capable of contributing to our future. Looking at a world that is insane but refuses to recognize that it has a problem, they simply opt out, take easier jobs, and have fewer if any children. As always in egalitarian systems, things are not equal so the strong must subsidize the weak, which leads to many more weak as the strong die out.
Some call this anomie, or a sense of rootless boredom, but more properly, it is internalized despair resulting in passivity. Centralized systems do that to people: in these systems, the only actor is the centralized authority, so everyone becomes conditioned to wait for something to happen to them instead of taking the lead to figure out what is satisfying for them.
Following WW2, as our societies became more modern or man-made and disposable, people lost any sense of life outside the system, and it made them inert. This was described best by Michel Houellebecq back in 1996 with his book Whatever, which showed how the postwar system had devastated Generation X:
The unnamed narrator of Houellebecq's novel is Marcuse's one-dimensional man. A single, 30-year-old computer engineer in Paris with no sex life, he suffers from a chronic passivity that, in Houellebecq's view, is characteristic of Generation X. He buys, but doesn't take joy in any of the things he possesses. He has acquaintances, but no friends.
If this book is too much, you can try the American movie version, Office Space, which came out four years later. Houellebecq nailed Generation X, by the way. Left alone as latch-key kids in the odious fug of failing relationships caused by the sexual bacchANALia of the 1960s in which their parents participated, Generation X had no hope that anything would change. Basically, we anticipated living forever in the Suicidal Tendencies "Institutionalized" video which, like Repo Man, accurately described life in the 1980s once the postwar regulations, demographics, ideology, and tax structure kicked in and made all of us job-sheep working to pay taxes to fund the underclass. There simply was no hope of escape.
The convergence of all those things — high taxes, bureaucratic incompetence, careerism, parasitism — make jobs particularly odious. As we become more dependent on generating taxes, just like in the Soviet system, we are less interested in actual productivity and more in pretend productivity, because the system runs on taxes and not the economy itself. The economy depends on a strong government and its military to guarantee it primacy through superpower status — both the US and EU benefit from this — and so there is no need to actually be competitive outside of our own little system.
Most of the laws we created to make jobs better actually made them worse. Every regulation creates another bureaucrat, and that means more requirements for workers, which in turn translates to less time doing anything of importance and more time fulfilling bureaucratic needs. If you wonder where the modern "make-work" environment comes from, look no further to union-friendly law, affirmative action, the many lawsuits, and of course, the extensive paperwork required by our centralized governments.
Somehow, despite not being formed of a single system as in the Soviet Union, in the modern West government, industry, and "the people" have come together to demand what people always demand, which is guaranteed support at the expense of others, and this has created a massive bureaucracy — democracies always do this — which has made work into a horror. As one source expressed, jobs are jails:
What is The Economy? It is all of us doing all this work–a lot of it a waste of time! But the media tells a different story: we are chided for lacking "consumer confidence" and scolded for "hurting The Economy," or perhaps we are counseled that "it's bad right now," as though The Economy was suffering a transient medical problem that will pass just like a cold.

Government as we know it is a major part of the problem, not because it stands in the way of business and the market, but because it offers them the ultimate guarantee of force, and has proven its willingness to act. Unions are also part of this. They have clear legal responsibilities, primarily negotiating and upholding legal contracts with large companies, ensuring "labor peace"; they cling to the law, hoping that eventually the government will change the laws and then enforce them to allow a new wave of unionization. They imagine that they will someday be allowed back in the club and once again enjoy a piece of an expanding economic pie as they did during the post-war period, when they played an important role in crafting U.S. foreign and domestic policies by purging radicals and communists and becoming ardent cold warriors.

The marketplace and wage-labor impose a fatal break between our inclinations and duties. We are objects cast about in the rough seas of the market, rather than thoughtful subjects considering the zillions of ways in which our lives could be better immediately, and organizing ourselves to help bring it about. We are locked into "careers," or perhaps vicious cycles of underemployment, unemployment and bad luck, instead of choosing from a smorgasbord of useful activities needing attention, from cooking, cleaning and caretaking, to planting and building, along with a variety of well-stocked workshops for easy "self-production" of essential items.
No one wants to address this situation because they are on the other side of what we might call "the humanism divide." They see what most people want, and even though that desire leads to disaster, they are unwilling to be unsociable, or to do what makes people feel uneasy. Metal does the opposite: it embraces what we are in denial of, namely the darker and more unsafe sides of life, and shows us the beauty within them. It might be the only real political rebellion of the postwar era.
Tags: anti-work, hessianism, jobs, jobs are jails, Philosophy, politics