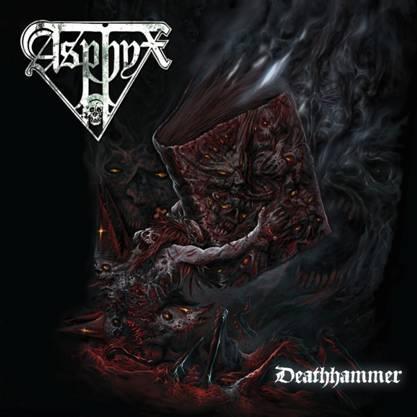 ASPHYX – Unveil cover artwork for new studio album; Announce release dates for "Deathhammer";
Confirmed to play ExtremeFest and Obscene Extreme Festival in 2012!
Following up on the extreme success of their latest studio album release "Death…The Brutal Way" and its "Live Death Doom" DVD/Live-CD successor, Dutch Doom Death Metal legends ASPHYX have now finished work on their newest studio album effort, programmatically entitled "Deathhammer". A release date of February 27th, 2012 (Europe) and February 28th, 2012 (North America) via Century Media Records has now been confirmed too.
The time has now come to unveil the stunning artwork for "Deathhammer", crafted by longtime parther in designs, Axel Hermann (http://www.axel-illustrator.de/). Hermann has not only worked on all of the early ASPHYX artworks and most recently on their "Live Death Doom" release, but is also responsible for many of the classic Century Media artworks by bands like Morgoth, Unleashed, Samael or Grave. Here is how both parties comment on their newest co-operation:
"ASPHYX and Axel Hermann is a fusion that has always functioned perfectly…from the days of 'The Rack' back in 1991, 'til 'Deathhammer' in 2012. Like others such as Dan Swanö, Axel may be considered as an external member of the band and when we asked him to do the 'Deathhammer' cover – and as usual we would leave him free in his expression – we were very pleased to hear he was willing to take it on.
…And the man has exceeded himself! To the perfect death metal album comes the perfect cover that still leaves enough to everyone's imagination. We hope he is as proud as we are on the final result. It seems all falls into place for this deathdozer of an album. I guess Axel can expect an offer from Le Louvre any time now."
Martin van Drunen / ASPHYX
"A cover is the visual extension of an album that translates music and emotional intentions (or should I say aggression) into a clear statement of what to expect before taking the record off the shelf. In seldom cases you're ending up with two perfect sides of the same coin. With ASPHYX and myself it has always and luckily been that case. And I am really proud of that! Show 'em Death and hit them with a hammer…visually and musically! Guess, we flipped the coin once more!?"
Axel Hermann
Recorded at The Mörser Studio as well as at Harrow Studio with their longtime engineer Harry Wijering, "Deathhammer" was mixed and mastered in Sweden by Dan Swanö, who previously worked with the band on "Death…The Brutal Way" as well as on the "Live Death Doom" release.
Prior to the upcoming album's release date, ASPHYX will still perform a very special "full album setlist" concert at this year's Eindhoven Metal Meeting on December 16th, at the Effenaar club in Eindhoven, The Netherlands, where the band will be playing their complete "The Rack" album for its 20th anniversary of release. Additionally, ASPHYX have already been confirmed for the 2012 editions of the ExtremeFest, July 5th to 7th in Germany, Austria and Switzerland, as well as the coming edition of the legendary Obscene Extreme festival in Czech Republic on July 14th. Here are all the band's upcoming confirmed shows:
ASPHYX live:
16.12.2011 Eindhoven Metal Meeting – Eindhoven (The Netherlands) * Special 20 years "The Rack" show!
05. – 07.07.2012 ExtremeFest Deutschland – Hünxe (Germany) http://www.extremefest.eu/
05. – 07.07.2012 ExtremeFest Österreich – Salzburg (Austria) http://www.extremefest.eu/
05. – 07.07.2012 ExtremeFest Schweiz – TBA (Switzerland) – http://www.extremefest.eu/
14.07.2012 Obscene Extreme Festival – Trutnov (Czech Republic) http://www.obsceneextreme.cz/
7 Comments
Tags: asphyx