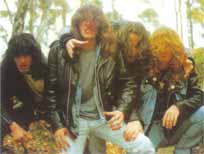 Death Metal Underground (DMU) is the oldest and longest-running metal site on the internet with content dating back to 1988. Its mission includes ongoing inspection of heavy metal music, its history, culture, imagery and philosophy.
Our analysis originates in two ideas: that heavy metal is a form of art and culture, and that the origins of heavy metal can be found in the late Romantic movement in art and literature whose imagery and ideals it carries to this day.
Most people want disposable entertainment that puts no burden of understanding on them. They want something they can project into and then leave without feeling a sense of loss. They want television in audio form. Heavy metal interrupts this process and reconnects distracted people with the life hiding beneath our own mental obstacles.
With over 25 years experience listening to metal, supporting local scenes, writing about metal and interacting with metalheads and bands, our staff — a diverse group representing artists, technical gurus and professional writers — strive to represent metal for what it is, not how it can be marketed.
Contact
Death Metal Underground
PO Box 1004
Houston, TX 77411
editor@deathmetal.org
For review, send:
Email link to an electronic press kit (EPK) including:

MP3 of the full release
Large (1200x1200px or greater) cover image
Contact information for the band

Or, physical copy to our mailing address.
Writers
Exhibits
DeathMetal.org is also home to a number of exhibits from the past and present of death metal. They are:
Zines Historical archive of death, black and speed metal zines from 1984 through 1996.
LARM A review site run by a user named Chorazaim which had short reviews of late black metal albums.
Dark Legions Archive the original metal site on the internet, covering releases "of note" from the classic years.
13 Comments