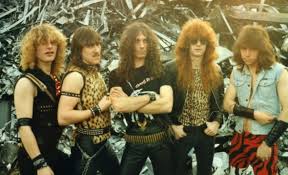 One of the few great bands from the NWOBHM movement in a genre known for a few gems in a sea of stadium and bar rock bands. While never receiving the deserved praise and success of their peers, Satan nonetheless were one of the best bands coming from the scene and used Speed metal elements in creating their magnum opus Court in the Act. On "Trial by Fire", Satan show the large number of tools at their disposition after the opening blast of notes.
Starting with an exotic melody that is completely contained within the phrygian mode.
Both guitars then transpose the melody:
Guitar 1: Moves up a major third and repeats the same melody except that any instances of a tritone are replaced with a major third and then an augmented fifth
Guitar 2: Doesn't transpose the melody but after the root note is stated the following flurry obeys the first guitar.
The root note is now harmonized in major thirds as at some points a major third would sound wrong due to it being outside the scale. This takes the previously established motifs and pushes them further towards feelings of strength and vitality. This is a very typical tool used by Iron Maiden and the better NWOBHM bands. By remaining in minor tonalities with short flirtations with dissonant tonalities before exploding into major tonalities, these artists, conveyed empowerment, hope, strength and the ability to fight in a broken world without falling into the trap of making saccharine melodies. Heavy metal is known for its dramatic flair and this could be due to the fact that many of these ideas are seen in both opera and musical comedy.
Main Riff:
The Key shifts to a B and then goes down an augmented fifth before repeating the root note and going down a fifth. Instead of going to the root note, the band jump on the augmented fifth which then repeated with a fast palm mute attack before leading to a minor third, a minor second before using the Speed metal palm mute attack to build anticipation to a descent from the fourth down to a second. This riff builds from the previous melody while using the NWHOBHM notion of on sticking to one chord and galloping until the transition to the next except that the gallop has been replaced with a full throttle attack which now adds urgency. Highlighting each chord change while removing all the dissonant and major elements adds a strong sense of sorrow to the piece without losing any of its potency. The final descent just before reaching the root note which doesn't resolve it and grabs the listener's attention while adding frustration. The ability to build memorable and powerful melodies from the simplest building blocks is a difficult and lost art now in metal.
Tags: bief analysis, Court in the Act, Heavy Metal, NWOBHM, Satan, trial by fire