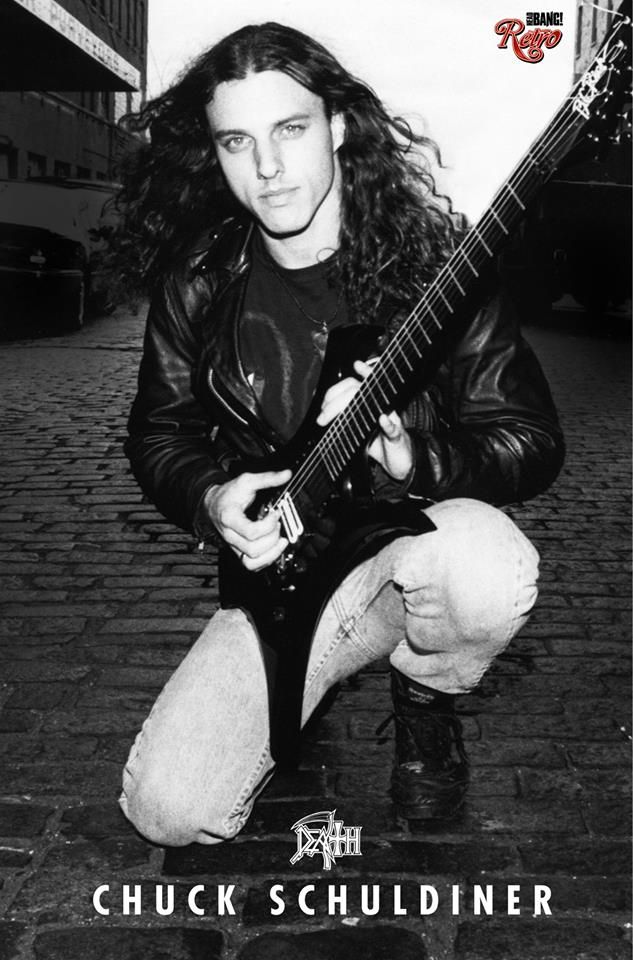 Chuck Schuldiner who once played crushing music that popularized Death metal before attempting to follow the mid 90s phase where every Underground band had to somehow rise to face the more rock influenced bands at their own game through whinier passages and trivial lyric matter. During that period his technical abilities increased but his inability to arrange worthwhile music become obvious rather as he relied exclusively on rock structures that culminated in a solo before repeating the whole process without any thoughts on progression, narration or momentum. This created the effect where some truly incredible melodies were juxtaposed next to some very mediocre sections derived from rock and other genres. This device was then taken by a large number of bands who have then used it to promote a singular idea over everything else and has contributed largely to the decline of metal in general. Let us look at a few moments where the Chuck Schuldiner syndrome was very apparent.
Death "Spirit Crusher"(2:22):
Though this is not the worst track on the abysmal The Sound of Perseverance due to its insistence on staying exclusively in Heavy metal territory. The bass and the initial motif hold this song together but what genuinely stands out is that string skipped riff that appears twice in this song and that is unfortunately played once in each iteration as it recapitulates all the previous ideas and pushes them forwards in what should lead to to a climax but instead fades away as all the momentum is dropped for a simple melody to accommodate the vocals.
Death – "Without Judgement"(1:46):
This palm muted melody increases the tension aptly before breaking out into a much more refined iteration of itself showing Schuldiner's occasional ability to chain related melodies in coherent nature that climax particularly well but all the previous momentum and the work done by the subsequent climax is thrown away in favor of a misplaced solo that just repeats the whole process ignoring all that previously happened.
Death – "Empty Words"(2:08):
The worst culprit here possibly due to the subject matter which goes against Death metal ethos, Schuldiner had a very naïve vision in regards to human relationships, through his soppy love lyrics.
The gratuitous lead guitar actually builds into what could have been with better vision a very good Heavy metal chorus as it moves within the harmonic minor scale aptly and utilises simple power chord arrpegios to showcase the chord progression fairly clearly while using the fifth for variation. The problem with this rest of the composition is that it is stuck within block headed Speed metal riffs that eschew melody for syncopated rhythms.
Nile – "Lashed to the slave stick"(2:48) :
For once in Nile's long career, they allow themselves to completely embrace their pop arrangements in a song containing a defined intro,verse,chorus and bridge. This makes the percussive death metal nature of the music easier to absorb for the uninitiated. Through this bouncy piece, Nile do provide an interesting variation of their second chorus where their triple vocal attack actually adds something to the music without either being a mess or a distraction as the second chorus is pushed to its limit and an interesting path is fully explored that lifts this song from the rest. Nile were always the band with some really good ideas but were always unable to string everything together as they relied on the Egyptian gimmick to do all the composition for them in a career full of more lows than highs.
The Absence – "Necropolis"(0:00):
Though this band never reached the popularity of the original Melodeath bands, for a while they were Metal Blade's answer to conquering the Slaughter of the Soul inspired movement that was in full bloom. Unfortunately for The Absence, they lacked the hardcore and Pantera influence that were essential in achieving recognition in the Myspace world. They had bet far too much on Maiden-like melody in speed metal arrangements and the stereotypical Swedish vocals of the time. Though they would never pierce the mainstream, they actually had somewhat decent ideas and could play passable Speed metal. Here the first guitar plays a natural minor minor power chord sequence that is surprisingly majestic as the lead guitar accompanies in a circular melody before leading into a tremolo pattern that then leads to a peculiar Speed metal riff that is just a little too indulgent until the whole composition stagnates in what could have been an album that would have destroyed the American Melodeath movement.
Vektor "Pillars of Sand"(2:45):
The 2016 sweethearts of the funderground tried to compose a grand epic in the form of a seventy-five minute concept album that was a supposed victory for the underground, the album was full of faults and this is related to how extensively this band was inspired by Death (the vocal similarities are astounding) and have further pushed the Chuck Schuldiner Syndrome even further into the heart of mainstream metal but like Schuldiner they could chain at times coherent ideas that did amount to something before falling off in this case to a cheesy chorus. A bouncy melody that is fairly common in the repertoire of flashy power metal bands progresses through modulation in different keys as the chord progression doesn't resolve, slowly increasing the tension before arriving at a sweep picking section that further cements the fact that the progression does not resolve in a satisfactory manner that then explodes into a tremolo picked melody that resolves before dying out in the most unsatisfactory of ways as the song leads back to the chorus.
Obscura's career can be defined by the Chuck Schuldiner Syndrome especially on breakout album Cosmogenesis which is Death worship but with even more theatrics and modern sterile production. Coming in at the end of the Metalcore explosion Obscura found a huge market and helped establish tech-death with their Schuldiner worship. The number of creative moments in their music can be counted on one hand and is not worth visiting. Though they may be named after the Gorguts album this is a vulgar mixture of later Death and Cynic and are responsible for the perpetuation of Chuck's worst crimes.
A man, made martyr through the most suspicious of circumstances, relying on mainstream artists to raise the funds for his medical costs. Either way many people were fooled by his unfortunate passing into thinking that this man was a musical genius and I the writer included, genuinely considered Death to be the greatest band in my adolescent years. It is only when we cast away the influence of the external world to analyze with our minds and our hearts what the music is conveying can we truly hope to come anywhere near the truth. Chuck did create some excellent music even towards the end of his career with Control Denied but his accomplishments have been exaggerated due to the nostalgia for a time that most fans never knew. It takes more than a few flashes of brilliance to stand side by side with bands like Incantation and Demilich but despite the effect of the Chuck Schuldiner syndrome crippling metal like AIDS, his music stands beside bands like Grave and The Chasm who lacked the potency to rival their peers but produced better metal than the hordes of terrible metal bands that have dominated both the mainstream and the underground.
Tags: chuck schuldiner, Chuck Schuldiner Syndrome, death, death metal, grave, nile, Obscura, terrible, The Absence, vektor