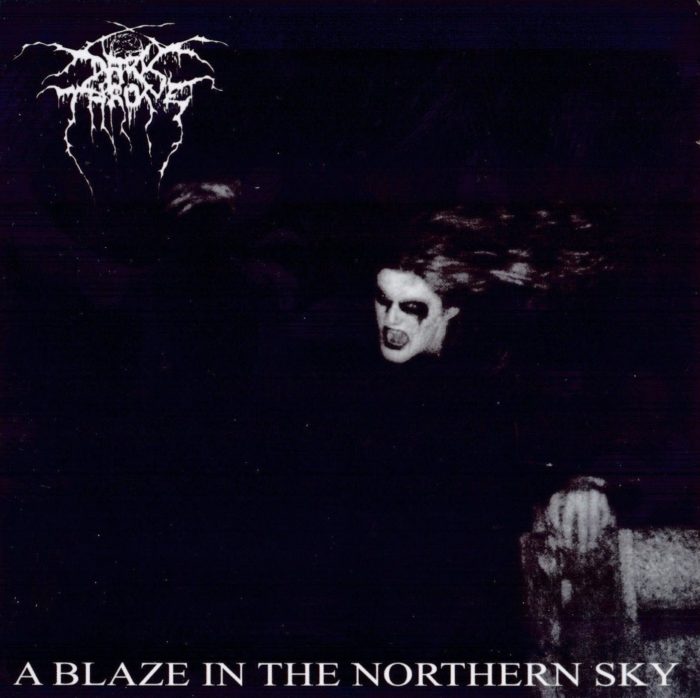 Darkthrone's second album, A Blaze in the Northern Sky, turns twenty-five today. For much of the mid 90s, Darkthrone constantly referred to A Blaze in the Northern Sky as their first album as it was the first commercially released record to adopt the quick and dirty "necro" production style and to have been part of the Norwegian black metal second wave initiated by Mayhem. However most of the individual musical inspirations were audible on their prior Soulside Journey album recorded at Sunlight Studio; the compositions on A Blaze in the Northern Sky were just much more sparse and droning due to different overall compositional goals reflecting the shift from progressive death metal riff mazes to minimalistic Hellhammerism.
The Celtic Frost influences on Soulside Journey are turned up to eleven and interspersed with the three-chord punk that influenced Celtic Frost so greatly. Riffs not rooted in these influences were often dissonant, bizarre but catchy things as if found objects from a more developed, dead civilization repurposed by primitive tribesmen as crude clubs for bludgeoning the brains out of wild animals. Nocturno Culto's complete lack of palm muting added emphasis to this. Celtic Frost provide the rhythms for the plodding verse-chorus riff pairs as in heavy metal that replaced the riff jigsaw puzzles. Fenriz's percussion was properly a simple alternation of snare and high hat cymbals interspersed with blasting and minimalist but well-used fills and emphasized hits that would be elaborated upon in later Darkthrone releases.
Darkthrone's primitive compositions lulled listeners into a trance before violent tempo shifts and riff changes joked them back to the carnage of the real, natural world. This pace emphasized the passage of a life punctuated by series of calamitous and fortuitous events without leaving behind the 1980s proto-death/black metal musical context. A Blaze in the Northern Sky ultimately shows the band in a transitional period between the pinnacles of their career but stills provides a memorable, conventionally-constructed bridge into the uncanny creations of Darkthrone.
https://youtu.be/BmA6PDutNDE
Tags: a blaze in the northern sky, anniversary, Black Metal, darkthrone, death metal, fenriz, nocturno culto, norway, Norwegian Black Metal, Norwegian Death Metal