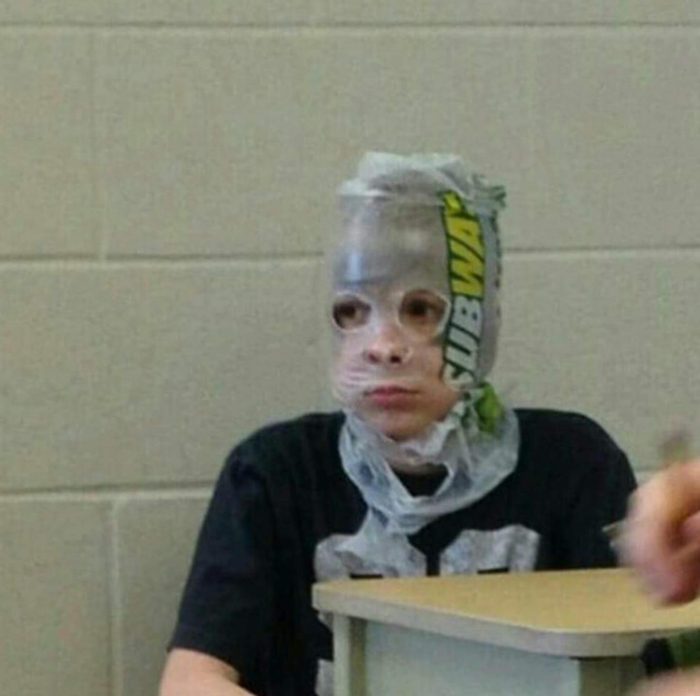 Metal was born of the fusion of heavy rock, horror music, progressive rock and the nascent proto-punk movement. The history of rock is the history of rebellion and rule-breaking: from Friedrich Liszt making his strings break live at key moments on purpose, to Jerry Lee Lewis lighting the piano on fire, to the Beatles with their hairstyles and jackets which were radical for the time, to the Doors being suggestive on the Ed Sullivan show, through Hendrix burning his guitar, to Kiss being super-sexual and painting their faces, to Black Sabbath who sang about Satan and magic, to Metallica who combined neoclassical with thrash and had a hard-partying image, to Slayer's seemingly outright Satanism. Metal is about taking things one step further, breaking the rules and being unique. Not about following them.
Good music aims for a grade of "A" by experimenting and breaking the rules, but in doing so, takes the chance that it will get an "F." Think of good music as Icarus: he flies toward the Heavens (or in the case of metal: towards hell) aware he is taking a big chance. He may well crash and burn to the ground in pursuit of his musical ideals. It's a risk Icarus is willing to take.
Today we have way, way too many bands following all the rules of their genre, and not enough acts pressing ahead. When I look at my local scene it is clear that the bands who have stayed together a long while, while following the rules of their genre, are the bands who have been most successful. Most of these bands have decent music and are listenable. But its not stuff I want to listen to more than once, or see live more than once. This is the curse of local bands: competent, good at following trends, but not so good that they break out and become emblematic of those trends.
I do not blame these bands for being average. Its actually necessary to be average in order to succeed in the music industry these days. If you make an off the wall recording its not going to be a hit. If you rise above the herd, a confederacy of dunces will unite against you. Let us look at some examples of the C-level bands that are succeeding in various metal genres.
Gore metal. Exhumed: This band deserves respect for having been around forever. And for being a solid live band. But lack of catchy riffs and lack of musical innovation are the problem. Their old demos are way catchier and heavier than their major releases. And the album covers etc on their major releases are not very good. They should put out a low-fi recorded cassette and get back in touch with their roots. Some may be puzzled why I gave Decomposition a higher grade than Exhumed since they (too) follow the rules. It is because of exceptional tightness and exceptional brutality in live setting, plus their riffs preserve the pop-side of metal without selling out by being catchy but still virulent.
Funeral doom. Dispirit: This band deserves respect for its members having been around forever. And they are cool guys and put stuff out on tape, which rules. But this whole funeral genre is kind of stuck in a rut musically. I have a problem with the riffs being so good but at the same time, so seemingly purposely un-catchy. Funeral doom needs to break out of the mold of just singing about occultism/depression. These guys have the potential to guide funeral doom in the right direction. Their side project White Phosphorous heads in the right direction. Their grainy guitar and bass sound is pretty stellar. They are slightly above average funeral with much more potential than others. My main knock is just the riffs seem purposely meandering, as if purposely not catchy. That said, the world is a better place with them then without them. Hence, they get a B in a world of Cs.
Black metal. Black Fucking Cancer: Follows all the BM rules to a T. And is boring as sin as a result, both musically and imagery-wise. So of course this is the go-to band to open for touring international BM acts.
Stoner doom. Forgotten Gods: One of the bigger local stoner doom bands (currently disbanding). These guys have a good storyline to their lyrics and have a great sense of doom. But they stay entirely within the stoner doom genre. So unfortunately the music is predictable.
One thing these bands all have in common is that they lack catchy riffs; this is the pop side of metal. I can excuse homogeneity in a band if the riffs are catchy enough and give me something to hum in my head that day. There must be some form of movement against catchy riffs these days (in addition to all the other rules which have been implemented in these genres).
C is for average. Average is mediocre, meaning that if it is all you have for a few moments, like to listen to while you are snorting beers and huffing weed at a local dive bar, it will do. But you will not go back to it, or care about it, because it says nothing that strikes you as profound or interesting, even simply fun. It is just the result of more people imitating what others are doing in order to "succeed," and so even if it is competent, it is irrelevant.
This leads to a domination by conformity. For example, in stoner metal, total stagnation exists because no one is willing to try any gambit other than what has worked for the big-name bands. It's time to move beyond the Sleep/The Sword paradigm, because those bands, while decent, have been regressive. No stoner doom bands have been able to match Sabbath on a riff-by-riff catchy basis. And it's been almost 50 years now. Plus, Sabbath offset their heavy stuff with some ballads like "Sleeping Village" and "Planet Caravan," which modern bands can't seem to pull off well. And no one wants to talk or emulate the other great Sabbath phases. The grungy, trashy punk-influenced album Mob Rules is hidden off in the corner. And so are TYR and Dehumanizer which were glammy, but awesome in their own right. And we have the slow lazy meandering Sleep-styled riffs everywhere across the nation. But none of them are very memorable. So let's stop emulating Sleep already.
What no one wants to hear about this situation is that the solution begins with the little guys: the fans. Metal is strong when the fans are uncompromising about quality. We need a return of the "winner takes all" mentality, where a band that rises above the herd becomes a hero and everyone else loses out and quits. This type of intense Darwinistic pressure is what made metal bands of the past three generations so powerful. But when fans see that a C-grade band is average, and find average acceptable, we will see nothing but more average as we have created an incentive against rising above the herd.
Tags: average, black sabbath, conformity, Heavy Metal, idiocracy, trends