Finnish death metal band Desecresy grew in recognition over the past half-decade but still finds itself overshadowed by the obvious Swedish death metal tributes and other shallow pitches to the purchasing sensibilities of information overload numbed fans. This band has more to offer than many realize, crafting death metal in the old school style but with the sparse melody and emotional mood tapestry of a doom metal, even slowly and cautiously introducing some newer influences so that it never loses its old school appear at its core, in its spirit and its intent.
Sounding very much like a submerged horror launching itself on humanity, Desecresy came about in 2009 from the ashes of previous bands. It consists of two members, Tommi Grönqvist and Jarno Nurmi, who somehow produce this massive sound on their own. As a result, Desecresy does not play live but has built an audience by putting out successively improved albums, although which is the best may depend on taste as these are highly idiosyncratic and expressive works. They are also remarkably consistent in that the sound the band forged on its first album continues through its third but not unchanged, only added to and refined, so that it grows organically.
This band successfully evokes the sensation liquid evil rising from the depths through its death-doom attack. Its death metal uses rhythms like those of Bolt Thrower merged with the powerful two-layer riffing of Abhorrence, possibly influenced by early Paradise Lost and the second half of Burzum "Key to the Gate," with other influences such as Fleshcrawl and Incantation for its dark and doomy passages. Its distinctive technique of melodic lead rhythmic riffing overlaid on dirge power chord riffs makes Desecresy instantly recognizable, and creates an atmosphere more like a doom metal band or traditional heavy metal without the friendlier rock trappings of such band. On top of this float strongly enunciated death vocals that guide the developing feast of riffs and unique song structures.
Arches of Entropy (2010)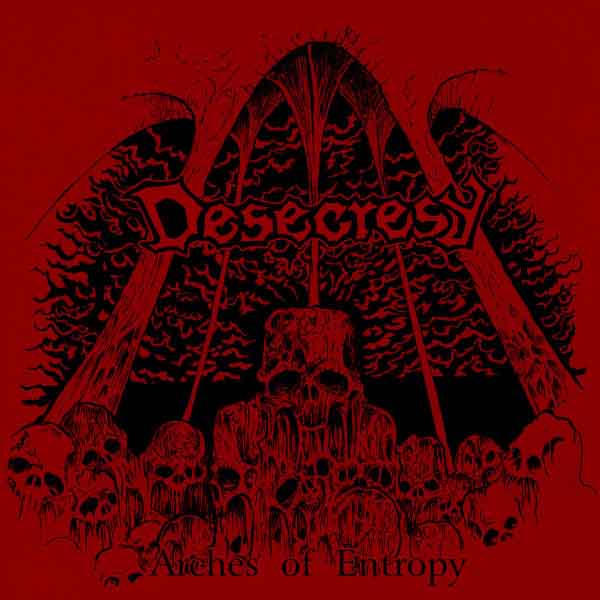 The first Desecresy album shows the band attacking their sound from the most traditional death metal viewpoint. These songs attack from a mid-paced death metal standpoint, and then build on that with successive riffs that grind against one another in the Bolt Thrower style, leading up to the atmospheric riffing with melodic leads stitched over it like silver linings of clouds. Vocals take a gruff and bassy enunciation of death metal vocals that is difficult to correctly sequence but here the timing is both impeccable and vague, adding an air of mystery. As the technique is new, it sometimes overlaps in memory, causing these songs to seem indistinct, although when listened to separately they stand out. These songs have a groove, but instead of being centered around stretching between offbeat notes, it starts on an offbeat and drifts into cadence, creating a feeling of entering a dream. Of the Desecresy albums, this may be the most idiosyncratic, owing much of its perceived randomness to attempts to stretch this style in ways that most bands would not envision. Its mood evokes early evening on a dry clear night, when the wind murmurs through the leaves and strange noises echo from the surrounding mountains, a noisy organic voice arising amongst them which promises certain doom and, within it, adventure.
The Doom Skeptron (2012)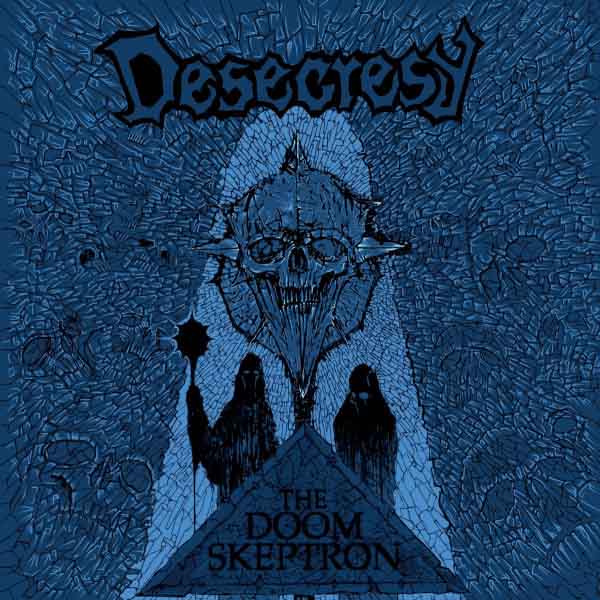 For its second album, Desecresy attempted to introduce more of a death metal sound as contrasted to the melodic-layered half-grind of the first album. At the same time, the band experimented with making its songs more distinctive and so tried to vary tempo, notes and rhythms radically. The result sounds more like an Immolation album with an Asphyx plus Carnage vibe, in addition to the aforementioned influences. This provides a more energetic album and isolates the melodic doom parts between different sounds, which makes this album an interesting and varied listen like driving through unknown countryside. The intensity of it however lost some of the doom appeal, and this seems to be the least atmospheric of all the albums, but also the most satisfying to those who enjoyed the later years of death metal. The Doom Skeptron carries the intensity of the first into a more confrontational vein, and brings out some of the implicit conflict in these songs in more abrupt collision. Presaging the next album, this work also makes more use of simple melodic patterns to create a sonic backdrop for riff change. If the American influences behind Desecresy make an appearance, it is here that they stand out the clearest and to the greatest impact, although the droning resonance that makes this band appealing to doom metal fans also makes itself known. Best enjoyed on bright days at top volume from a distance.
Chasmic Transcendence (2014)

Most bands decay as the years go on. Not so with Desecresy, who on this album integrate the grinding approach of the first album with more of the doom and black metal influenced atmospheric pieces which now dominate songs instead of relying on a sandwich of death metal to make them pop out. As a result, like Burzum Filosofem, this album induces a mood of suspended disbelief and then sinks further into it, creating like Summoning an environment where melodies seem to extend each other across songs because they are similar in parts but different in end configuration. On Chasmic Transcendence, Desecresy show a more fluid rhythm and more high-speed tremolo death metal riffing to drive it, and also start borrowing patterns from the newer post-metal bands like Cult of Luna, but very carefully adapt these to old school underground metal melodies and riff structures instead of becoming alternative rock like every other band who has tried this. In the Desecresy universe, riffs talk to one another to create and shape a transition between moods like an architect assembling a design, and the result showcases both the resonant emotion from melodic rhythm leads — now focusing more on internal harmony — and combinations of riffs evoking a labyrinthine passage between physical obstacles toward internal learning, like the best of adventures. This album provides excellent listening on nocturnal escapades.
The odd state of metal in 2015 is that many of the best bands are acknowledged by those who can understand them, but this is a small group, so they seem overshadowed by larger bands that appeal to the bread and circuses type. However, Desecresy has been steadily gaining momentum for its elegantly designed and thoughtful music that refuses to sacrifice the raw guts of death metal to make an atmosphere, and as a result portrays the type of desolate conflict that we expect from dystopian literature, but in sonic form with the riffs like serpents taking the form of the things we fear in our dreams and see shadows of in the reality around us, rushing at us from a yet indeterminate future. With this musical power, Desecresy presages the next age of metal, along with other pioneers like Sammath, Blaspherian, Demoncy, Blood Urn, War Master and Kever. The spirit of the old school lives on by refusing to emulate the past, and instead carrying forward its ideas in the abstract with implementations specific to the bands, in this case the fertile imagination and dark prophecy of Desecresy.
Tags: 2015, death metal, desecresy, Finland, Jarno Nurmi, tommi gronqvist