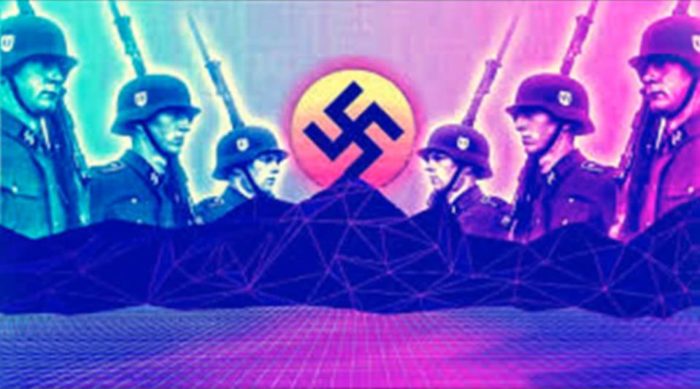 During the tumultuous past few years, a new sub-genre appeared that combines elements of several existing genres. Fashwave is synthwave with a darkwave sensibility and occasional metal-inspired riffs that sound very much out of the canon of Beherit or Burzum, but simplified to fit within the more synthpop-oriented rhythms of fashwave.
As this music keeps getting censored by YouTube and BandCamp, it is very hard to acquire, except for downloads of second-generation video uploads. And you should get the video, because in accord with its inspiration from the 1980s, fashwave is designed as combined video, audio and symbolic presentations, sort of like Greek theater.
Like synthwave, this sub-genre embraces retro aesthetics without corniness in the half-cynical and half-unserious self serving style of mass man, but instead accepts the cheesy 1980s milieu as a constraint to work within and something which can be improved by recontexting it. In fact, much of fashwave feels like retroactive continuity that is re-interpreting the past as something it was that we did not see.
Unlike most synthwave, however, fashwave embraces a vigorous intensity more like metal. Even at its fruitiest, the music aims for high energy ("yuge" no doubt) and a sense of inner conflict, which makes it musically more interesting than most synthwave. The Miami Vice aesthetics and WWII fetishism just make this more surreal.
I think it a mistake to read this music solely as promotion of fascism and national socialism, although surely that is also there. There is more of a sense of "retro" itself, as in looking back at the 1940s and thinking that this was the last time European and American civilization had something close to "greatness," and the 1980s as the last safe time before the downfall.
Fashwave leapt into prominence in 2016, when it was used as a tool by large media to warn of an Alt Right form of music, but then people got out there and realized that the music is entirely separate from the political movement, and so the hype died. But the music gained intensity over the next year, mostly because as things get further out of hand in modern society — this is something that the top 20% of our population by IQ knows instinctively, but everyone else is oblivious to — people are looking for a strong, comforting, but realistic and thus somewhat dark voice to explain the past and open doors to the future.
This phenomenon kicked into high gear with the recent deletion of accounts belonging to fashwave artist Joseph Retrostein and others. This is a common nasty tactic by big media providers, who are betting on individuals not having backups and therefore, the material being gone forever, which is a good way of making it look as if you have everything under control and that your anarchic internet is actually a digital Disneyland managed by paid staff.
Therein we see something interesting about the recent censorship. They are no longer trying to win; they are trying to hide the truth long enough to get away with whatever they are doing. Facebook, Google, Reddit, Twitter and other censors do not expect to change minds, although they hope to prevent new people from being influenced by the virus of post-democratic thinking, but they really want to present services where everyone is happy and nothing is harmful so they can suck in more scared media sheep to keep their statistics up.
As far as the political content, it is a laugh to even discuss it. All music has political content and no music has political content, because "politics" is merely the expression of a desire for a certain type of civilization translated into symbols to manipulate masses of people, which is why censorship is such an important thing now. Napalm Death are Reds; Morrisey is a royalist; most metal bands want eugenics, oppression and some type of authoritarian power to keep The Herd™ in its place, because right now mass culture is ruining everything.
For metal fans, what is of interest here is that this music carries on much of what black metal wanted to be: a fusion of metal intensity and synthpop or techno listenability, perhaps while evoking a combination of the autumnal sounds of a dying civilization and the fervent rise of those who want to hoist the black flag, clear aside the dead wood, purge the liars and idiots, and rebuild something greater than Rome in its heyday.
Tags: Ambient, article, cybernazi, darkwave, electronic music, electronica, fashwave, joseph retrostein, retro, synthpop, synthwave, vaporwave, xurious