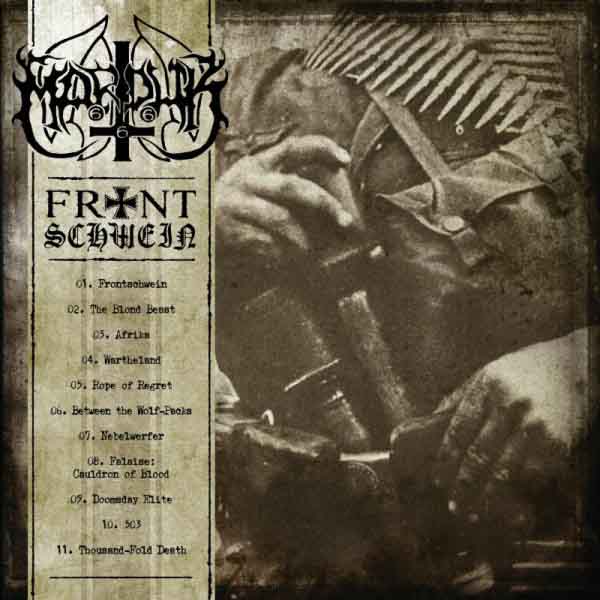 Article by David Rosales
Marduk has never, with the exception of the laudable Opus Nocturne, boasted of a deep mystical aura imbuing their music and has rather been known for the sonic onslaught which is their music. The present work sees a band that appears to have long settled for a style and seem content to reproduce it for the benefit of an expecting audience. That is, a very palpable pop mentality has settled in, even if the music has not completely degenerated in form. The artistic vision nonetheless has affected, as is the rule, the manifested aesthetic of the music, and will predictably continue to corrode its quality as it has been doing for the past twenty years or so.
With Frontschwein, Marduk's songwriting has become entirely dependent on the adrenaline rush of fast precision music and short hooks that provide identity to a song by being short and being repeated enough throughout the song that they remain the undisputable feature of that song. This is the laziest way of going about this, but it also allows the band to create the impression of offering a vaster experience in longer playtime. None of this is precisely a surprise, since Panzer Division Marduk the band had already established itself as the Cryptopsy of black metal: all guts, scant content despite the impression of immensity, no durability.
An important thing to notice is that songs, although bearing a certain mark of Marduk's voice, do not follow a continued line of thought, so you may have a ripping track followed by a dance-like rhythm, then two more blasting and extremely repetitive tracks followed by this band's attempt at a slow track. These stand out individually as being unrelated to each other. As a pop album, the blueprint followed is very effective and will continue to sell well. However, both individual songs and the album as a whole, which is even more important, will communicate nothing through its music, despite the blatant titles.
Tags: Black Metal, Frontschwein, marduk, pop metal, re-review, review, War Metal