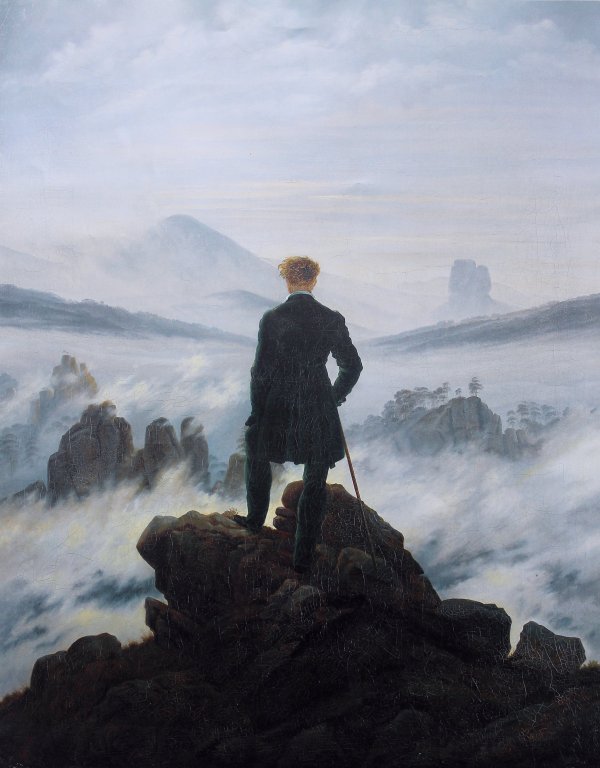 Romanticism defined resistance to social pressures in the post-Enlightenment world, but also caved to the pressure to accept the fundamental ideals of that earlier era.
Where the Enlightenment placed emphasis on individual choice and emotion, so did the Romantics, although they tempered this with a strong attachment to ancient values and the ruined forms of a prior world. It had a number of salient attributes:
A revolt against accepted form: democratization of subject and language, a less formal poetic voice, and a new range of subjects such as the supernatural and "the far away and the long ago" adopted by Samuel Taylor Coleridge, John Keats and others; the visionary mode of poetry adopted by William Wordsworth, Percy Bysshe Shelley and William Blake; and the use of metaphysical symbolism.
Focus on the poet's or writer's own feelings instead of a universal emotion shared among all humanity. This emphasized spontaneity, meditative stillness, and a sense of discovery through intuition. Imagination was seen as more important than fact.
External nature (landscape, plants, animals) became a persistent subject.
Often written with the poet or writer as protagonist.
A sense of progress, or of limitless good achievable by use of the imagination, instead of reliance upon past methods. — (M.H. Abrams, "Neoclassic and Romantic" in A Glossary of Literary Terms, Harcourt Brace Jovanovich, Orlando, FL 1993, pp. 125-129.)
While it was an affirmation of the individualism of the Enlightenment, it also rebelled against the group-think thus created, and emphasized the thoughts of the exceptional individual — personified in the writer — over the "universal emotion shared among all humanity." This template provided the basis for any number of tropes among pop culture including the "rock star" himself, who is assumed to have messianic powers of insight which he conveys through the ritual of the concert.
Metal began with a mixed heritage arising from rock and soundtrack music. Among the rock influences were The Doors, Jethro Tull and King Crimson, all of whom emphasized apocalyptic themes beginning in a crisis of direction in the human individual. These dystopian rockers showed us that under the progress of technology and advancement of society lurked a dark undercurrent, which was our lack of faith in our own future. Since the future is determined by the present, they looked to sources of doubt and fear in humanity. Metal carried this onward in a mythological H.P. Lovecraft inspired form.
This caused a clash with Enlightenment values. What are those? The Stanford Encyclopedia of Philosophy provides a handy summation of the values of the Enlightenment:
In his famous definition of "enlightenment" in his essay "An Answer to the Question: What is Enlightenment?" (1784), which is his contribution to this debate, Immanuel Kant expresses many of the tendencies shared among Enlightenment philosophies of divergent doctrines. Kant defines "enlightenment" as humankind's release from its self-incurred immaturity; "immaturity is the inability to use one's own understanding without the guidance of another." Enlightenment is the process of undertaking to think for oneself, to employ and rely on one's own intellectual capacities in determining what to believe and how to act. Enlightenment philosophers from across the geographical and temporal spectrum tend to have a great deal of confidence in humanity's intellectual powers, both to achieve systematic knowledge of nature and to serve as an authoritative guide in practical life. This confidence is generally paired with suspicion or hostility toward other forms or carriers of authority (such as tradition, superstition, prejudice, myth and miracles), insofar as these are seen to compete with the authority of reason.
Metal brought a counter-Enlightenment mythos, as did much of the Romantics including writers like Mary Shelley and William Wordsworth: people are delusional and tend to prefer happy realities, and so they are not "guiding themselves" so much as choosing illusions that deny the fundamental nature of life as conflict. In the metal universe, conflict is a good thing as it leads to the rise of the stronger above the rest, and thus improves the quality of what is there. From Black Sabbath to Slayer and beyond, metal has criticized the happy hippie "love" mythos and replaced it with one where, in contrast to the Enlightenment, individual judgment does not reign supreme but instead misleads.
Death Metal Underground has advocated the belief that metal is a Romantic art form for over two decades now. In our prior incarnation as other web sites, FTP sites and even g-files during the bulletin board days, we emphasized the Romantic nature of this music as an explanation for its occultism, warlike outlook and amoral or nihilistic worldview. Now it seems that metal journalism has caught up with this idea somewhat, as an article on urban metal site Invisible Oranges mentions it:
Beethoven's music was less a road map through musical theory and more a guide to the very center of the human psyche. And history has rewarded his efforts; the name Beethoven is now known to a significant portion of the world's population. His music was still recognizably Classical, but it introduced a host of new compositional techniques that shook the entire creative world.

And you know what? The same thing is happening to metal. Right now. And it's not just a single band or album that's leading the charge, either; Deafheaven, and Ihsahn, as well as less prominent artists like Aquilus, have also become what I'll affectionately call "musically uninhibited."
Other than the premise of this article being badly flawed, which is that anything "new" equals Romantic, and that recycling burned-out 1990s rock tropes through black metal and death metal is somehow "new," it leads us to question the nature of the Romantic in metal. Metal displays many attributes of Romantic thinking but, like Mary Shelley or later Romantic Gothic writers including those in the Robert E. Howard and H.P. Lovecraft traditions, also displays skepticism about the "Enlightened" future. Specifically, it knows most people are purposeless and weak, that most "truths" are lies, and that society covers up its inner core of decay and desire for conflict. That's perhaps the most useful way to frame this question, instead of "does nu-indie constitute a Romantic revolution in metal?"
Tags: Black Metal, death metal, Romanticism, the enlightenment