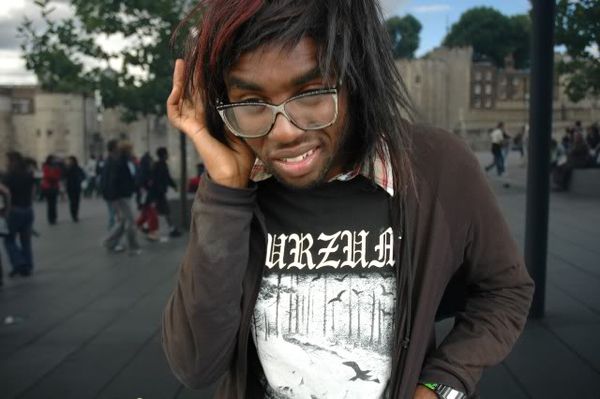 I had hoped that the busload of squalling drama that was #GamerGate (see here: pro | con) would not come to metal, but #metalgate has arrived courtesy of the same people who intruded into the gaming industry despite a striking lack of actual contributions:
Metal is still dogged by the issues that arise from its deep-seated conservative values, but thanks to an increase in conversations about racism, politics, and feminism, those on the right side of history have gained solid ground. – SPIN
Before we get involved in this partisan squabble, consider that metal is beyond the left-right divide. The left wants individualism through equality, and the right wants individualism through lack of social obligation. Neither recognize that societies, like metal genres, are organic entities where more is required than individualism; we need cooperation.
It is easy to see however why someone might want to — as writers have in the past — call heavy metal conservative. Metal avoids "social issues" and other internal questions of a society and instead looks at the health of a society as a whole, or in other words, how sane it is. We see a world gone insane through a refusal to pay attention to reality. The methods of that are beyond an artistic genre and should be injected into it, but since 2006 at least trying to reform metal has been a pet project of certain groups:
More than three decades after Black Sabbath conjured images of the dark arts, heavy metal is growing up. The genre is increasingly incorporating social and political messages into its dense power chords.

Cattle Decapitation vocalist Travis Ryan said his San Diego band's mix of charging guitars and an animal rights message is drawing a diverse crowd that includes activists as well as traditional metal fans. – The Washington Post
The grim fact is that metal has split into two groups. When the newer group encountered the older group, they were appalled that it did not share their opinions, not just on politics but how to live. This new group is inherently "social" and they share opinions which make their friends feel warm and fuzzy about them. That is at odds with the older metal tradition of not caring what society thought, telling the hard truth, and being obligated to no one because most people are crazy.
It is only when you get involved in a managerial role with society, like a kindergarten teacher insisting that we all play nice together, that you care at all about making sure that everyone is included. Metal does not. Metal looks at society from the view of history and whether it is healthy or diseased from within. The metalhead view is consistently anti-managerial, since metalheads recognize the deficiencies of people and want to keep most of them at a great distance. It is not that we want to manage them, like political people do, but that we want to be free of them.
For years people have tried to make metal more sociable. They first tried in the mid-1970s when they mixed Black Sabbath with Led Zeppelin and produced hard rock, hoping that they could sell it to more people. "Sociable" sells. Then they tried in the 1980s with rap/rock, funk metal and other abominations. Finally they hit on nu-metal but that turned into an extended conversation about the impact of child molestation. And then, during the early 2000s, they rolled out a metal/hardcore fusion that had sociable lyrics like hardcore punk has for many years.
Notice that none of this was brought on by metalheads. It was created by people who wanted to be metalheads, but felt they could not be metalheads unless the genre agreed with their existing social, political and lifestyle biases. At this point, the metal community has entirely split between those who like the old school and those who want to be "nu-skool." This is because they are two separate genres. Metal is metal, and the indie-metal/metalcore wave is someone else trying to use us for their agenda. #MetalGate is just the latest salvo in this fight.
Tags: gamergate, indie metal, metalcore, metalgate, politics, sjws