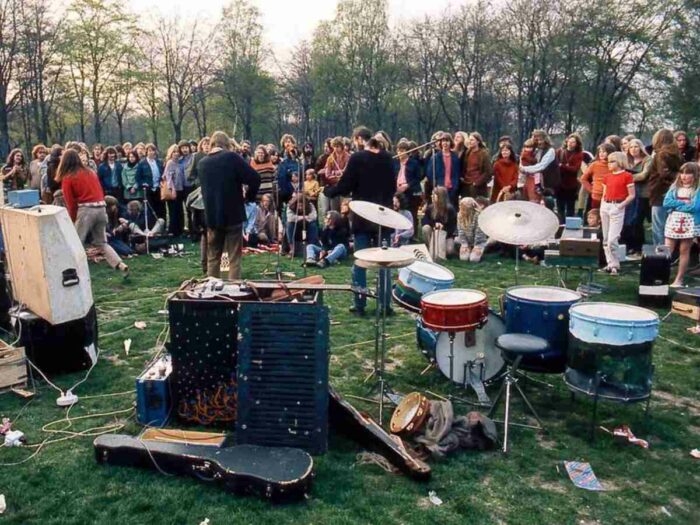 Alternative rock got a bad name in the US because it was basically not an alternative, and just mixed a little metal and punk into Morrissey and Bruce Springsteen, making the whiniest genre ever created. These days we laugh about "alternative facts," but maybe alt-rock had something to do with this.
It gave birth to a stream of niche genres like post-rock, stoner doom, and post-metal, but none of these really produced an audience which could tell the good stuff from the bad. To be a revolution in music, one would first have to revolt against the now-calcified "revolution."
We have seen this happen before. In the 1960s, progressive rock bands pushed back against the sappy sugar pop bands of the day; in the 1970s, punk pushed back against progressive rock; in the 1980s, metal pushed back against everything because all of them had become products.
On the edges, a garage rock scene and the early indie rock scene, both of which emphasized deliberate weirdness shoehorned into art by a subtle ear, tried to provoke the world of music, Zappa-style, into waking up. It did not and they got assimilated too.
But over in Sweden, the progressive spirit and the indie spirit stayed alive together by refusing to fall into the same patterns, something they engineered by focusing on musicality rather than the aesthetics of shock, weird, or pretense.
This produced a small but lively movement of people trying to find the good in contemporary music and heighten it by keeping a focus on the musicality. Like early progressive rock, these bands aspired to make rock into something as interesting as folk, polka, and jazz music around them.
Perhaps their day has passed. Certainly in this time of mass-produced "work from home" music, they would be hard to find in the constant stream of "progressive" bands that are anything but. Possibly they still have something to teach us now that the excess production is over and people seek quality more.
***
Progressive rock became known through its earliest popular manifestations from the UK. With iconic albums such as Selling England by the Pound, In the Court of the Crimson King, and Close to the Edge, bands like King Crimson, Genesis, and Yes established the definition and benchmark for the term progressive rock.
This is of course the big irony of progressive rock as well as its metallic offspring; a musical genre can describe itself as "progressive" and gatekeep that definition with its own rules and idiosyncrasies. Just consider parallel developments on the continent. In Germany, groups such as Amon Düül II, Can, and early Kraftwerk exhibited a similar outbreak of creativity within a rock framework, yet were dubbed somewhat condescendingly as "krautrock" rather than having them mixed up with progressive rock "proper."
In an attempt to widen the perspective on the early days of progressive rock, we now present the case of the Swedish alternative/progressive music movement. This was roughly contemporaneous with its British and German counterparts, but took a different approach and was its own phenomenon.
The historical evolution of the Swedish alternative music movement is roughly tangential to the the development of Anglo-Saxon psychedelic and progressive rock music, barring a slight time delay. It first emerged in the late-1960s as a direct outgrowth of the countercultural movement, blossomed during first half of the 1970s, entered its declining phase by the end of the decade and — with minor but not insignificant exceptions — imploded and got pushed aside in favor of newer musical forms such as punk, new wave heavy metal and synthpop in the early 1980s. Despite this parallel existence and the potential influential debt to 1960s/70s English, North American and German countercultural-affiliated music, Swedish alternative music movement exhibited crucial differences that need to be taken into account, not least in order to avoid misunderstandings.
First of all, the concept of "progressive" music had different connotations in the Swedish milieu back then. In addition to the impetus of musical progression — as in breaking the boundraries of rock convention — that was especially prominent during the early era (circa 1968-1975), being progressive and playing progressive music eventually became to large extent dependent on non-musical factors, such as the political content of the lyrics, choice of vocal language and record label affiliation (to get the full jackpot, you should sing left-leaning protest songs in Swedish, NOT English, and release your music on an independent/"non-commercial" label…).
This translated into a musical movement of substantial breadth, but also resulted in a situation where a large portion of the creative output fell far outside the stylistic confines of the international progressive rock scene. As a matter of fact, those groups who played music akin to their British or US counterparts were generally referred to as symphonic rock or hard rock acts rather than progressive rock (to mark out the distinction) and sometimes faced difficulties in being accepted by the domestic scene because they were regarded as too commercial (or even promoting imperialist agendas!) especially if they sung in English and were signed to a major international label like EMI.
With this said, it's worth pointing out that the most interesting music of this era weren't produced by the politically-oriented groups nor the previously mentioned "heavy/progressive rock proper" acts (Genesis, Deep Purple, Uriah Heep, and jazz-fusion à la Mahavishnu Orchestra were the most popular go-to styles). Rather, it was the distinctly Swedish-sounding instrumental-based groups who made the most compelling, idiomatic, and time-standing recordings and it is to them we will now turn our gaze.
If the Swedish "progg" movement at large can be characterized as a sprawling miasma of every style possible (or popular) in 1970s rock, then its instrumental ensembles worked as a nexus of its most creative and musically adept forces. These often harbored musicians of considerable skill and daring, with previous commitments in 1960s jazz, classical avantgarde/electronics or traditional music.
The basic, if seldom explicit, premise for many of these groups appears to have been to expand both the vocabulary and expressive palette of rock music in a playful and open-ended manner, by bringing it closer to the fields of mainly jazz, folk and, to a lesser extent, avantgarde electronics (the pseudo-classicism witnessed in British progressive rock didn't seem have the same magnetism for Swedish musicians back then). This included, among other things, the adaption of collective improvisation, traditionally-derived melodic/rhythmic syntaxes, and experimental electronic processing which were channelled into earthy, free-flowing and intuitive compositions that touched upon a sort of meeting point between folk-archaicism and utopian futurism. As such, the idea of progression in a rock context had assumed a transcendent quality, where rock music was transformed from within by granting it with not only new forms, but with actual spirit.
Perhaps it is in this latter remark that the Swedish progressive movement of the 1960s/70s bears closest semblance to later developments in Swedish metal. Whether dealing in black, death, or doom metal, Swedish bands and musicians have played integral roles in the re-formation and crystalization of those genres into new and regionally distinctive forms. The emergence of the Stockholm- and Gothenburg-based death metal scenes of the late-1980s/early-1990s provide an example with groups such as Dismember, Therion, At the Gates and Dissection absorbing and subsequently extending contemporary underground sonorities, treating the raw material as sonic vistas upon which to project a breadth of vision channelled through the power of imagination. This led to the creation of music that was both compelling in style and rich in expression — or, to speak in loftier terms, music graced with both body and soul.
Althoughwider in scope and stylistic plurality, similar forces were set in motion in late-1960s/early-1970s Sweden, with the birth and sprawling evolution of the country's alternative/progressive music movement.
Referring to the Sweden's progressive music movement as some kind of direct precursor to subsequent developments in the domestic metal scene would be to stretch the argument beyond the breaking point, but studying the former might help in understanding Sweden's general approach to adopting new musical forms and how it connects with the country's "folkish soul." Moreover, perhaps some readers out there will find exploring the so-called "alternative music" or "progg" movement worth the effort on its own terms and merits, much like British progressive rock, German krautrock or early ambient/progressive electronics.
***
As a complement to this text is also presented two playlists, which roughly equals two compilation CDs. Rather than being all-encompassing, they should offer a glimpse of some of the more relevant (in this context) musical strains contained within the movement at large.
Tags: alternative music, alternative rock, progg, progressive music, progressive rock, Sweden