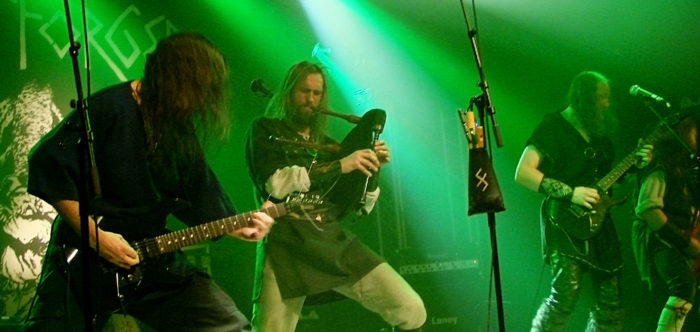 Article by Johan P.
This text is a continuation of the previously published article, The Difficulties of Folk Metal. As stated in Part I, the threefold aim of this multi-part article is, in rough terms, to: 1. Give a short introduction to the subject, 2. Point out some of the difficulties connected with integrating folk music into metal and finally, 3. Provide alternative methods of integration. Part II will be dedicated to the second part of this quest.
Naturally, there are limits regarding the scope of my endeavor – the most obvious demarcation being that the article primarily focuses on Swedish folk music. In my view, the critique of folk metal is an ongoing project, and this article should not be seen as an exhaustive treatment of the subject at hand.
So, if someone else out there finds the subject interesting, you are more than welcome to make contributions. It could be in the form of additional material (metal or folk related) and complementary ideas to enhance the project. For example, the depth and applicability of the arguments presented below would surely benefit if the scope could be expanded to include other forms of traditional music.
I. Points of Departure
Synergy – The Holy Grail of Folk Metal
In an ideal case, the merging of folk and metal would result in a musical synergy effect, meaning that the interaction between the respective parts (folk and metal) leads to a mutual strengthening and consequently results in a product that is qualitatively better than the sum of its parts. If this is not the outcome, the mission has failed to some degree. As it is now, the metal/folk-mix has almost exclusively resulted in a negative synergy. By bringing together the worst aspects of respective genre – and severely distorting the better aspects – both parts are weakened. This relates to the argument Fenriz presented in the interview referred to in Part I, and it seems like a reasonable case in point to why the world of metal and traditional music should not mix. However, this is an obstacle that could be overcome if dealt with properly, but it has to be recognized to begin with.
Melody – The Road to Hel
One of my main objections against what has previously been produced under the banner of folk metal – as defined in the first article – concerns folk metal bands' simplification, adulteration and general misuse of traditional music when incorporated into their compositions. This negative distortion reveals itself in different ways to varying degrees.
In cases where an influence from traditional Swedish music manifests itself in metal, the most frequently occurring misapplication occur when melodic material is lifted from folk music. This includes cases where bands use melodies directly borrowed from traditional sources, as well as original folk-influenced melodies composed by the band members themselves.
The tendency of folk metal bands to mistreat folk-tinged melodies often results in their music being hampered by that influence instead of enhanced. Their melodies sound too happy, bouncy, simple, one-dimensional, obvious, or just goofy. Naturally, weak melodies have negative effect on the music as a whole. The list of unwanted results could go on and on. So, what is it that leads these bands on a dead-end road? Below, I've tried to construct a model of explanation based on these issues.
II. A Model of Explanation
The failures of folk metal bands to compose a convincing blend of metal and folk manifests itself in different ways, but most of them can be traced back to the following:
1. Lack of understanding or disregard of the constituent parts of the genres at hand, in this case traditional Swedish folk music AND/OR the type of metal music played. Limited knowledge or lack of effort to understand the construction and function of, for example, melody in each respective type of music results in, among other things, clumsy, block-headed melodic adaptions with zero recognition of folk music's melodic refinement or what makes a good metal riff for that matter.
2. Inabilities to merge the respective musical styles in an adequate and relevant manner. A forceful bringing together of musical worlds and customs. Like taking a melody out of its original context and inserting it into a pre-formed template with mechanisms that are completely alien to it. It could also be the case that the original melody is severely altered to fit into the new context. Leaves the listener with a sense of the music being an arbitrary, synthesized product.
3. Want of purpose or inability to fulfill a purpose permeates the music. Why bring these disparate genres together in the first place? The only visible purpose with the "imported" or self-composed folk melodies often seems to be a quest for novelty.
To test the validity of this little homespun model, I've used it as a mental checklist of sorts when listening to (and suffering my way through) a handful of folk metal albums. Dealing primarily with the difficulty of using melodic ideas in a metal context, this article conclude with a review of an album by one of the more popular Swedish folk metal acts.
III. Månegarm – Vredens Tid (2005)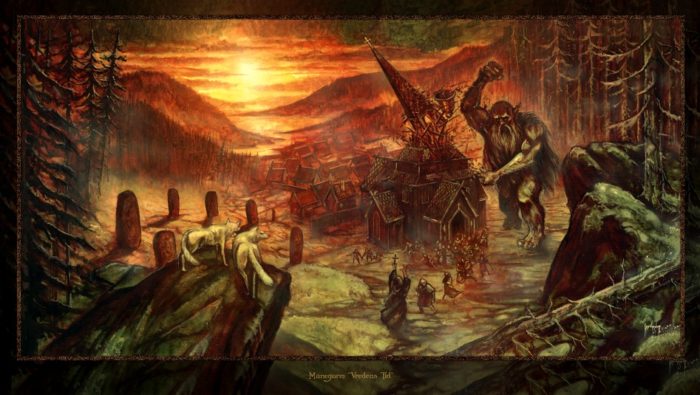 Among the steadily growing horde of Nordic folk metal bands, Månegarm can be regarded as veterans at this stage. The band officially began their activities in the mid-90s as a melodic black metal band, but have since then drifted closer to a pseudo-folk influenced traditional metal sound with traces of extreme metal technique. This stylistic makeover, combined with their Viking aesthetic have brought them an increased popularity, and they are today one of the Nordic standard-bearers of the folk metal genre. On their fourth full-length album Vredens Tid (The Age of Wrath) they clearly settled into their current mode of expression. It is an ambitious and professional production, emblazoned with conceptual art done by the respected metal-artist Kris Verwimp. However, the slick surface cannot cover up the weakness of the music for long.
As a premonition to what awaits the listener, the front cover is drowned in genre tropes. The center of the fold-out cover art depicts a grumpy troll smashing a church tower, while a flock of panicking Christians flee towards a pagan rock formation situated on a slope in proximity to the church – a symbol of the people returning to their roots? The violent scene depicted here – with all the usual pro-pagan/anti-christian connotations found in more extreme forms of folk metal – is actually narrated in one of the album's songs. Quite good for a chuckle, but the visual, lyrical and musical depiction of pagan triumph presented on the cover and in the song "Kolöga Trolltand" is more akin to a Hollywood-style movie than folklore-inspired storytelling.
This streak of artificiality and gimmick runs through most musical aspects of the album. When it comes to the metal side of things, everything here has been done better elsewhere. Vestiges of disparate genres of metal are present, but they have been neutered in order to fit them into a larger scheme. Buzzing extreme metal rhythm-riffing, galloping power metal tempos, late Iron Maiden-melodies, Swedish punk rock, hockey choruses, angry Viking guy vocals and whatnot are crammed into a shell of harmless heavy metal.
Most songs on Vredens Tid lack individual character and powerful momentum – it is not a good heavy metal record. The persistent employment of simple tricks like sing-along sections makes this even more obvious. So, in order to spice up a hopelessly mediocre stew the band resorts to the age old solution of bringing in a novel, preferably exotic element – in this case Swedish folk music. Månegarm have played this card for most of their career, and not without ambition. They've experimented with folk-influenced melodies ever since their second demo as far as I know, and their line-up even includes a traditional violinist. Still, there is something suspicious about the whole affair.
The folk parts are more like souvenir versions of the real thing, simplified and easily digestible. This attempt to achieve a credible mix of metal and folk fails on two grounds. First, the individual folk derived parts found on the album (primarily melodies) aren't good enough and second, these parts are badly integrated into the composition as a whole. Månegarm are not alone in this, it seems to be the most common set of mistakes perpetrated by aspiring folk metal bands. Therefore, it is a phenomenon worth taking a look at.
Faux-Folk Melodies & Simplification as Adaptive Tools
There are melodies on Vredens Tid that – at best – bear an outward resemblance to actual folk music. A folky surface is created through the use of certain timbres (produced by a fiddle or a guitar), and rudimentary techniques (playing within certain scales). However, since there is no underlying firmament to support the construction, these hummable but shallow melodies pass by as though nothing ever happened. It doesn't help that they are designed for instant gratification, they are too bland to even work as hooks.
Once or twice during the album a longer melody unfolds itself and lights a glimmer of hope. But without the internal dialectic or developmental potential of a good folk melody (or a good metal riff, for that matter), these melodies have nowhere to go, and end up sounding flat and uninspired. Since these are often performed alone "on top" of the metal music, without other complimentary melodies to interact with, they quickly grind to a halt, only to be repeated again without variation.
The deceptive nature of these quasi-folk melodies affects the eventual merging of metal and traditional music on the album. Once again, on the surface things proceed relatively smoothly. There are no visible seams or major clashes between the two musical genres – harmony seems to prevail. These songs do not suffer from the same degree of episodic song writing as Satyricon's Dark Medieval Times for example, where the metal and folk parts are clumsily separated from each other. There is a different, perhaps more serious flaw in the integration on Vredens Tid.
Instead of bridging the two musical worlds, the folk melodies have been radically simplified – as described in the paragraphs above – to fit easier into metal songs. It is this manipulation, rather than a thoroughly done integration that makes these songs so easily digestible and ultimately forgettable. It would require serious work for Månegarm to bring a real traditional melody into their music without too much simplification. The result would probably be more interesting than this.
Since the melodies lack clear character, they could try giving them a more pronounced rhythmical feel, which would bring them closer to real folk music. In their current form, the melodies sound too obsequious towards the rest of the music. They constantly fall in line with the rock-stomp and what else is happening around them, maybe out of fear of exposing their inherent blandness. It is probably too much to ask for better melodies here, but at least they could have been performed in more interesting ways. Listen and look at the videos presented below. The first one features a performance by a modern trio of Swedish musicians called Frifot, which gives a glimpse of melodic folk music that is also rhythmically intense.
So, is there really any point in merging folk music and metal other than as a quest for novelty? It is easy to succumb to fatalism regarding the potential of folk metal after spending too much time with albums like Vredens Tid. The desired synergy effect I mentioned earlier is reversed. Combining mediocre metal with an abundance of faux-folk elements in the form of cheap, instantly gratifying hooks results in something far worse than a bad, but plain heavy metal record – at least to my ears. However, this does not mean that composing folk metal should solely be a quest for authenticity for its own sake. If that was the case, I can see no point in mixing two genres like folk and metal to start with. The point is simply to import those aspects of folk music that can in any way enhance metal. The difficulties lie in figuring out what to use, how to use it and why to use it.
I'd like to end this article on a slightly less pessimistic note. Against all odds, there's one album bearing similarities to Vredens Tid that is at the same time its opposite in terms of content and quality. In 2012, Ukraine's Nokturnal Mortum released what is arguably their most ambitious and listenable album: The Voice of Steel. It features a similar mix of musical and aesthetic elements that Månegarm have worked with for most of their career – a blend of black metal, heavy metal and folk music draped in traditional symbolism. They do sound somewhat alike on a surface level, but Nokturnal Mortum is the superior band, much thanks to their compositional skill and ability to make something meaningful of their influences. Personally, I had given up my hopes on these Ukrainians after Nechrist, but after reading David Rosales' splendid review of The Voice of Steel, I decided to give them a second chance.
At a quick glance, it is tempting to dismiss the compositions on The Voice of Steel as hopelessly rock-derived, with their grating guitar solos, inviting choruses and timbrel similarities to whatever is on FM rock radio at the moment. Repeated listening has – at least for me – resulted in a readjustment of judgement. As the initial aesthetic shock of this monster of an album begins to wear of, the finer aspects of composition and creative vision reveals themselves. The eclectic, but gradual revelatory nature of Nokurnal Mortum's compositions – I'd prefer to call the songs vivid rather than overblown – are reminiscent of the best of progressive rock and fits very well with this style of metal.
Judging from the steady stream of dissappointing albums produced within the folk metal field, it is tempting to dismiss the genre at large. However, Nokturnal Mortum shows that there is still hope for a potential creative re-birth of folk-inspired heavy metal music.
Tags: folk, folk metal, genre, Heavy Metal, Månegarm, music analysis, musical analysis, neofolk, nokturnal mortum, Sweden, The Voice of Steel, Vredens Tid