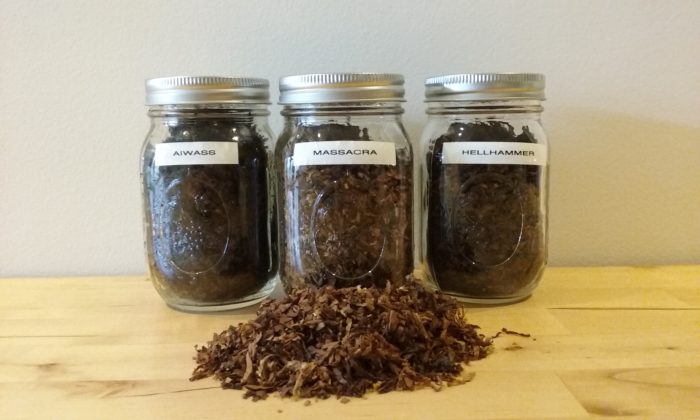 Those of you who read our pipe smoking FAQ may have found your curiosity piqued; you may even have experimented with this strong psychoactive chemical and its benefits, especially if you absorb it through your mouth and not your lungs. At that point, you may wish for some top-notch leaf to explore.
Part of the journey into appreciation of the pipe as an activity — the familiarity, the rituals, the marking of time, the enjoyment — is to mix your own tobacco from pre-existing components. This can be great fun and a huge challenge. As part of that journey, I uncovered a number of homebrew blends which are both pleasant to smoke and economical.
Thus, it is time to introduce The Metal Mixtures:
Aiwass. More than half rum-soaked Perique, this mixture is then shored up with strong Virginias and Burleys, then crested with a pinch of Bright Virginia. The mixture is married through a proprietary process and then given a top-note of rum for more Crowleyian kick.




Massacra. Massacra was inspired by the UK plugs including the venerable Velvan Plug, but given a death metal twist. Dark Burley melds with Dark Fired Kentucky Burley and Bright Virginia, supported by creamy cigar leaf and married through a proprietary process. The result has a fiery caramel flavor with an inner depth.




Prince Ludwig. Designed in tribute to a famous drugstore tobacco, this blend uses a mixture of medium Burleys lightly flavored with a top note of vanilla, cocoa, and a mixture of alcohols. If you wanted an all-day smoke similar to the classics of a generation or two ago, this fits the bill.




Londinium. This blend goes against the idea of innovation and is a classic English with Perique and some dark Burley added. Lighter in Latakia than most English blends, it emphasizes the Virginias for a sweeter smoke into which Orientals, Perique and Latakia meld as condimental flavors.




New London. A straight up English mixture, New London combines Latakia with Orientals and sweet and strong English leaf, producing a medium-to-strong all-day smoke which has the spicy, zesty flavor of the English with the balance and rich harvest flavor of American blends. This is essentially Londinium with less Burley and none of the Perique.




Miasma. Built around a Virginia-Perique core, this blend softens the blow with a small amount of Cavendish and then brings the fire with a mixture of Burleys. The end result is sweet and fragrant like a classic Va/Per, but packs more strength and a bolder, broader flavor.


Owing to the recent FDA deeming rules, pipe tobacco is an endangered species except for the really big players in the market who can afford a half million dollars per blend to introduce it, get it approved and market it. But there is a loophole.
Raw ingredients — Virginias, Burley, Orientals, Perique, Dark Fired Kentucky, Rustica — can still be sold and we can mix them on our own. The resulting blends and mixtures cannot be sold, but they can be traded, and with that, a new type of underground economy was born: people who make their own blends, and trade them for other things, not limited to tobacco.
Need that computer fixed? Many of us will do it for a pound of Dark Burley or Bright Virginia. And when we need something, like a bushel of fresh garden vegetables or some of that elusive .223 ammunition, we will swap our blends for it. Or for other tobacco. Or even just as a gesture of friendship.
See also the discussion thread at Pipes Magazine forums.
If this interests you, email tobacco@deathmetal.org and let us work out a trade.
Tags: DIY, homebrew, pipe tobacco, the metal mixtures, tobacco, tobacco blends, trade economy