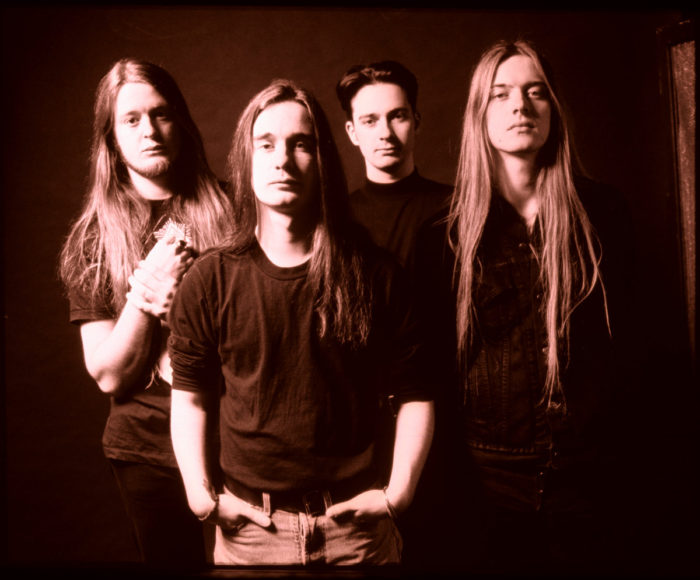 "Melodic death metal" is meaningless. What is popularly called "melodic" death or black metal can be roughly divided into the three different types of music sketched out by Ludvig Boysen in his "The Three Types of Melodic Death Metal" article for Death Metal Underground. While Ludvig's three categories are essentially correct, refining and broadening them allows formal classification of all "melodic" death and black metal. Note that Death Metal Underground's extensive Heavy Metal FAQ covers the topic of genre in great depth but a brief rundown for the ignorant and lazy is in order.
Melodies must be understood to be merely a sequence of notes that is perceived by listeners as a single linear entity based on a key or scale. The riffs that define metal as a musical genre are each individual melodies or collections thereof. Most western classical music is based on heptatonic major and minor diatonic scales consisting of five whole tones and two semitones while popular music tends to strictly use pentatonic scales and sometimes the harmonic minor.
Most death metal rhythm riffs (and black metal when it actually has rhythm guitars) make use of the twelve pitch chromatic scale, which of course consists of all twelve semitones. Such chromatic composition enabled death metal to deliberately create and resolve dissonance, building and relieving narrative tension through songwriting. Of course death metal was every bit as melodic as the earlier heavy and speed metal. Incantation's entrancing Onward to Golgotha is almost entirely chromatic and features flowing, legato-like melodies and rhythms.
Death and black metal rhythm guitars are incredibly distorted too. High-gain amplifiers and pedals produce much more partials than traditional rock and metal guitars, forcing listeners to pay attention. Power chords are clearer than others as the partials produced are closer to the natural harmonics of the notes played. Being neither major nor minor grants them additional compositional flexibility through chromaticism.
Thus "melodic death metal" and "melodic black metal" are hollow terms attempting to describe one of the three categorical styles below:
Death or black metal containing more conventional melodies or less distortion.
Not that bands not called "melodic" death or black metal by the press and public as diverse as Morbid Angel, Dismember, Immolation, Suffocation, Immortal, and Burzum lacked them to begin with.
Heavy and speed metal with distortion, growls, and rasps.
Clean up the instrumental and vocal sound and these would all be traditional heavy or speed metal albums.
Pop music and stadium rock for posers.
No more metal than Ghost and Babymetal, i.e. not actually metal at all. Swansong, metalcore, Children of Bodom, Fredrik Nordstrom bands, and Dethklok belong to this inner circle of hell.
Tags: carcass, chromaticism, death metal, Flight of the Bumblebee, genre, Heartwork, incantation, melodeaf, melodeath, melodic black metal, Melodic Death Metal, melodic metal, music analysis, musical analysis, onward to golgotha, Rimsky-Korsakov