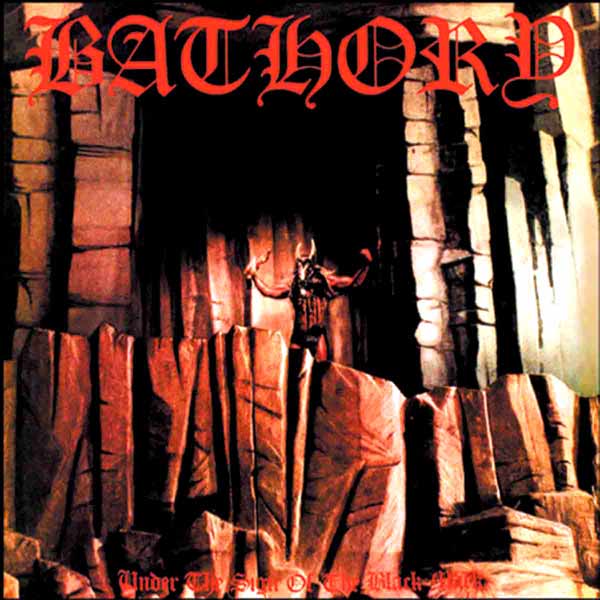 Bathory's Under the Sign of the Black Mark turned turned thirty years​ old last month. The album marked the start of Quorthon adding in the epic atmosphere of Manowar and Iron Maiden which would come to fruition on Blood Fire Death. Under the Sign of the Black Mark also happened to be one of the first black metal CDs I ever purchased, which I preceded to play non-stop for about a week until getting bored of it and going back to listening to Altars of Madness.
Under the Sign of the Black Mark saw Quorthon regress from the black metal song structures of The Return……, themselves a linearized version of the riff mazes of Mercyful Fate and Slayer's Hell Awaits, into simpler ones reminiscent more of heavy and speed metal that were almost like a simplified, less progressive version of Motorhead. Songs featured distinct verse and chorus riffs that Quorthon's harshly sung vocals followed in heavy metal style. Like most heavy metal, the songs were too repetitive for repeated listening without boredom resulting. The initial luster and awe wore off Under the Sign of a Black Mark in a few spins unlike Bathory and The Return…….
Bathory's third work was a surface-level metal album only good for for revisiting every couple of years, not for repeatedly playing and critically listening to until you escape your own desires and become a pure, will-less subject of knowing to the music and can truly comprehend the music's beauty as Schopenhauer would say. No, Under the Sign of the Black Mark was a work that revealed its makers intentions all too soon. Quorthon's genius was in composing a black metal to lure mainstream metal fans into the underground but doing so left earlier fans of Bathory, Possessed, Slayer, and Mercyful Fate wanting for more depth and less repetition after the initial few listens. Under the Sign of the Black Mark merely aroused the desire to listen to Bathory's earlier, better material in them. Creating wanton desire is charming and what is charming is no different from what is pornographic in that it leaves the viewer or listener wanting something else whether a puppy of their own, a sexual partner, or a less superficial black metal album such as The Return…… or Ritual.
Tags: anniversary, arthur schopenhauer, Bathory, Black Metal, charmimg, Heavy Metal, quorthon, Speed Metal, Under the Sign of the Black Mark