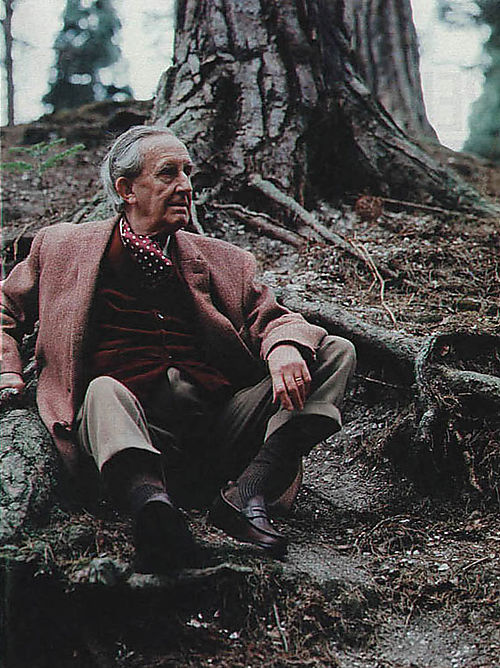 Article by David Rosales.
A trend in the modern conception of anything has been that the newer something else, the better we expect or assume it to be. Experience in reality, however, has also given rise to another perception: that the new tends to be worse and not better. Attempts at rationalizing this drive the pseudo-intellectual, pro-sheeple crowd to say that times just change, but ratios of quality do not vary. This is not only unscientific but an obvious politically correct answer that has as its premise that everyone is equal, and hence, that the resulting products of these "equal" people must also be probabilistically equal. Impermeable external influence seems to them the only changing factor, with the internal being either infinitely constant or practically negligible. This is assumed and then possible causes are haphazardly and desperately pieced together, the answer is assumed and then anything is either positive evidence or brushed aside if too problematic to incorporate into the fairy tale. Ignorance compounded with pretense and emotional insecurity always results in capricious imposition of an arbitrary and dogmatic concepts and scale of values.
Examinations of developments at different scales and at different levels reveal a linear change throughout history under which cycles of attitudes in the collective human psyche recur, humanity's pendulum oscillates between two asymptotic boundaries in their internal processes. This internal lapsing may be a result of our mortal lives, there is only so much a single mind can evolve, each new generation comes into the state left by the previous one, and needs to reabsorb it and process it for the first and last time. The outer changes that we see as as linear constitute the other factor. The error lies in confusing this outher manifestation, this temporal passing by, for the real thing. Picture the way we look at a sinusoid. The horizontal values will keep changing, that is, the input value of the mathematical function moves towards positive infinity on the right and negative on the left. The resulting changes themselves, however, stay within a range defined by that function. No matter how far into the future or the past one goes, the net resulting values are the same and swing from presumed 'better' to 'worse' and back again ad infinitum. Is there any reason to think that the attitude towards and capacity in the arts and their effective channeling of the unconscious swings as well?
Then comes the next contradiction the usual suspects produce: their faith in the evolution of human nature. This would inevitably imply a change of the asymptotic values of the sine wave previously mentioned, and would instantly refute their theory of constant human capabilities throughout time. The question is, is this evolution continuous or discrete? If it is continuous, then there is no way it can be ascertained that we (and our art) are just as good/bad today as it was twenty, one hundred or three hundred years ago — or an hour ago, for that matter. If it is discrete, the question remains the same, except that their must be a point where those inner capabilities do differ. Unless another arbitrary rule that says that artistic psychic capacity does not change, in which case the completely unscientific posture of the social justice camp shows even more blatantly. It is interesting to note, as well, that any presumed evolution is usually assumed to take place in the direction that would most benefit status quo values. This is either mental incompetence or intellectual bankrupcy.
The modern era saw a shift from allusion, human inspiration, to mechanistic and "measurable" prowess. Music and the arts in general shifted from being a mystic endeavour meant to complement and speak to the spirit or the unconscious, to the ego stroking of ivory tower artificialities. Inspiration was no longer important as long as things were technically clever. Literature and philosophy saw this shift: correct terminology and meta-metanness took the place of discussions on the human condition and actual experencial concerns. It stopped being about reality and what it was, and in turn a deconstruction of everything, a perpetual throwing of the hands in the air took place, alongside a claim that hence, we should all just pay attention to what we want reality to be. Thus art stopped being taken as our natural expression that develops healthily in a certain range and direction, and was taken as subjective irrelevance that is "always beautiful", making the latter term completely devoid of any useful meaning.
Metal, and the true underground in general, stands against such superficial delusions of the status quo. Not because it is the status quo, not because it is "bad" or "wrong" in a moral sense, but because it is out of touch with reality. The following are two metal works to go back to in order to rediscover the true roots, and the depth in quality beyond production values or sports-like instrumental flair in the art of metal: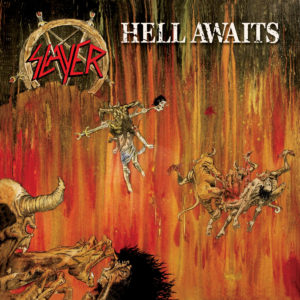 Slayer – Hell Awaits (1985)
Invariably hailed at DMU as the spiritual pinnacle of underground metal, Hell Awaits still packs a solid punch, only mitigated by the expectation of loud production in metal nowadays, and by the fact that the Slayerian riff has become a de facto standard. Simplicity here is better described as clarity, while the structure remains at an economical level where it provide just enough intricacy to drive the nail deep, but no more. Effective, aural, rough. The best to ever come from this band.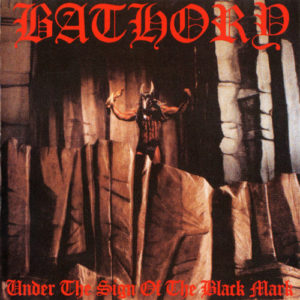 Bathory – Under the Sign of the Black Mark (1987)
Although not quite the tallest peak climbed by Quorthon, Under the Sign of the Black Mark is nonetheless iconic and powerful whose ripples directly brought forth the birth of gems such as the more occult Darkthrone Under a Funeral Moon. This is one of those albums that never loses its lackluster, it is just as shocking, grabbing, and potent today as it was when it came out. Lacking the epic depth of its successor, Blood Fire Death, it makes up for with sharp attack and briefness, stating a completely different goal. Where Bathory's 1988 is an atmospheric metallic journey through a dark alternate reality, this 1987 is the melting of this, our, reality by dark forces.
To further accentuate, deepen, and place this journey in the perspective of larger things, below are listed four ancient (and more ancient) works of an ultra-spiritual nature, works that attempt to bring the whole of human reality together under half-rationalisms, mood evocations, familiar images, and curious relations. These are not so much religious in the modern sense, but are holistic and cosmological. It is recommended that they be explored in the order in which they are listed, for educational and formative purposes.
Sepher Ha-Zohar: interesting for its psychological components and a somewhat veiled but underlying atheism. Rich in insights, powerful in its methods, inspirational beyond doubt, it is stamped with virulent ethnocentrism permeated by just enough mysticism to build a system of thought, but with no intention of hiding the agenda of power of the 'chosen people', thus echoing multiple traditional Judaic tractates, both ancient and contemporary.
The Nag Hammadi Library: Gnostic and Christian, and everything in between. Fascinating and much more complex than the simple fairy-tale for dummies we are used to seeing in Protestantism or the materialist mind control of Catholicism.
The Zend Avesta: Persian religious philosophy and mysticism. From a time when these were not divorced aspects, before Judeo-Christianity took charge of specializing religion as a mind control system of nonsense.
The Upanishads: Some of the most ancient repositories of human reflection on its own existence, philosophically open-minded, free and beyond black-and-white morality.
Tags: Bathory, hell awaits, slayer, Under the Sign of the Black Mark, underground, underground metal, underground music, underground never dies