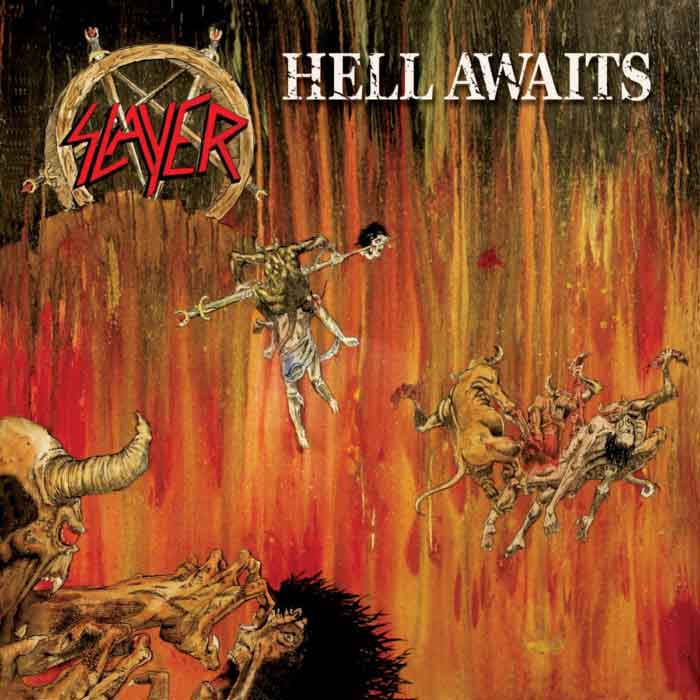 Article by Lance Viggiano inspired by International Day of Slayer.
A candidate for the best work within a genre of music should capture every manifestation as best as it can and be able to answer the question: what is X? One might make the argument that the best album must capture the genre at its summit; still, that is a far more difficult essence to capture as in the case of metal, both black and death metal scaled adjacent but different peaks and therefore offer their own unique views of the same musical landscape.
Slayer's Hell Awaits is a near perfect cross section between metal's significant manifestations. Hell Awaits contains prototypical death metal and black metal, while retaining an inheritance from heavy metal through Iron Maiden legacy motifs and finally, the raw motion of speed metal. Topically, the album unites metal in finding meaning in death, horror and uncertainty while embracing the perspective of the persecutor – be it nature, demonic entities or evil men. This is not unlike Altars of Madness (itself an updated Slayer) or Onward to Golgotha; each record is as much black metal as it is death metal – not to mention candidates as well for a genre best of, although just specific enough to one direction and therefore slightly edged out in defining heavy metal by Slayer.
Araya's delivery is urgent and well-enunciated while his inflections hint at the full-fledged distortion which was to come about in the maturation of metal. Lombardo's performance is technically proficient, innovative in both a speed and aggression; accenting with strikes that are well within-the-pocket. One can detect harbingers of later washes of ambiance through hypnotic double kick based patterns giving precedence to the melody while diminishing the significance of the rhythm. King and Hanneman start with a foundation of hardcore and NWOBHM to build walls of distorted litanies informed by horror music soundtracks as opposed to B-movie camp. Cacophonous soloing borders pure noise and works within the dual lead tradition. Purposeful chugging gives way to ominous resolutions in a manner familiar to the speed metal lacking the emotive cadences provided by Slayer's phrasing. Hell Awaits moved beyond its ancestors by ditching cyclical construction in favor of the narrative form of composition that would come to define metal music later in its life cycle. The record's visual presentation is not at once terrible and majestic like Reign in Blood's nor does it capture the contrast driven mysticism of the crypt-craving Under a Funeral Moon; still, it is striking, imposing, iconic and above all EVIL in form and feeling.
A roaring roll of thunderous toms beckons the howl of a madmen celebrating every flaw in his soul in one solitary moment of exothermic lucidity. A sudden collapse of momentum into a mosh-ready break that rips apart remnants of riffs, splits skulls, and swells the fleshy masses within them before a gradual crescendo replaces the grooves with exhilarating gore. A complete pause filling foul spaces with anticipation is followed by an ecstatic outburst in brief cycles before reaching a climax of laughter mimicking riffs over rapidly pulsating beats. Hell Awaits contains almost too many moments that epitomize metal to be considered anything but the record that answers the question: What is metal?
Tags: extreme metal, genre, hell awaits, music analysis, musical analysis, proto-death, Proto-Death Metal, proto-underground, slayer, Speed Metal